Top Trainers On the Move This Winter
by Steve Haskin
Date Posted: 9/24/2006 7:41:02 PM
Last Updated: 9/27/2006 5:08:36 PM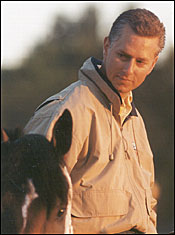 Todd Pletcher among top conditioners adapting to synthetic surfaces.
Photo: Barbara D. Livingston

Several top trainers will be heading down a synthetic path this winter, with Todd Pletcher sending a string of stakes horses to Hollywood Park, Nick Zito opening a winter barn at Keeneland, and Rusty Arnold setting up shop year-round at Keeneland.Pletcher, who has had success recently shipping horses to Southern California for big races, has been contemplating such a move for a while, and now with synthetic surfaces mandated for installation at all California tracks and owner Michael Tabor wanting to race over that type of surface this winter, Pletcher has decided to head west. Hollywood Park recently installed Cushion Track, one of four synthetic surfaces currently available.First, Pletcher has to see which of his other owners are interested before deciding how many horses to send. Right now, he estimates it would be between 20 and 40."Obviously, Michael Tabor is the main one that wants his horses on (a synthetic surface)," Pletcher said. "Most of his - if not all of his - will be out there, and we'll see about some other ones. I'm sure the success he's had with Patrick Biancone's horses stabled at Turfway had a lot to do with his decision. I've had a few other owners who have made inquiries, but nothing specific."The thought of sending a string to California has crossed our minds for a couple years, but I never felt as if the timing was exactly right or had any owners who specifically said they'd like to keep some horses in California until Polytrack came along. We've had pretty decent luck shipping out there and, obviously, any time you go somewhere you want to make sure you're competitive. "I had some conversations with Demi O'Byrne (Tabor's bloodstock agent) and Michael Tabor, and they said they'd like to have some horses on (synthetic surfaces) for the winter. Hollywood Park made a lot more sense than Turfway - or even Keeneland, for that matter - so Hollywood was our only option. It fits our stable well, because we've got a number of stakes horses, and that opens up some opportunities for us." Pletcher said, although he will have horses stabled in Southern California through the Santa Anita winter/spring meet, he still is in a position to ship horses back East for certain stakes on the Triple Crown trail if he feels they fit there."One of my concerns is that we have to take top-level horses to California, and I don't want to weaken my position at Gulfstream," he said. "But I'm going to have to take top horses there to make them fit. By being out there, it doesn't eliminate the possibility of running a 3-year-old at the Fair Grounds. And even when I was with Wayne (Lukas), he'd ship a horse from California for the Fountain of Youth. "California horses have had good success in races like the Wood Memorial (gr. I), and Empire Maker shipped to Florida to win the Florida Derby (gr. I). So just because they're based at Hollywood doesn't necessarily mean that they have to run in California on the Triple Crown trail, just as it doesn't mean I can't ship horses based in Florida to California. It works both ways."Zito's situation is much different. In fact, he says it is still not official that he will winter at Keeneland and won't be until he sees the accommodations he's given."I still have to talk to a few clients," Zito said. "I haven't made up my mind 100%. I probably will do it, but first I want to see the barn they're going to give me. I would like to have a barn there to be able to send horses all year round. The Farmers (Tracy and Carol Farmer) are from Kentucky, Arthur Hancock is from Kentucky, and several of my other owners are in Kentucky. I have to make up my mind by Nov. 1, which is when we have to sign the contract."This has nothing to do with my New York operation. That will remain the same. I will always have horses at Saratoga. It is by far the best place to train a 2-year-old. Kentucky is a good place to shuttle horses back and forth, and I don't want to send horses to a farm where I don't know what's going on."Zito said he'd rather have his layups at a racetrack, and Polytrack will help get them back to the races."If a horse at Gulfstream needs two months off, I'll send him to Keeneland," Zito said. "If I need to put a blister on a horse, or if one bucks his shins, I can send him to Keeneland and then bring him back on Polytrack. So, in addition to racing horses at Keeneland, I'll be using the track for rehab and to train on Polytrack. I have very high profile, intense owners, so whatever can benefit their stable and horses I have to look into."Zito said Polytrack was an important factor in his decision. "It absolutely played a big part in it," Zito said. "My owners like the idea. Horses don't get hurt - and when Keeneland tells you how safe the track is, what can you say? I have to go along. But I still want to see it for myself." As for Arnold, his move is partially out of necessity rather than by design."It's been a combination of things," Arnold said. "I've become a big believer in Polytrack. Nobody knows exactly how it's going to play out, but I think it's going to reduce injuries at the least, and I think that's a huge thing. If it reduces one injury a year for me, it's worth going there."The second factor is the change in regime in New York. The new racing secretary, P.J. Campo, has a little different philosophy than the people before him. It's no one's fault. The increase in New York-bred races has been tremendous, and I don't have any of those, so that has reduced my starters. My young horses usually don't get running until July and August, and that didn't suit him, So, all of a sudden, I was getting reduced in stalls after having basically the same number for 20 years. Plus, you're fighting an uphill battle against Todd and Rick Dutrow, who have over 150 horses. So, rather than go into a knife fight with a stick, I had to make a move. This will give me the opportunity to put all 40 horses on one track and train over a surface that I believe is going to be a wave of the future."Arnold said he will take advantage of the new barn setup at Keeneland. "They have nine barns at Keeneland - which are called the training center barns - and they're going to lease those year-round," he said. "I'm going to take one of those. I'll bring about 20 horses to Florida, and I'll leave 20-25 in that barn at Keeneland. Through the summer, I'll take 15 to Saratoga and 15 to Churchill Downs, but I'll actually have a base of horses at Keeneland year-round. It will be a change after all these years. I was getting pushed, but I was ready to go at the same time. I fully intend on running in and out New York, and I'm going with a smile on my face."



Copyright © 2014 The Blood-Horse, Inc. All Rights Reserved.