Clear Thinker
by Lenny Shulman
Date Posted: 9/22/2006 12:41:56 PM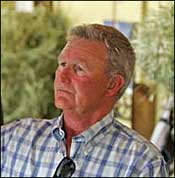 Lost in the Fog trainer Greg Gilchrist
Photo: Barbara D. Livingston

This story originally appeared in the Oct. 22, 2005 issue of The Blood-Horse.)
Greg Gilchrist is among the elite few trainers who should be celebrated for not winning the Kentucky Derby (gr. I). Celebrated, in fact, for not even running in the race. Which is why he has a healthy, undefeated horse that will be vying for a sprint championship as well as 3-year-old and Horse of the Year honors Oct. 29 at the Breeders' Cup World Thoroughbred Championships.Lost in the Fog could not have landed with a better tutor. Gilchrist, 57, whose father and uncles trained Thoroughbreds in Colorado and Nebraska, has been sending out winners from his Northern California base for 35 years. He's had his hands on top-shelf fillies like Work the Crowd and Soviet Problem, multiple stakes winners of the mid-'90s, running second with the latter in the 1994 Breeders' Cup Sprint (gr. I) to

Cherokee Run

. He knows all about dealing with big horses, such as the giant he now has stabled at Golden Gate Fields."I don't think I would have handled Lost in the Fog the way I have--meaning his training, picking out his races, and deciding not to go through the Triple Crown--20 years ago," Gilchrist said. "Experience beats everything, and the more good horses you're around, you learn how to treat them."You look at a good horse and think, 'What makes him happy?' Not 'What makes me happy?' If he wants to take a bite out of me on race day, damn it, let him have a piece of my arm. It's worth it. If you have a maiden running for $10,000 that bites you, it hurts worse."That maiden would have been one of Gilchrist's better horses back in 1979 when he was stabled at the state fair in Sacramento, "basically just paying the feed bill, the rent, and eating, and that was a good month." The guy at the stable gate handed him a message one day to return a call to Harry Aleo. "I thought, 'Oh, jeez, who's this guy?' " Gilchrist said.But when Aleo, a World War II veteran, met Gilchrist, a graduate of the 82nd airborne division during Vietnam, they melded like peanut butter and jelly. "He was at the Battle of the Bulge and I had seen a lot of heavy-duty stuff in my tour," noted Gilchrist. "That's a pretty bonding thing between people. We've had a working relationship ever since, and we've been great friends, too. Not that we haven't done battle, because we've had some dandies. But we've been able to move on.""First, Greg's very experienced, conscientious, and a good trainer," said Aleo. "And maybe most important, he's honest. What else do you want? We're friends, and after our experiences in the army, we're both appreciative that we're here. When he gripes I tell him it's better than being in Vietnam, and he'll agree to that."Aleo and Gilchrist have had a good run of stakes winners this century--Beyond Brilliant, Foxy Envoy, Frisco Belle, Singular Vision, and Taraval--but both felt a need to step it up a notch. "At sales we'd go to a certain level and no higher," explained Gilchrist. "I began watching some horses that we'd let go, and I told Harry if we'd gone a little higher, we could have gotten those horses. He ain't getting any younger and he's got money. We're not going to $9 million for a horse, but now we'll go to the $150,000-175,000 range, and that makes a big difference in the class of animal we've gotten." After seeing the tapes of Lost in the Fog before the 2-year-old passed through the sales ring in Ocala, Gilchrist was impressed.But he needed some luck to eventually get the horse. "The day I first saw him Jess Jackson was looking at him, and I knew that Kendall-Jackson's pockets were a whole lot deeper than ours," said Gilchrist. "But the horse had sore shins, and that got a lot of people off him. People want the 'now' horse. Harry has learned that if you don't have patience with young horses, you shouldn't be buying them. If you don't wait on them, they'll make you wait anyway, and all you do is harm them in the meantime by pushing them."Gilchrist has handled Lost in the Fog beautifully, first giving him time for his shins to heal, and then letting the horse do what he does best--sprint.When you have a good 3-year-old, let alone an undefeated one, the first inclination is to run in the Kentucky Derby. Aleo and Gilchrist considered their options and took the road less traveled. "It wasn't that hard a decision as it pertained to the horse," said Gilchrist. "But I knew I'd be second-guessed by thousands of people. I told Harry the same guys who are gonna write before the Derby about how stupid you are for not running, after you finish 16th, would have written, 'why the hell were you in the race to begin with?' "While not trying the Triple Crown races was undoubtedly best for Lost in the Fog, it has spawned doubters who wonder what all the hype is about. People not moved by the excitement created by the horse have questioned the competition he has run against. Gilchrist takes the issue in stride. "Sure, the question of respect comes up," he noted. "People who take the cynical approach that he can't do this and that will be right one of these days, but I don't see any validity to the criticism."Guys I respect, like Bill Mott and Wayne Lukas, have come up to me raving about the horse. They know what he is. I know what I have. We've made six trips cross-country and a 28-hour van ride to Phoenix and back. The racing and the winning is something, but combined with the travel? Let all those boys we run against on the East Coast fly out here six times and run in my ballpark. He's one in a million that can do the traveling. It amazes me as much as his races. The only difference right now between this horse and Seabiscuit is that we're on a plane and he was on a train."Yet as Gilchrist has gotten to know Lost in the Fog, he realizes the travel may actually help the horse, who gets bored at home with the same routine."He's happy to get back home off the road, but once he's here a week, it's like, 'Where can we go? Let's go do something.' He's exactly like me that way. I try to walk him in different areas so he has something new to look at. If you walk him in the same area, after five days he doesn't even want to go."But when that van pulls up at 3 in the morning and we get him up and feed him early, boy, his eyes get bright and he knows. When you get to the new place, he gets very alert."At this point, Gilchrist's mother, Rowena, enters to tidy up around the office. Not even his mom is immune from the barn banter. "Try to get to work a little earlier in the morning, Mom, you're slacking. That will be reflected in your check."Outwardly, Gilchrist is handling the pressure of having a superstar on his hands quite well. When the horse worked three seconds faster than Gilchrist wanted before his Oct. 1 race at Bay Meadows, the trainer looked at his stopwatch and let fly a 10-letter word he wouldn't use in front of his mom."Just give me a few minutes and I'll be fine," he said, and he was."If I didn't feel anxiety, I'd quit," Gilchrist said later. "If you ain't living on the edge, then you ain't living hard enough. With this horse, when it gets to be 10 days or a week out, I start getting a little testy around the barn. Of course you think about having won 10 in a row, and that 11 in a row sounds even better. But it's not as much pressure as being at the state fair knocking around and trying to make the rent money."Although a fixture in Northern California, Gilchrist said he could envision the day when he hits the road for other climes. He no longer goes after lower-end horses, and has just 23 head under his care. Asked if his success with Lost in the Fog has led to more clients, he grinned. "I've turned down enough people where they're not calling to give me more horses. The logistics of where I'm at enters into it, too. If I was sitting on the East Coast I'm sure I'd get more play. I live here and I like it, and I would never desert Mr. Aleo. Ever. But if Harry quits the game, I might be out of here the next day. I would like to be a private trainer for someone, even if it entailed moving."For now, Gilchrist will settle for moving back to New York with Lost in the Fog for a couple of weeks leading up to the Sprint. And if all goes according to plan, he might be answering questions about Citation and Cigar along about next summer, something he'd give a piece of his arm for.



Copyright © 2015 The Blood-Horse, Inc. All Rights Reserved.