ADW is Focal Point of Marathon CHRB Meeting
by Jack Shinar
Date Posted: 9/21/2006 12:36:32 PM
Last Updated: 10/25/2006 6:12:57 PM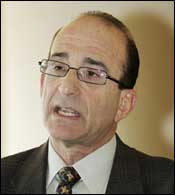 CHRB chairman Richard Shapiro.
Photo: Tim Sharp

A longstanding dispute between California horsemen and the account deposit wagering provider TVG over what the television network may charge for its service remained unresolved Sept. 20 after the state horse racing board heard more than two hours of discussion during a marathon commission meeting at Fairplex Park in Pomona.TVG and the Thoroughbred Owners of California have not had a contract this year that governs the charges, known as hub fees. The ADW provider is currently charging a 6% rate on California wagers, which was accepted by the racetrack associations that are exclusive partners of TVG. The TOC, which wants a lower percentage taken from the wagering dollar, was not a party to the negotiations. The commission, at the behest of chairman Richard Shapiro, came within an eyelash of imposing a 5% hub fee rate on TVG for California races and wagers and a 4.5% rate on out-of-state imported races, the same percentages that TOC has negotiated with rival California ADW providers Xpressbet and Youbet. TVG attorneys objected strenuously to the motion and hinted at a lawsuit. Ron Turovsky, representing TVG, challenged the CHRB's authority to impose rates."We do dispute your ability to settle this dispute in this manner," he said in response to a question from Shapiro about taking the issue to court. "Absolutely. I can't speak for the company and what direction it might take, but I'd certainly advise them that this would be cause for legal action."However, there were just four commissioners on the seven-member board still around as the meeting surpassed the six-hour mark, and commissioner Jerry Moss chose to abstain, leaving the vote short of a majority at 3-0-1."I'm just not sure about this," Moss said. "I need more time."Shapiro, John Harris and John Amerman were in favor. William Bianco left the meeting prior to the vote and Marie Moretti and John Andreini were absent.The issue was placed on the calendar for the board's Oct. 26 meeting in Arcadia. In the meantime, Shapiro urged both sides to continue the negotiations that began only two weeks ago and suggested that they add Magna-owned Xpressbet to the talks in hopes of bringing to an end the exclusivity contract issue between the rivals that has hampered California ADW from the start. TVG was licensed by the board to operate in the Golden State this year, as it has been ever since home betting was approved by the legislature and signed by Gov. Gray Davis in 2002.That groundbreaking legislation, which is set to expire at the end of 2007, is the root of contention. David Nathanson, TVG's general manager, argued that there is no requirement in the law for ADW providers to negotiate with the horsemen. Drew Couto, president of the TOC, agreed that was so, but argued that the CHRB intended for the horsemen to be a party to negotiations. He quoted extensively from transcripts of meetings in 2002 that included comments from then-chairman Alan Landsburg and other board members. He also noted that TVG had a contract with TOC in past years and cited a provision in the ADW law that allows the CHRB to intervene to resolve disputes.Cathy Christian, one of the attorneys representing TVG at the meeting, called Couto's citations from Landsburg and others "an old appellate lawyer trick" -- taking comments out of context to support his legal position.Couto also said TVG was in violation of the law for 10 weeks during the past spring when it accepted wagering from California bettors on Thoroughbred races when only Magna-owned Santa Anita Park and Golden Gate Fields were operating. TVG has no agreement with those tracks but continued to do business in the state based on its agreement with the Los Alamitos Quarter Horse racing association. "In fact, when the initial approval of TVG's first application to conduct ADW was granted by the CHRB on January 24, 2002, TVG did not have a contract with any California Thoroughbred racing association running live at that time," Nathanson said. "Nor did TVG have an agreement directly with TOC. After consultation with the Deputy Attorney General, the board approved TVG's application to conduct ADW, including TVG's conduct of ADW on imported Thoroughbred races, on the basis of its agreement with Los Alamitos.""ADW is a mess," Couto concluded. "It's not working out."

Rubbing his head in frustration, Shapiro said he could not understand why TVG objected to an agreement with horsemen. He said that because of exclusivity agreements in place at most of the state's major tracks, TOC should have a role as an "impartial" party. "What I'm failing to find here is what's best for California horseracing," he told Nathanson. "We (the CHRB) want to the best we can for the tracks, the horsemen and TVG." Nathanson also told the board that, "We handle more wagers in California than the two other licensed ADW providers combined generating over $750 million in California handle to date and we have paid back to the industry over $100 million for purses, commissions and statutory contributions."Shapiro said that changes in the law will be needed when the legislature undertakes renewal, but said he was concerned how the current logjam will be viewed in Sacramento."They aren't going to come close to understanding the complexities of all of this," he warned.



Copyright © 2015 The Blood-Horse, Inc. All Rights Reserved.