Lawyer Ron Ready to Take Next Step in Super Derby
by Steve Haskin
Date Posted: 9/19/2006 2:47:37 PM
Last Updated: 9/21/2006 5:06:34 PM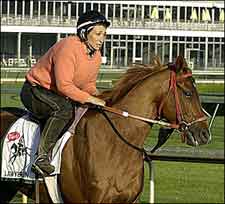 Lawyer Ron, before the Kentucky Derby, among contenders for the Super Derby.
Photo: Anne M. Eberhardt

Before Barbaro and Bernardini began monopolizing the headlines with their heroics on and off the racetrack, Lawyer Ron was one of the dominant forces on the Kentucky Derby trail. On Saturday, he attempts to return to prominence in the 3-year-old division in the $500,000 Super Derby (gr. II).Following his comeback victory in the St. Louis Derby at Fairmount Park on Aug. 26, the son of Langfuhr appears to be headed toward that goal. Lawyer Ron's only defeat in his last eight starts came in the Kentucky Derby Presented by Yum! Brands (gr. I), after which he underwent surgery to remove a small bone chip from his right hind ankle. Since December, he has won six stakes, including the Arkansas Derby (gr. II), Rebel (gr. III), and Southwest Stakes at Oaklawn Park.During that time, his owner, James T. Hines Jr., died in a drowning accident at his home, and the colt now runs in the name of Stonewall Farms Racing Division and the Estate of James T. Hines Jr."The new owners spent a lot of money for him," trainer Bob Holthus said. "The horse probably needed time off anyway after the Derby, and I believe he will justify that later on."During his time off , he's really matured, and we've been able to teach him how to rate a little better. He's never been a speed crazy horse. Several times, he went to the lead when the opportunity arose, but he's always been able to rate."In the St. Louis Derby, Lawyer Ron took back and rated some eight lengths off the pace before unleashing a powerful run."I think he got a lot out of that race, because the track was pretty deep," Holthus said. "He's had two good works since. He went six furlongs in 1:11, and then worked five furlongs in :59 3/5 and galloped out in 1:12 and change."As for the chances of Lawyer Run being pointed for the Breeders' Cup – Powered by Dodge (gr. I), Holthus said. "He'd have to run a very high (speed) number to consider the Breeders' Cup. That race is going to come up with some very nice horses." Holthus acknowledged the two horses to beat in the Super Derby are Strong Contender and Point Determined. "Whenever Bob Baffert (trainer of Point Determined) ships across the country, you have to respect him," he said.Strong Contender's trainer John Ward is looking for a big effort from the colt, but admits that Lawyer Ron is going to be tough to beat. "We've taken on the bears before, and Lawyer Ron is one of the bears," Ward said. "Our horse has really matured, and he's probably a better horse now than he was in the Haskell. Edgar Prado has other commitments in New York, so we'll have Robby Albarado up. Robby understands the racetrack and has been the leading rider there, and it's good to have a home boy when you're going to the Bayou. "The horse has gotten stronger, and he's leveled that big stride out. He used to have big knee action, but he keeps his back very level and is doing everything like he should. He's a May 15 foal and finally has caught up to the others. If everything goes well and he runs a big race, I'd have to look at the Classic, because he's an improving horse. But he'd have to really impress me. I don't want to run in my home state and get dusted."



Copyright © 2014 The Blood-Horse, Inc. All Rights Reserved.