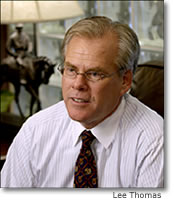 Overall handle grew 3.5% over four years, a decline of 7.3% when adjusted for inflation;


On-track handle declined 12.2%;


Off-track or satellite wagering declined 12.8%;


Overall purse revenue declined 1.3%, a decline of 11.6% when adjusted for inflation.


The TOC study has prompted the organization to "reconsider the economic model and processes" of advance deposit wagering. TVG, Magna Entertainment's Expressbet, and Youbet are the only licensed operators in the state, and they are entitled to compensation as high as 6.5% of handle. Some think that's excessive.California isn't the only state looking at its account wagering models and contracts. The Illinois Thoroughbred Horsemen's Association exercised its rights under the Interstate Horseracing Act and cut off the Arlington Park signal to TVG earlier this month, a move that was followed by the termination of an exclusive contract between Hawthorne and TVG.Earlier this year, Churchill Downs Inc. officials said they will reexamine the account wagering business model to ensure horse owners and tracks obtain a "fair share" of revenue. The exclusive contract between Churchill Downs racetrack and TVG expires in March 2007. The fundamental question some people are beginning to ask is whether or not the industry was better off before account wagering began, suggesting that instead of a growth platform, it has served merely as a means to shift money from traditional betting outlets (OTBs or the track) to the Internet or telephone.That is a head-in-the-sand approach. Racing must continue to embrace account wagering, but it must learn to work together as an industry and urge consolidation in a fragmented market. It also must seek ways to fight the rebate operations and illegal offshore bookmakers that are siphoning revenue away from tracks and horsemen. Finally, industry leaders and racetrack operators must remember that promotion and marketing of the live racing product should, in the end, contribute to wagering growth on-track and online.