Sheikh Mohammed: I Want to Win the Kentucky Derby 'My Own Way'
by Deirdre B. Biles
Date Posted: 9/14/2006 12:23:09 PM
Last Updated: 9/15/2006 6:08:23 PM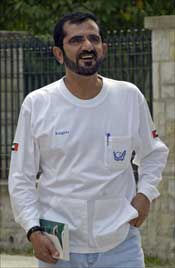 Sheikh Mohammed
Photo: Anne M. Eberhardt

By Wednesday night, the two jumbo jets that had brought Sheikh Mohammed and his brother, Sheikh Hamdan, to the Keeneland September yearling sale had left Lexington. But before Sheikh Mohammed departed, he took time to talk with several reporters about his huge investment in September yearlings that had grown to $58,695,000 by the end of the auction's third session and included an $11.7-million

Kingmambo

colt. The ruler of Dubai also discussed his recent racing success in this country and his desire to win the Kentucky Derby (gr. I). Here's what he had to say:Question
Because of your racing success in this country this year did you come to the sale with the idea of buying more of the horses for American racing than in the past?Sheikh Mohammed
"Yes. Before, as you know, I buy horses for Europe. European horses look different than American horses. So three years ago, I started to buy to race in America, and we went for the American type of horses. That's why we are successful. We were lucky this year with some horses, as you know. We came back. We bought half and half, half for America and the other half for Europe. And we are very happy. We are successful (at the track) and therefore we come here and buy and put some money back into the business."Question
Are most of the horses you bought here for your American racing operation? Do you know which horses will go where yet?Sheikh Mohammed
"Yes, I know which ones are for America and which ones are for Europe because they look different. We like the horses. We try to buy good horses to go racing with and then for (use in) the breeding side."
Question
What did winning your first American classic this year with a homebred, Bernardini, mean to you?Sheikh Mohammed
"Well, it was great. Bernardini is a great horse. I love to see the great horses running."Question Why did you decide to focus on America?Sheikh Mohammed
"Before, we are only in Europe. We are racing only in Europe and the Far East And then we decided to come here to America. American horses, if you take them to Europe, they don't do well. They have to run here because they are a different shape of horse. The way the horses walk from Europe, you have to have them on grass. We are very happy now to come, and we'll be racing more and more in America.'Question
For you, is it about developing stallions to stand in America or is it about the challenge of winning American races?Sheikh Mohammed
"I think they're together. You have successful stallions. You having a racing operation; you have a breeding operation. The whole thing. Buying the horses, you want them to win when they pass the racing post, then they become stallions. It's the whole thing."
Question
Are you looking for horses to win the Kentucky Derby (gr. I)?Sheikh Mohammed
"Yes. Actually, I tried to win the Kentucky Derby buying European-type horses, and it did not work. So now we are doing it the right way. I am looking for the right horses. I see what American racing is about. So we learn, we learn every day."
Question
To win the Derby, will these horses need to stay in America?Sheikh Mohammed
"No, I still will do it my own way. Still, they'll have to winter in Dubai and come back. I think, (based on) my experience, that wintering in Dubai gets them ready because you can train them every day, nothing is stopping them, no bad weather. No cold, nothing. They eat better."Question
Do you get as much of a charge out of the auction as you do the racing?Sheikh Mohammed
"Of course. But with the whole operation -- the breeding, the buying, all through to seeing the horses running ... it's not just buying horses. It's the whole process."
Question
Your bloodstock manager, John Ferguson said you thought the $11.7-million Kingmambo colt was the best horse in the sale.\Sheikh Mohammed
"I did."Question
Why did you think that?Sheikh Mohammed
"We have Kingmambos, and we have stallions that are Kingmambos. The way he looked, the way he walked, and the shape of him, I thought he was the best horse from the first day I saw him."



Copyright © 2015 The Blood-Horse, Inc. All Rights Reserved.