Average, Median Rise During Day Three of Keeneland Sale
by Deirdre B. Biles
Date Posted: 9/13/2006 8:32:16 PM
Last Updated: 9/13/2006 9:47:55 PM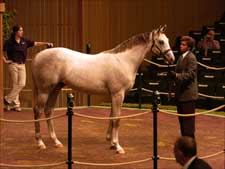 Unbridled's Song colt is session three co-topper at $900,000.
Photo: Anne M. Eberhardt

The Keeneland September yearling auction turned in a solid performance Wednesday in Lexington during the first open session following two days of select offerings.There were no awe-inspiring bidding battles between Sheikh Mohammed and Coolmore Stud. No horses reached the seven-figure level. But the average price rose 2.2% and the median price increased 15.4%."It started a little slower this morning than I anticipated, but I think it's exactly where we thought book two (of the catalogue) would be," said Geoffrey Russell, Keeneland's director of sales. "There is always a transition between book one and book two. It takes a few hip numbers for the consignors to remember that they are now in book two. Once that kind of got on track, I think it was a good day."The 265 horses sold grossed $48,275,000 and averaged $182,170. The median price was $150,000. Compared to the same session a year ago, the gross revenue declined 3.9% from the $50,257,000 paid for the 282 yearlings sold during the third session in 2005. The average was up 2.2%, from $178,216 in 2005 to $182,170 this year. The median grew 15.4%, from $130,000 to $150,000. The buy-back rate rose from 24.2% to 25.8%."It's been a good day, you bet," said Wayne Sweezey of Darby Dan Farm. "The horses we have brought here, for the most part, have all sold and sold well. A lot of people didn't get to buy the last couple of days, so I think a lot of them stuck around. One of our clients told me that he's been shut out so much and he's had to fight for everything he's bought. He thought he would be done by now, and he's only bought two; it's still tough in there."The figures for the first three days of the sale combined show 589 horses sold, a gross of $231,135,000, an average of $392,419, and a median of $230,000. Compared to a year ago, the gross was down 2.7%. But the average and median were up 8.1% and 15%, respectively. The buy-back rate increased slightly, from 25.4% to 25.7%."Book one (of the sale catalogue) is sort of not reality," said Mark Taylor of Taylor Made Sales Agency. "It's still a very good horse sale today in book two; we're getting them sold for a lot of money. But just because one brought $11.7 million yesterday and you think yours might be just as good-looking as that one, it doesn't equate. When you don't have John Magnier and Sheikh Mohammed both bidding on it, it's a whole different set of economics that come into play. You've got people who are making a living and earning money the old-fashioned way paying for these horses, so you've got to be very reasonable with your reserves. You can't be greedy."A Petionville filly and an

Unbridled's Song

colt each brought $900,000 to top the session.Sheikh Mohammed's bloodstock manager, John Ferguson, purchased the Petionville filly. The bay yearling is a full sister to 2004 Darley Alcibiades (gr. II) and Golden Rod Stakes (gr. II) winner Runway Model, and she is a half-sister to 2004 Turf Paradise Derby winner Mambo Train (by

Kingmambo

). Their dam is the 13-year-old stakes-winning Houston mare Ticket to Houston.Pope McLean of Crestwood Farm consigned the $900,000 Petionville filly as agent. Everest Stables bred her in Kentucky."We've never bought a Petionville before, but he's a horse that's capable of doing it as he's shown with her full sister, who is a winner of the Darley Alcibiades," Ferguson said. "She's a beautiful filly. Sheikh Mohammed went out and saw her and loved her. The good ones cost a lot."Madeus Racing Stable bought the $900,000 Unbridled's Song colt, with Tim Kegel signing the sale ticket. The gray or roan yearling is out of the 8-year-old winning Rubiano mare Danzig's Dreamer and is a half-brother to the winner Hedge Your Bet (by

Out of Place

). Danzig's Dreamer is a half-sister to the grade II winner and successful sire Distorted Humor.Peter O'Callaghan's Woods Edge Farm consigned the colt as agent. He was bred by a partnership that includes Dearborn Stable and WinStar Farm. Walnut Hill Stables purchased the colt as a weanling for $285,000 from Taylor Made Sales Agency, agent, at the 2005 Keeneland November breeding stock sale."It's for a racing outfit, a partnership," Kegel said. "At this point in time, I'm not going to say who is involved because they might have to add one or two people to make up for the price. He's a very nice horse."The September auction continues through Sept. 25, with a day off from selling Sept. 15.LEADING SIRES: Session Three



Copyright © 2015 The Blood-Horse, Inc. All Rights Reserved.