McLaughlin Named 2006 MS Champion
by Claire Novak
Date Posted: 9/7/2006 11:44:43 AM
Last Updated: 9/7/2006 12:40:19 PM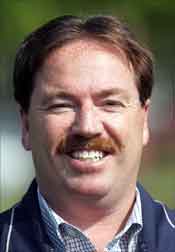 Belmont-winning trainer Kiaran McLaughlin named MS Champion in Kentucky-Southeast Indiana.
Photo: NTRA/Horsephotos

Kiaran McLaughlin, trainer of 2006 Belmont Stakes (gr. I) winner Jazil, has been named this year's MS Champion by the National Multiple Sclerosis Society's Kentucky-Southeast Indiana Chapter. McLaughlin, who was diagnosed with MS in 1998, will be the guest of honor at the chapter's annual fundraising dinner, "A Night of Champions," to be held in the Triple Crown room at Churchill Downs Oct. 12."We named Kiaran MS Champion, not only because of the success he's had while facing the disease, but because of the way he talks about his disease and is helpful, supportive, and encouraging to others," said Douglas Dressman, chapter president of the National MS Society. "His attitude about disease and willingness to talk to others really makes him stand out. He has an opportunity to deliver an important message and does so in such a positive way, without seeking anything in return. It's coming from his heart, and that's definitely very special.""This is a great honor for me," Mclaughlin said. "Nine years ago, I never dreamed I would have MS, but that's the hand that was dealt to me, and I'm gonna play it. I know how I felt when I was first diagnosed, I thought the world was ending any moment; it was very scary. I try to reach out and talk to people who are newly diagnosed because I want to help and I know how they feel. Not too many people know how they feel or understand."The fundraiser honoring Mclaughlin will support three clinics in Kentucky that attend to patients with MS. Funds from the evening will also go to the chapter's scholarship fund and an emergency resource fund."We're hoping this event will net somewhere between $50,000 and $70,000 and will help provide financial support to the clinics in the next 12 months," Dressman said. "We haven't even begun to knock on doors, but we know the industry is going to support this in a big way," said Mclaughlin's business manager, Kelly Weitsma. With an open bar cocktail hour, valet parking, and a red carpet entrance, "A Night of Champions" is open to the public and will feature honorary chairmen D. Wayne Lukas, Todd Pletcher, and Gary Stevens, as well as WAVE3-TV sports anchor Kent Taylor, who will emcee the event. Individual tickets ($150 per person) and tables of 10 (Bronze $1500, Silver $3000, Gold $4500) are still available. More information is available at (914) 261-6379 or equisponse@aol.com.



Copyright © 2015 The Blood-Horse, Inc. All Rights Reserved.