California Stewards: Valenzuela Can Exercise Horses
by Margaret Ransom
Date Posted: 9/6/2006 6:29:56 PM
Last Updated: 9/9/2006 3:05:23 PM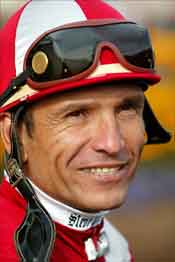 Patrick Valenzuela has been cleared to resume exercising horses.
Photo: NTRA/Horsephotos

Embattled jockey Patrick Valenzuela, who hasn't ridden since the conclusion of the spring/summer meet at Hollywood Park July 16, was given clearance to resume exercising horses Sept. 7 after meeting with Del Mar stewards the morning of Sept. 6.Valenzuela, who had reportedly been battling a back injury and was briefly hospitalized for undisclosed reasons, met with the stewards for under an hour and also passed a drug test administered by California Horse Racing Board investigators. The "informal" meeting also included Valenzuela's attorney, Neil Papiano, and his agent, Tom Knust.Steward Scott Cheney said that, while Valenzuela has expressed interest in returning to the saddle during the upcoming Oak Tree at Santa Anita meet which gets under way Sept. 27, no official permission or denial will be issued for several days."(Valenzuela) presented medical documents, which cleared him to get on horses (the morning of Sept. 7)," Cheney said. "The CHRB and the board of stewards will require more information from his doctors and other sources before we move forward. But he tested (successfully), and we will be conducting further testing this week."For much of his career, 43-year-old Valenzuela has been in and out of the saddle due to substance abuse and/or personal problems. He captured the riding titles for all the major Southern California meets in 2003, and then sat out most of 2004 beginning in January, following his failure to submit to a drug test after he took off his mounts without notice.In April 2004, then CHRB chairman John Harris issued Valenzuela a stay of his suspension pending appeal, and a month later the CHRB unanimously ruled Valenzuela could return to the saddle with additional conditions attached to his license, including hair-follicle testing.The rider returned for one day before he was suspended again for failure to provide hair for testing after he showed up to ride with his entire body shaved. In early August 2004, Valenzuela appealed to the board of stewards, and after three days of testimony from both legal and hair-testing experts, they upheld their initial ruling and recommended the rider not be eligible for further licensing in any capacity.In November 2004, an administrative law judge ruled the stewards erred in suspending Valenzuela and said they confused hair-follicle testing with hair-strand testing, thus the CHRB failed to correctly administer the test. Valenzuela was re-licensed in early 2005 and had ridden through the most recently-concluded Hollywood Park meet without incident."I think it's fair to say we're proceeding cautiously," Cheney said.



Copyright © 2015 The Blood-Horse, Inc. All Rights Reserved.