Countdown to the Cup: Woodward Sheds Little Light on Classic Picture
by Steve Haskin
Date Posted: 9/5/2006 8:34:55 PM
Last Updated: 9/7/2006 7:23:44 PM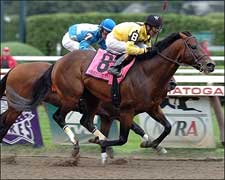 Woodward winner Premium Tap is not BC nominated.
Order This Photo
Photo: Coglianese Photos

The Woodward Stakes (gr. I) is in the books, and as we head into September, the cream of the Breeders' Cup Classic Powered by Dodge (gr. I) has risen to the top. Unfortunately, it is a very thin layer. Unless something drastic occurs between now and Nov. 4, it looks as if Bernardini, Invasor, and Lava Man, barring injury, will be the top guns, although one of those three - Bernardini or Invasor – will taste defeat in the Jockey Club Gold Cup (gr. I).The Woodward, which has produced the last two winners of the Classic and the last three Horses of the Year, was moved to Saratoga for the first time this year in order to attract a larger crowd and, it was hoped, a deeper field than the recent Woodwards. While the race, run around two turns this year, did draw a competitive field of 11 (with one scratch), the remnants of Tropical Storm Ernesto, moving up from the south, kept the crowd down to 13,000. Although Saratoga was spared the storm's heavy rains and wind gusts, people either were scared off by the early ominous forecasts or were hit hard themselves.The result of the Woodward did little to brighten the Classic picture. The winner, 31-1 shot Premium Tap, was always destined to be a good horse, but has been a project for trainer John Kimmel, who brought him back slowly from bruised cannon bones suffered early in his 3-year-old campaign. For some reason, the son of

Pleasant Tap

was not nominated to the Breeders' Cup, and the colt now most likely will be pointed for the grade II Meadowlands Breeders' Cup and Clark Handicap.The Woodward also turned into a major setback for Classic aspirants Flower Alley, Suave, Wild Desert, and even Funny Cide, all of whom turned in disappointing efforts. Only the steady Sun King, who finished a fast-closing third over the deep, speed-favoring track, came out of the race as a serious Classic contender, even though there is still a question whether he's as effective at 1 1/4 miles.And although runner-up Second of June was losing his eighth straight race, five of them were by a half-length or less. The son of

Louis Quatorze

did himself proud with another gutsy performance, and elevated himself to legitimate Classic contender status. He, too, however, is unproven at 10 furlongs.So, where does all this leave us? In addition to Bernardini, Invasor, and Lava Man, there is the top-class English colt David Junior, a 10-furlong specialist who will be attempting to win the Classic off a four-month layoff, something that has never been done. Another son of Pleasant Tap, David Junior has won two of the most prestigious 1 1/4-mile races in Europe – the Emirates Airline Champion Stakes (Eng-I) and Coral-Eclipse Stakes (Eng-I), as well as the Dubai Duty Free (UAE-I) and Select Stakes (Eng-III). David Junior possesses an electrifying turn of foot and has a classic dirt pedigree on top.Another European, Godolphin's Electrocutionist, may be headed for the Champion Stakes, with Bernardini representing the Maktoum family in the Classic. After David Junior, you have Sun King, and then a host of others trying either to rebound off disappointing efforts or make a move up the ladder. Sun King did not have the best of luck, trying to close on a track that saw many a come-from-behind horse flounder in the stretch. But he was the only one coming late, and keeps running his heart out. The son of Charismatic has now finished second or third in seven grade I stakes at ages 2, 3, and 4. It's still hard to tell just what his best distance is and how he'll handle 10 furlongs at Churchill Downs.Perfect Drift, who ran a decent fourth in the Pacific Classic over a dry track he didn't care for, should be ready for a big effort back home on Nov. 4. After traveling to four Breeders' Cup Classics, he finally gets one a few miles down the road over a track he's shown he likes, having won the Stephen Foster (gr. I) and finished third in the Kentucky Derby (gr. I).Good Reward, who finished a solid second in the Pacific Classic, had only moderate success on the dirt in the past, but could continue to make great strides as he gets more experience in dirt races. A dark horse to watch is Super Frolic, who was third in the Pacific Classic and Hollywood Gold Cup (gr. I). This grinder type has been racing close to the pace, and the belief here is that he is more effective taking back and then making one long sustained run. He could take on Perfect Drift and Funny Cide in the Hawthorne Gold Cup (gr. II).Looking to rebound are Flower Alley, Suave, Giacomo, Wild Desert, Brother Derek, and Magnum. Flower Alley, who won last year's Travers (gr. I) and was second in the Breeders' Cup Classic, has now turned in two dismal efforts in a row and needs a dramatic turnaround if he's going to return to his form of last year. Brother Derek's long-awaited return in the El Cajon Stakes (gr. III) also was a disappointment, as the colt wilted after pressing the pace. Trainer Dan Hendricks said Bro Derek wasn't as fit as he thought he was, and he will continue with his plans to run in the Goodwood Breeders' Cup (gr. II), where he could face Lava Man, unless the winner of the Santa Anita Handicap (gr. I), Hollywood Gold Cup (gr. I), and Pacific Classic winds up in the Clement Hirsch (gr. IIT) on the grass, which should attract Arlington Million (gr. IT) winner The Tin Man.Also on the 3-year-old front, it's going to be tight getting Belmont Stakes (gr. I) winner Jazil ready for the Classic. The diminutive son of

Seeking the Gold

recently returned to trainer Kiaran McLaughlin's barn after being sidelined with an injury. McLaughlin has two months to get him fit and to find a suitable prep race. With Invasor in the Jockey Club Gold Cup, don't expect to see him there.Welcome back, PomeroyPatrick Biancone and Nick Zito, both of whom saddled horses in Saturday's Forego Handicap (gr. I), were haunted by an old friend in the race. The winner, Pomeroy, who was scoring his third stakes victory at Saratoga, two of them grade I, has a history with both trainers. Biancone trained Pomeroy throughout most of his career for Michael Tabor and Derrick Smith, who sold the horse last fall after he suffered an ankle chip in the Vosburgh Stakes (gr. I). It was Zito who picked Pomeroy out of the Keeneland September yearling sale for Robert LaPenta for a mere $45,000. LaPenta then pinhooked him the following year for $300,000. Pomeroy, now trained by Marty Wolfson, is one of the leading contenders for the TVG Breeders' Cup Sprint (gr. I), along with Henny Hughes, Siren Lure, Bordonaro, and Too Much Bling. Silver Train remains doubtful for the Sprint."They were optimists," Tabor and Smith's bloodstock agent Demi O'Byrne said of Wolfson and new owner David Hutson. "They decided to take the chip out and keep racing him, missing a whole season at stud with him. Rarely do you see something like that get rewarded in a grade I."Commentator lost all chance in the Forego when he stumbled at the start, was rushed up to fourth, and then flattened out. Other Breeders' Cup news-- Todd Pletcher has become the first trainer to express his concern with the three-week gap between the Champagne (gr. I) and the Breeders' Cup, saying that it's possible neither Hopeful (gr. I) winner Circular Quay nor runner-up Scat Daddy will run in the one-mile race around one turn. But you can bet Pletcher will have a runner in the race.-- Speaking of Pletcher, with Flower Alley's loss of form, Bandini's and Bluegrass Cat's retirement, Sunriver's injury, and the disappearance from the races and work tab of Harlington, Pletcher's chances in the Classic are not looking too promising. Two of his older males are the tough New York-bred West Virginia and multiple stakes winner Magna Graduate who returned to the work tab on Sept. 1 after four months of inactivity. -- The exciting 3-year-old, Bright One, easy winner of the West Virginia Derby (gr. III), has fully recovered from the bug that kept him out of the Travers, working a sharp five furlongs in 1:00 Saturday. Trainer Dale Romans has scheduled the Oct. 7 Indiana Derby as the colt's next start. He admitted the Classic is a lot to ask of such an unseasoned horse, but he will keep his eyes and ears open and see how the race shapes up. -- Another 3-year-old to watch is the old familiar face from the Derby trail, Lawyer Ron, who made a successful return recently, winning the St. Louis Derby with a powerful move. The Super Derby (gr. II) will determine where the colt goes from there.-- Is there a more exciting showdown shaping up than the one among Ouija Board, Gorella, Wait a While, and Alexandrova in the Emirates Airline Breeders' Cup Filly & Mare Turf (gr. IT)? Add the hard-knocking Film Maker, and you have one terrific race.-- West Point Stable's High Finance, whose brilliant allowance victory at Saratoga on Aug. 26 was overshadowed by that weekend's epidemic of Maktoum Mania, likely will not go looking for Discreet Cat in the Oct. 1 Jerome Handicap (gr. II). The question is, will anyone be daring, or foolhardy, enough to take on this exceptional Godolphin colt, who, like Bernardini, has been downright scary in the way he toys with his opposition. How many 3-year-olds can trounce an older horse as classy as Invasor, especially in March? At this point, it is unlikely that Discreet Cat will run in the Breeders' Cup. The Cigar Mile (gr. I) is an option before the son of

Forestry

is sent back to Dubai.



Copyright © 2015 The Blood-Horse, Inc. All Rights Reserved.