Bejarano Sidelined Due to Rib Injuries
by Claire Novak
Date Posted: 8/26/2006 9:14:05 AM
Last Updated: 8/27/2006 12:06:02 AM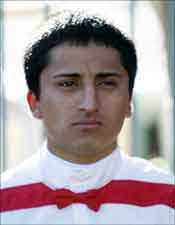 Jockey Rafael Bejarano out for undetermined amount of time.
Photo: NTRA/Horsephotos

Jockey Rafael Bejarano, who took off his mounts at Saratoga Race Course Friday after complaining of pain in his side and trouble breathing, will be out for an undetermined amount of time due to multiple rib injuries sustained in a fall on August 14, said his agent, Joe Ferrer.According to Ferrer, doctors discovered a hairline fracture and a crack in two separate ribs on Bejarano's right side. The injury was detected Friday, eleven days after Bejarano was thrown when his mount, Tizlater, fell at the head of the stretch and unseated the rider in the ninth race. Bejarano walked back to the jockeys' room after an examination in first aid and later visited Saratoga Hospital for a complete set of chest and rib x-rays, but no injuries were initially detected. The jockey rode 29 mounts over the next nine racing days and ranked eighth in the standings with 18 wins, but finally took off his mounts after riding two races on Friday's card. He complained of trouble breathing and checked himself into the track's first aid station again. The rib injuries were discovered after more in-depth x-rays taken later Friday. "He's going to have to see a doctor again today," Ferrer said Saturday. "I don't know how long he'll be off – at least Saturday, Sunday, and Monday for sure. There's nothing they can do about cracked ribs – they just have to take time to heal."



Copyright © 2015 The Blood-Horse, Inc. All Rights Reserved.