Group Wants Spa Protected in New York RFP
by Tom LaMarra
Date Posted: 8/21/2006 5:59:40 PM
Last Updated: 8/22/2006 10:18:58 AM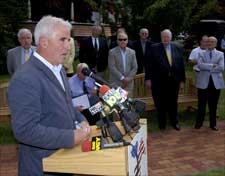 Nick Zito: "If you're a product of your environment, there's no better place to train horses than Saratoga."
Photo: Skip Dickstein

Concerned Citizens for Saratoga Racing, a group that includes several prominent horsemen, has called on the state to make continuation of spring and fall training in Saratoga Springs, as well as submission of all expansion plans for Saratoga to local government for approval, required under the request for proposal to operate Saratoga, Aqueduct, and Belmont Park.The two points are part of a nine-point resolution adopted by the group earlier this year. The RFP was issued by the Ad Hoc Committee on the Future of Racing in New York, the panel that will recommend an entity to operate the New York Racing Association-held franchise that expires Dec. 31, 2007."We're pleased to see seven of nine points included (in the RFP) but disappointed to see two are not included in the document," Saratoga County Chamber of Commerce president Joe Dalton said at an Aug. 21 press conference at the National Museum of Racing and Hall of Fame in Saratoga Springs.At issue is May-to-November training at the Oklahoma training facility and preservation of the racecourse's architecture and ambiance.Trainer Nick Zito, a member of the group, said Saratoga without the training facility would be like New York City without Central Park. Zito said the long training season helps not only horses but families and the local economy."If there's no Saratoga training, you've lost the fabric," Zito said. "The quality of life in Saratoga is so special--it's different than in the city. If you're a product of your environment, there's no better place to train horses than Saratoga. It's a gift from God. To whoever gets the franchise, don't ever leave that out of the equation."Thoroughbred owner Tracy Farmer called Saratoga a unique blend of architecture and green space that must be preserved."It's old-world beauty," Farmer said. "It's one place that's irreplaceable to me. The city (of Saratoga Springs) needs input and approval of any architectural change at Saratoga. It needs to be in the RFP."The nine points issued by the Concerned Citizens for Saratoga Racing don't address specific changes to the racetrack grounds, though it's understood Saratoga would not become home to a video lottery terminal operation. Only Aqueduct by law is permitted to install VLTs, and many bidders for the three-track franchise suggest Belmont be added to the mix.The group does believe a portion of Aqueduct gross VLT revenue--projected at $650 million a year--should be made available to the municipalities in which all three tracks are located. The group also says horse racing "must not be allowed to become a sideshow" to VLT or other casino-style gambling.Dogwood Stable president Cothran "Cot" Campbell, who has been coming to Saratoga for about 35 years, said the many owners in his partnerships focus on Saratoga more than any other racing venue."The one place they want to come to is Saratoga," Campbell said. "Louisville is fine, Lexington is OK, and Miami is splendid, but this is where they want to come. As a horsemen who goes all over the country racing, they're ain't any place like Saratoga, and we have to keep it that way."Campbell touched on alternative gaming, saying it's a case of the "tail wagging the dog" at some racetracks. "Gulfstream Park has been annihilated, for my money, and other places have gone downhill with their attractiveness."Gulfstream, owned by Magna Entertainment Corp., was demolished and rebuilt. The new facility opened in January, and plans call for installation of slot machines later this year.Owner John Oxley called Saratoga "the greatest racing plant in the world. We race all over the country, and (Saratoga) has the greatest chemistry of any racing environment in the world. It's a tremendous compliment to racing and a tremendous compliment to the Thoroughbred. We cannot afford to be without it. Let's not allow the ambiance to be changed."The bidders have an Aug. 29 deadline--at least as of now--to respond to the RFP. Concerned Citizens for Saratoga Racing initially said it wouldn't endorse a bidder, "and that holds true today," Dalton said.But Dalton also said the group "will oppose any (franchise award) that does not legally include the nine points." He said the group wants to ensure VLTs are strictly used to support racing."It should not be a cash cow for government," Dalton said. "Government and politics can affect Saratoga Race Course. A number of people have adopted all nine points but that doesn't carry any water. It has got to be in the document. Promises don't count--it's legalities that count."On Aug. 18, Empire Racing Associates, one of the bidders, issued a release that it is dedicated to supporting the nine points.In summary, the other seven points issued by Concerned Citizens for Saratoga Racing are the future of racing must be ensured; limited and exclusive dates for Saratoga; keeping tax revenue from the track at current levels; giving local municipalities where the three tracks are located a cut of VLT revenue; an obligation by the franchise-holder to make capital improvements; keeping the three tracks part of one package; and using VLT revenue to maintain New York's position as the premier racing circuit in the country.



Copyright © 2015 The Blood-Horse, Inc. All Rights Reserved.