Richardson to Appear on bloodhorse.com Talkin' Horses Chat
by Blood-Horse Staff
Date Posted: 8/15/2006 9:43:01 PM
Last Updated: 8/16/2006 8:03:36 PM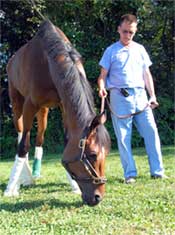 Dean Richardson answers your questions on a special evening edition of Talkin' Horses.
Photo: Sabina Louise Pierce

Bloodhorse.com has announced an early evening special edition of Talkin' Horses featuring Dr. Dean Richardson, head of surgery at the George D. Widener Hospital for Large Animals at the University of Pennsylvania's New Bolton Center. Richardson has been in the public eye since May 20 when he began treating Kentucky Derby winner Barbaro for a catastrophic injury sustained during the Preakness Stakes. This special edition of Talkin' Horses will be posted online beginning at at 6 p.m. (ET/ 3 p.m. PT) Wednesday evening.An equine orthopedic surgeon who has been at New Bolton for 27 years, Richardson has handled the attention accorded him with an openness and candor that has endeared him to the media and the public.A resident of Landenberg, Pa., Richardson and his wife, Laura, also a veterinarian, have a son, Alec, who is a senior at Penn. The couple has three horses that are ridden regularly, and Richardson is an avid golfer.Born in Honolulu, Richardson is the son of a Navy captain who was a physician specializing in internal medicine. Richardson enrolled at Dartmouth University at age 16 with plans for a career in acting. His plans changed after he became hooked on horses while horseback riding as part of a physical education course. A 1974 Dartmouth graduate, Richardson earned his doctorate of veterinary medicine at The Ohio State University and has been at New Bolton since 1979.Previous to Barbaro, one of Richardson's highest-profile equine clients was steeplechaser McDynamo, who earned a second Eclipse Award in 2005 after undergoing surgery performed by Richardson.Throughout the extensive surgery on Barbaro's right hind leg and the resulting recovery that was impacted by a case of laminitis in the colt's left hind leg, Richardson has handled all the pressure and responsibility with professional calmness. Earlier this week, Richardson reported that Barbaro continues to progress to the point he was able to go outside for the first time and graze.Submit a Question Here



Copyright © 2015 The Blood-Horse, Inc. All Rights Reserved.