Perfect Drift Looking to Cool off Lava in Pacific Classic
by Steve Haskin
Date Posted: 8/15/2006 9:14:39 PM
Last Updated: 8/18/2006 5:21:05 PM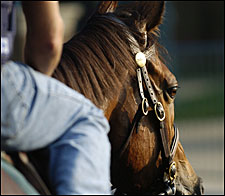 Perfect Drift meets Lava Man in Sunday Classic.
Order This Photo
Photo: Skip Dickstein

Lava Man has already become the first horse to win back-to-back Hollywood Gold Cups (gr. I) since Native Diver won three straight from 1965-67. He's already become the first horse since Affirmed in 1979 to win the Santa Anita Handicap (gr. I) and Hollywood Gold Cup in the same year. The question now is, can he continue his record-setting roll by becoming the first horse ever to sweep the Santa Anita Handicap, Hollywood Gold Cup, and Pacific Classic (gr. I) in the same year?That will be answered when the rags-to-riches gelding squares off against a solid field in Sunday's $1-million Pacific Classic, where a victory will push his career earnings over the $3-million mark.Not bad for a horse who began his career finishing fourth in a $12,500 maiden claiming race at Stockton, on the California fair circuit. He also failed to win running for a $20,000 claiming tag at Santa Rosa in his next start.Now, here he is, a little more than three years later at age 5, sitting atop the racing world, ready to write a new chapter in his already amazing story. Perfect Drift, on the other hand, isn't trying for any records on Sunday. The 7-year-old gelding is just trying to win a race. And after finishing second in the Pacific Classic the last two years, there is no more fitting spot for the son of

Dynaformer

to break a 13-month drought.Perfect Drift doesn't win often these days, but he still is one of the sport's most consistent money-making machines, with earnings just shy of $4.5 million. You have to go back to the 2003 Breeders' Cup Classic - Powered by Dodge (gr. I) to find the last time Perfect Drift did not finish in the first four on dirt. During that time, he's run in 17 dirt races, all stakes (16 of them graded). In addition to his two close losses in the Pacific Classic, he suffered heartbreaking nose defeats in the grade I Stephen Foster (two races back) and Whitney Handicaps, and was a strong third in last year's Breeders' Cup Classic.So, there is still plenty of life in the old boy. In fact, his trainer, Murray Johnson, is expecting to have a competitive horse on his hands for several more years, thanks to his patient handling and the patience and care of owners Dr. William Reed and his son Bryan of Stonecrest Farm, who let Perfect Drift frolic about every winter at their farm near Kansas City. Another of Stonecrest's success stories is the 12-year-old Proven Cure, who has won three of five starts this year for trainer John Locke, with a second and a third. Among his victories was a three-length score in the Littlebitlively Stakes at Lone Star Park. With 21 wins from 86 starts, Proven Cure has earned almost $740,000.The sprightly 7-year-old Perfect Drift is doing the same thing, but at a higher level. Can he, like Proven Cure, continue to win stakes until age 12?"He always comes out of his races good, and is ready for the next one," Johnson said. "I'm hoping to race him many more years. Our program has proven they can run later in their life. He's had less than 40 starts, so there's no reason to think he can't have 60 or 70 career starts, which comes out to another three or four more years of racing."Although Johnson has a great deal of respect for Lava Man, he feels Perfect Drift is more than capable of beating him."Last year, Lava Man was more dominant going into the Pacific Classic, having won the Hollywood Gold Cup by almost nine lengths. This year, he just won by a nose, so I would have been more worried about him last year. I feel confident, like I did last year, that we'll finish ahead of him. We got by him last year, and then Borrego came with a fantastic run to beat us. "The California handicap division does not seem that strong, with the same bunch running against each other. So, hopefully, the eastern-based horses are better, which I think they are. Also, I feel that a mile and a quarter at Del Mar is different than a mile and a quarter at Hollywood Park. Hollywood tends to be more of a speed-favoring track, and watching Del Mar this year, it doesn't seem to be too kind to horses on the front end. Although Johnson was hoping for a victory in the recent Washington Park Handicap (gr. II), he was not disappointed with Perfect Drift's second-place finish to Suave in track-record time."We would have liked to win it, but he probably would have had to run too good a race to beat Suave that day, and he might not have made the Pacific Classic," Johnson said. "I'm not going to complain about his seconds. Second is whole lot better than running fourth or fifth. He's never really disappointed us. To me, he's doing better than ever, and we believe there is $1-million grade I out there with his name on it. When things go right and he runs his best race, the others better look out."



Copyright © 2015 The Blood-Horse, Inc. All Rights Reserved.