Travers Flashback: Controversy Mars Final Battle Between Affirmed and Alydar
by Steve Haskin
Date Posted: 8/14/2006 7:37:12 PM
Last Updated: 8/18/2006 5:20:44 PM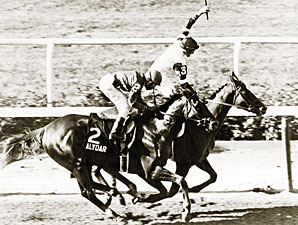 Affirmed and Alydar stage the infamous Battle in the Belmont - setting up the Showdown at Saratoga.
Photo: NYRA

Their names echoed throughout Saratoga Springs in the summer of 1978. From the whispers through the elms to the shouting down Broadway and Union Avenue, the Spa pulsated with the names of Affirmed and Alydar.You could even feel it at the National Museum of Racing, where the aura of these two magnificent horses permeated through the corridors. Affirmed and Alydar ruled Saratoga that summer, their names rolling off the tongue as a single entity. Say "Affirmed" and see if "and Alydar" didn't automatically follow.Immediately following their epic battle in the Belmont Stakes (gr. I), in which Affirmed out-dueled Alydar by a head to become the 11th Triple Crown winner, racing fans began looking down the road to the Travers.It mattered little that Affirmed had gotten the better of Alydar in seven of their nine meetings. The consistency, brilliance, and courage of both horses - and their memorable stretch duels at 2 and 3 - linked them forever in the minds and hearts of all those who witnessed their titanic struggles. So extraordinary were both horses that each came to define the other's greatness.What made Affirmed's dominance over Alydar even more intriguing was the fact that, when Alydar was not meeting Affirmed in 1978, he was winning five major stakes by an average margin of 8 1/2 lengths.June and July trudged along, with thoughts of Saratoga and the Travers growing stronger by the day. Alydar once again left everyone bewildered how Affirmed could beat him so consistently when he won the 1 1/4-mile Arlington Classic by 13 lengths in a sharp 2:00 2/5. Each colt was scheduled to have one race at Saratoga before the Travers. Officials of the New York Racing Association could only hold their breath and cross their fingers, hoping both colts would emerge victorious, setting up the most anticipated race in memory and a likely record crowd.On Aug. 5, Alydar went to the post in the historic Whitney Stakes, where he would face the brilliant 4-year-old J.O. Tobin, who had destroyed Seattle Slew in the previous year's Swaps Stakes and had won six stakes in 1978. After the first half-mile, jockey Jorge Velasquez had Alydar 13 lengths back, with J.O. Tobin tracking a strong pace. As J.O. Tobin took over the lead leaving the three-eighths pole, Alydar was rolling along the rail. But the question was: would he be able to catch a horse as brilliant and talented as J.O. Tobin? Before that thought was even finished, Alydar exploded past J.O. Tobin approaching the quarter pole with one of the most amazing moves seen in a long while. Alydar kept pouring it on, winning under a hand ride by 10 lengths over Buckaroo in a scintillating 1:47 2/5 for the nine furlongs, just two-fifths of a second off the track record. Once again, everyone asked the persistent question: how could Affirmed keep beating this horse, who - other than his three second-place finishes to Affirmed in the Triple Crown - had scored brilliant victories in the Flamingo (by 4 1/2 lengths in 1:47 flat, three-fifths off the track record), Florida Derby (by two lengths over Believe It in 1:47 flat, one-fifth off the track record), Blue Grass Stakes (by 13 lengths), Arlington Classic (by 13 lengths), and Whitney (by 10 lengths)?Three days after the Whitney, it was Affirmed's turn in the 1 1/8-mile Jim Dandy Stakes. Only one more obstacle to get over and NYRA would be all set for the event of a lifetime.But the Jim Dandy was not going to be easy. Affirmed, under the allowance conditions, would have to carry top weight of 128 pounds and concede nine pounds to the brilliant speedster Sensitive Prince, trained by "The Giant Killer," Allen Jerkens. With only five horses entered, there was no one to run with Sensitive Prince. The track was listed as muddy most of the day, and trainer Laz Barrera had elected not to give Affirmed a blow out before the race, breezing him a slow mile six days before the race.There was no doubt about Sensitive Prince's strategy, especially when he burst out of the gate and quickly opened a big lead. After a half-mile, he was already eight lengths in front through a half in :46 3/5 and running comfortably under Jacinto Vasquez, who had teamed up with Jerkens in 1973 to orchestrate the historic upset of Secretariat with Onion in the Whitney.Steve Cauthen kept Affirmed in second down the backstretch, with most everyone in the stands and watching on TV urging him to start closing the gap before it was too late. As they turned for home, it indeed looked as if Cauthen had waited too long. Sensitive Prince was still winging out there by seven lengths and showing no signs of tiring.Affirmed, who had never been in this position before, dug in and closed the gap to four lengths at the eighth pole, but was now gaining in inches instead of yards. He kept coming, running with the same dogged determination that had become his trademark. But it looked as if the wire was coming too soon. The ultimate Travers showdown was beginning to unravel before everyone's eyes.Just then, Affirmed reached back for one final thrust and virtually threw himself at Sensitive Prince. In what may have been the greatest and most courageous performance of his career, Affirmed, straight as a string, surged past Sensitive Prince in the shadow of the wire to win by a half-length in 1:47 4/5, four fifths off the track record. Bring on the Travers, which was only 11 days away. Fortunately, for both Affirmed and Alydar, there were no such words as "bounce" and "speed figures" back then.But the good fortunes didn't last long. One day after the Jim Dandy, Cauthen was involved in a spill at Saratoga. A preliminary examination revealed nothing more than skinned shins. But by the following Monday, he was still unable to walk properly, the result of a severe kick in the knee suffered in the fall.Barrera summoned Laffit Pincay Jr. to be on call just in case, and two days later - on the Wednesday before the race - he announced that Pincay would ride Affirmed in the Travers. Only two others dared to challenge the dynamic duo. One was Nasty and Bold, who had won the American Derby and defeated older horses in the Brooklyn Handicap. The other was an overmatched Puerto Rican invader named Shake Shake Shake, ridden by Angel Cordero Jr., who had ridden Affirmed twice earlier in his career before being replaced by Pincay in the Hollywood Juvenile Championship.With the infield open to the public, a record crowd of 50,122 jammed its way into the Spa, shattering the previous record by more than 15,000. There was no way anyone in attendance or the millions watching on TV could foresee the bizarre events that would ensue. What began as a glorious celebration of the sport would end in bitterness and controversy. For the first three-quarters of a mile, everything was going as predicted. Affirmed, favored at 3-5, was sitting comfortably in second and about to dispose of the pace-setting Shake Shake Shake, who had been setting leisurely fractions of :24 and :48. Alydar, sent off at even-money, was in third, two lengths behind Affirmed. Everyone was waiting anxiously for something to happen. When would Affirmed blow past Shake Shake Shake? How and when was Velasquez going to attack Affirmed, and how was he going to try to avoid looking into the eye of the tiger this time?The answer soon became obvious. Cordero took Shake Shake Shake off the rail and began drifting out into Affirmed, opening a huge hole for Alydar, who had been running just inside of Nasty of Bold. Velasquez, as if expecting that hole to open, wasted no time and shot Alydar right through along the vacated rail.Affirmed by now had taken over the lead from the tiring Shake Shake Shake, only to have Alydar come charging through on his inside going into the far turn. The crowd let out a resounding cheer and braced for the battle they had been waiting for.Pincay, sensing the danger on his inside, gave a quick glance back and then dropped Affirmed back in, shutting the door on Alydar, who checked and stumbled badly, almost unseating Velasquez.Many in the crowd had no clue what had happened and were stunned when they heard track announcer Chic Anderson bellow, "Alydar suddenly has dropped back, very suddenly, and appears to be out of the race. Nasty and Bold moves through to be second, but Alydar is back in stride once again, and is coming on again!"In one of the most dramatic and remarkable recoveries ever seen, Alydar - after almost falling and dropping some six lengths back - was now rolling on the far outside as they turned into the stretch and challenging Affirmed. In the stretch, Affirmed dug in as usual when challenged by Alydar on his outside and Nasty and Bold on his inside and refused to be passed. Inside the final furlong, as Alydar began pulling away from Nasty and Bold, Velasquez, sensing he was not going to catch Affirmed, stopped pushing Alydar, knowing that a disqualification was imminent.At the wire, it was Affirmed by 1 3/4 lengths over Alydar, with most people not knowing quite how to react. The inquiry sign went up immediately, and after only a few minutes, the stewards disqualified Affirmed and placed Alydar first.Not only was it an unsatisfactory conclusion, to say the least, after such great anticipation, there was still the controversy and bitterness that was to follow. Barrera, knowing that Cordero and Velasquez were close friends, all but accused the two of conspiring against Affirmed by opening a hole for Alydar, who had already shown a fondness for running on the inside."Cordero forced my horse out to let Alydar through," an angry Barrera said after the race. "I don't think he'll be lucky enough to run against Affirmed again. This is the last meeting between the two or Affirmed will have another trainer."Alydar's trainer, John Veitch, blamed Pincay for "bad tactics" and "falling asleep on his horse." He said Alydar came out of the race with a small scrape on his side, but that it was superficial.The following day, a cooler Barrera stated that Affirmed would run in the grade I Woodward Stakes and Jockey Club Gold Cup, and possibly the Marlboro Cup (gr. I). It looked as if the rivalry would live on after all. With the addition of the previous year's Triple Crown winner Seattle Slew to the mix, the fall of '78 looked to be one for the ages.Shortly after the Travers, however, Alydar fractured the wing of his left front coffin bone and missed the remainder of the year. He would never again meet his arch rival, suffering a career-ending injury the following summer. Affirmed would go on to win the final seven starts of his career in 1979, including a victory over Spectacular Bid in the Jockey Club Gold Cup (gr. I), securing his place among the all-time greats. The Affirmed-Alydar rivalry was epic in every sense of the word, from its longevity to the fierceness of its battles. No one will ever know why Affirmed consistently got the better of Alydar in their head-to-head duels. Both were warriors, but Affirmed possessed that little something extra -- an unbreakable spirit and a burning desire to win. Both horses should have gone down swinging at the final bell, as they had in all their previous rounds. But not even the unfortunate events of the Travers could blemish what these two magnificent colts accomplished during a 12-month span unlike anything ever seen in the Sport of Kings before or after.



Copyright © 2015 The Blood-Horse, Inc. All Rights Reserved.