Johnston Hangs Up Silks to Assist Jockeys, Guild
by Tom LaMarra
Date Posted: 8/14/2006 10:38:35 AM
Last Updated: 8/15/2006 8:42:13 AM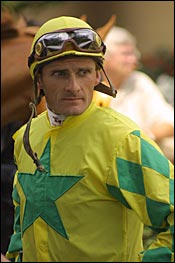 Jockey Jeff Johnston, joining The Jockeys' Guild as a regional manager.
Photo: John Englehardt

The Jockeys' Guild added a regional manager to its ranks Aug. 14 when Jeff Johnston became an employee of the organization only a day after he wrapped up his 20-year career as a jockey based in Kentucky and Ohio.Johnston, 36, who has a college degree in business administration from the University of Louisville, has served as treasurer of the Guild, which is in the process of rebuilding with sports agent Dwight Manley at the helm. As a regional manager, he will oversee Kentucky, Ohio, Indiana, Illinois, and Michigan.Johnston said he made his decision to retire from the saddle about a month ago. He rode in his final race Aug. 13 at River Downs with a gathering of family and friends on hand, and afterward indicated he has a calling to assist the Guild."I hadn't made a decision until the last month or so," said Johnston, who also will serve as Guild treasurer. "The board (of directors of the Guild) knew we needed to increase representation, and they asked me to take the job. I can't put enough effort into being on the Guild board and riding horses. If everything at the Guild were 100% in place, a rider could do it, but it's taking an extreme amount of time and effort."I still love riding, but there has to be somebody that wants to the work (for the Guild). I'll still be a jockey, just a jockey in a suit."Darrell Haire, the former interim national manager of the Guild, is now a regional manager on the West Coast. John Beech and Larry Saumell remain regional managers, and one more will be hired, Johnston said. Manley's plan is to have five regional representatives instead of three.Johnston said the regional managers attend racing commission meetings and visit racetracks on a regular basis. "I'm basically going to be a communicator," he said. "Jockeys need to know what's going on and what the organization is about. If they're not happy, we need to address their needs."Johnston, an Iowa native, lives in Northern Kentucky with his wife, Jo Lynn, the former marketing director at River Downs. He has a daughter, Alex, and another child on the way. Johnston has won more than 1,500 races in his career and more than 20 stakes at River Downs, where he has won several riding titles.



Copyright © 2015 The Blood-Horse, Inc. All Rights Reserved.