Travers Flashback: Damascus Blew 'Em Away in '67
by Steve Haskin
Date Posted: 8/10/2006 5:25:58 PM
Last Updated: 8/11/2006 7:33:18 PM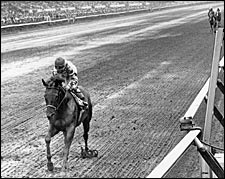 Damascus rolls to 22-length victory in the 1967 Travers.
Photo: New York Racing Association

It was the height of psychedelia, with the Beatles releasing their Sgt. Pepper and Magical Mystery Tour albums. America was embroiled in the Viet Nam war, and the Middle East became a hotbed during the Six-Day War, in which Israel turned back the armies of Egypt, Syria, Jordan, and Iraq in only six days.The hero of that brief conflict in June of 1967 was Israel's defense minister and military leader Moshe Dayan, recognizable by the patch he wore over one eye.Daily Racing Form's cartoonist Pierre Bellocq, better known as Peb, was never one to let current events go by without incorporating them into his racing cartoons.That summer, Peb melded Dayan and the equine juggernaut known as Damascus into an unforgettable sketch, showing Damascus' jockey, Bill Shoemaker, decked out in owner Edith Bancroft's famed Belair (polka dot) silks and wearing a patch over one eye, driving a tank, representing Damascus.As Saratoga approached, everyone in racing had one common goal: to have the sport's two 3-year-old superstars -- Damascus and Dr. Fager --lock horns in the historic Travers Stakes.Damascus had been narrowly defeated by Dr. Fager in the one-mile Gotham Stakes in April, after which Shoemaker vowed to trainer Frank Whiteley that Dr. Fager would never again beat Damascus while he was riding him. Over the next three months, Damascus would win the Wood Memorial, Preakness, Belmont, Leonard Richards, and Dwyer Handicap. Then, on Aug. 5, he journeyed to Arlington where he put on a spectacular show in the American Derby, beating In Reality by seven lengths with one of the most explosive moves seen in a long time. His time of 1:46 4/5 for the 1 1/8 miles was a new track record.Damascus was on a roll and it looked like no one could stop him. No one with the possible exception of Dr. Fager, who went on to run the fastest mile by a 3-year-old in the history of New York racing, winning the Withers Stakes eased up in 1:33 4/5. He romped in the Jersey Derby only to be disqualified in a controversial decision, and then won the Arlington Classic by 10 lengths and the Rockingham Special in track-record time.It seemed obvious to everyone that Damascus and Dr. Fager were on a collision course that would culminate in the Travers. Then came word from trainer John Nerud that Dr. Fager would instead return to Rockingham for the rich New Hampshire Sweepstakes, which also was the target for In Reality and Kentucky Derby runner-up Barbs Delight.Many felt Nerud was ducking Damascus; that he wanted no part of the colt going a mile and a quarter. Nerud was shrewd and knew how to pick his spots, and he felt Dr. Fager still had some maturing to do, and his big confrontation with Damascus could wait another six weeks when the 3-year-old championship and Horse of the Year would be on the line in the Woodward Stakes.That left the Travers as a virtual walk in the park for Damascus. Every top 3-year-old stayed away. The three who did show up – Reason to Hail, Tumiga, and Gala Performance – were decent colts, but not in the same league as Damascus. Tumiga, in fact, was a top-class sprinter/miler who was stretching out, assuring a hot pace for Damascus.That year's Travers should have been a total bore. But there was never anything boring about Damascus, who knew how to put on a show with his amazing turn of foot and devastating move. When he took off he was like a cat pouncing on its prey.The Travers set up perfectly for him. The track had come up sloppy, and Tumiga and Gala Performance went at each other tooth and nail. After a blistering half-mile in :45 4/5, they were still separated by only a half-length, and had already opened up 15 lengths on Damascus, who was sitting comfortably in third.No one had any worries about Damascus making up 15 1/2 lengths, but there was no way they could have predicted the total annihilation that was to come. Shoemaker finally got into Damascus, who suddenly looked to be running in a totally different time frame than the two leaders. It can be said that no horse ever made up 15 1/2 lengths so quickly. From that far back at the five-eighths pole, he found himself six lengths in front by the time he reached the quarter pole. He was 10 lengths in front at the eighth pole, and with Shoemaker sitting motionless on him, Damascus continued to draw clear of Reason to Hail, who had taken over second, winning eased up by an incredible 22 lengths. Despite the ease of his victory, Damascus still equaled the track record of 2:01 3/5 that was shared by Buckpasser and Jaipur.Dr. Fager wound up winning the New Hampshire Sweepstakes two weeks later by 1 1/4 lengths over In Reality in a track-record 1:59 4/5. There was no one who didn't agree that Nerud had made the right decision.Damascus continued his sensational run by beating older horses in the Aqueduct Handicap carrying actual top weight, and then destroyed Buckpasser and Dr. Fager, who was cooked by Damascus' rabbit Hedevar and to a lesser extent by Buckpasser's rabbit Great Power, in the Woodward, winning by 10 lengths.That championship race, pitting three future Hall of Famers against each other, has overshadowed Damascus' Travers victory, which to this day remains one of the most devastating performances of all time.



Copyright © 2015 The Blood-Horse, Inc. All Rights Reserved.