Travers Flashback: The Strange Saga of Jim French
by Steve Haskin
Date Posted: 8/8/2006 9:59:33 AM
Last Updated: 8/10/2006 5:17:43 PM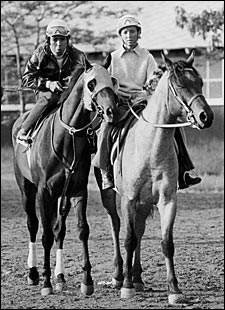 Jim French, with Angel Cordero, Jr. aboard, would have been favored in the Travers.
Photo: New York Racing Association

People love celebrating all kinds of anniversaries, whether they are joyous occasions or infamous events. But there is one anniversary that revolves around Saratoga and the Travers Stakes (gr. I) that you can bet has never been celebrated.The story of Jim French, one of the most indestructible, indefatigable horses of the modern era, has faded into history, taking with it the colt's remarkable feats of durability on the racetrack and the notorious final chapter of his career, in which the Travers favorite was impounded by the Saratoga County sheriff's office and not permitted to run.But let's start at the beginning. Jim French was a plucky little brown colt who brought his trainer John Campo into the national spotlight for the first time. Campo's training of Jim French would have brought about an outpouring of criticism from today's Internet racing fans. But the son of Graustark not only stood up to Campo's unprecedented schedule, he actually seemed to thrive on it.Campo, who would go on to become one of the top trainers in the country, later would say when asked why he ran Jim French so often, "I didn't know any better then. I had only been training for a few years and if I had known better I wouldn't have run him so many times. He wasn't a big horse, and small horses do hold up better than big horses."Hold up is an understatement. As excessive as his methods were, Campo's ability to keep Jim French in top racing condition for so long actually was a remarkable achievement. By the time Jim French arrived in Florida in December 1970 to begin preparing for the Triple Crown races, he had already crammed 11 races into a four-month period, racing four times in November alone, including a victory in the Remsen Stakes.--On Dec. 26, he engaged in a thrilling stretch duel with Sir Dagonet to win the 1 1/16-mile Miami Beach Handicap at Tropical Park.--Two weeks later, he just got up to win the 1 1/16-mile Dade Metropolitan Handicap at Tropical by a nose, carrying top weight of 125 pounds and conceding 10 pounds to the runner-up.--Eleven days later, now at Hialeah, he dropped back to six furlongs and finished a fast-closing fourth in the Hibiscus Stakes, beaten only 1 1/4 lengths by the brilliant Executioner.--He was back two weeks later, coming from 10th at the top of the stretch to win the seven-furlong Bahamas Stakes by a head, with the regally bred His Majesty third.--Two weeks later, he was beaten a head by His Majesty in the 1 1/8-mile Everglades Stakes, but was disqualified to fifth for bearing in down the stretch.--Like clockwork, he was back in the gate two weeks later, coming from 19 lengths back to finish third behind Executioner in the 1 1/8-mile Flamingo Stakes.--Instead of waiting for the Florida Derby, Jim French not only ran 17 days later, he shipped up to New York, where he finished third to the early Kentucky Derby favorite Hoist the Flag in the seven-furlong Bay Shore Stakes, run in a scorching 1:21.--Just one week later, he was back in Florida, where he closed fast to finish third to Eastern Fleet in the Florida Derby, run in 1:47 2/5, just a fifth off the stakes record.--Not content to wait for one final Derby prep, Campo put Jim French on a plane to California and ran him one week later in the Santa Anita Derby, which he won by 1 3/4 lengths in 1:48 1/5.--Two weeks later, he was back in New York, where he finished a solid fourth to stablemate Good Behaving in the Wood Memorial.So, Jim French entered the grueling Triple Crown series having competed in 10 stakes at five different racetracks in a little over four months, traveling from New York to Florida to New York to Florida to California, and back to New York. Although most horses would have been totally wiped out by now, Jim French went on to finish a fast-closing second to Canonero II in the Kentucky Derby, third in Canonero's track record-breaking Preakness, and a fast-closing second in the Belmont Stakes, in which he made up more than five lengths in the final furlong.Instead of being given a well-earned vacation following arguably the most ambitious Triple Crown campaign ever, Jim French amazingly was back in the starting gate two weeks after the Belmont, finishing a fast-closing fourth in the one-mile Pontiac Grand Prix at Arlington Park. Following his first three-week "vacation" since the previous November, he shipped to California, where he finished second in the 1 1/4-mile Hollywood Derby, giving the winner, Bold Reason, 13 pounds. One week later, he was back in New York, winning the 1 1/4-mile Dwyer Handicap, conceding 12-15 pounds to the rest of the field.In less than seven months, Jim French had run in 16 stakes from six furlongs to 1 1/2 miles, never finishing worse than fourth (except for his disqualification). During that time he competed at 10 different racetracks, made two round trip cross-country flights at a time when Eastern horses rarely flew to California for one race, and logged almost 20,000 miles of traveling. Jim French resurfaced four weeks after the Dwyer and ran an uncharacteristic ninth as the 2-1 favorite in the Monmouth Invitational Handicap. It was discovered after the race that the colt had a spur in his right knee that had broken off. Several people around the horse, however, were convinced that he had been 'gotten to'.Campo then sent Jim French to Saratoga for the Travers, and that's when all hell broke loose. Prior to the Travers, it was announced that the colt had been impounded by the Saratoga County sheriff's office. His entry for the Travers was refused by the stewards. State steward Francis P. Dunne called it "the most complex racing situation I've ever encountered."It had been discovered through a loan made by Jim French's co-owner Frank Caldwell, who had purchased the colt from the colt's breeder Ralph Wilson during his 2-year-old campaign, that there was a hidden ownership issue surrounding the horse.Caldwell, a Long Island furniture executive, had sold 70% of Jim French to Etta Sarant, and then taken out a loan from the Citizens National Bank and Trust Co. of Lexington, Ky., receiving a $130,000 advance after stating on his affidavit that he was the sole owner of Jim French. Leslie Combs II, a director of the bank, also assured that Jim French would stand at his Spendthrift Farm in Lexington.It was discovered, however, that Mrs. Sarant, in whose name Jim French raced in the Monmouth Invitational, had no owner's license in New York, and had no interest in applying for one. After the Monmouth Invitational, Jim French was resold to construction executive Fred Cole, but he, too, was suspended by the New York Racing Commission for failure to appear to give testimony in the case. That left Jim French without an owner.Dunne said at the time, "We have a real can of worms on our hands, and it's beginning to appear that not all of the worms have been pulled out of the can."He was right. Officers of the Saratoga Country sheriff's office then filed a writ of attachment on behalf of the Citizens Bank. The New York Racing Commission, sensing a possible cover-up, began an investigation into the ownership of Jim French and several other horses owned by Caldwell. According to the commission's findings, the true owner or part-owner of Jim French and the other horses was R. Robert LiButti, doing business as Robert Presti. The commission also concluded that the horse's ownership had been concealed from racing authorities, and stated that LiButti/Presti had been barred from racing in 1968. He maintained it was only a misunderstanding and that he had been exonerated of any wrongdoing.LiButti said that undisclosed ownership was a common occurrence in racing, and his ownership of Jim French was not done to defraud the public, claiming that no crime had been committed.On Oct. 13, 1971, the New York Racing Commission suspended Campo, Ralph Wilson, and trainer George Poole for 30 days for their role in the concealed ownership. Caldwell was ordered to appear before the commission to "show cause why his license should not be revoked."As for Jim French, he was not allowed to run in the Travers. Because of the complexity of the case, and the danger of his knee eventually splitting due to the spur that had broken off, he was retired and sold (it was never officially reported by whom) to art dealer Daniel Wildenstein for $1 million and retired to Haras de la Verrerie in France, where he proved unsuccessful, siring only five stakes winners. He was then sent to Japan in 1977. His name did show up in America as the broodmare sire of Breeders' Cup Mile (gr. IT) winner and grass champion Steinlen.The name of Jim French has long since disappeared. The vast majority of today's racing fans have never even heard of him, which is a shame. This was a true Thoroughbred in every sense of the word, who gave 100% every time, despite being subjected to one of the most grueling racing schedules of any horse in the history of the sport. More than three decades have passed, and now, at a time when it is so difficult to keep horses sound, and when many champions race only four or five times a year, it is important that we remember a horse like Jim French to remind us just how resilient Thoroughbreds can be.There are no shrines or memorials to this gallant warrior, who deserved to go out fighting and be remembered for his amazing toughness and durability rather than the ignominious series of events that befell him at Saratoga.



Copyright © 2015 The Blood-Horse, Inc. All Rights Reserved.