Hall of Fame Induction: A Flood of Memories
by Evan Hammonds
Date Posted: 8/7/2006 1:22:09 PM
Last Updated: 8/10/2006 10:21:17 AM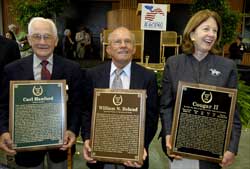 Carl Hanford (l), Bill Boland (c) and Mrs. Ellen Hunt (Cougar II).
Photo: Skip Dickstein

On a day when keynote speaker Tom Durkin said that memories are the greatest gift of our game, the memories came flooding back to the newest inductees of racing's Hall of Fame. And that flood of memories produced a few tears along the way. Honored at the Humphrey S. Finney Sale Pavilion Aug. 7 in Saratoga Springs, N.Y., were trainer Carl Hanford, jockey Bill Boland, and Mary Bradley's Cougar II. Bradley's daughter, Ellen Hunt, received her mother's plaque.The star of the day was Hanford, the trainer of Kelso, who entered the Hall of Fame in 1967. Upon arrival at the pavilion via trolley from a breakfast at the Hall of Fame, the 90-year-old was mobbed by friends, well-wishers, and autograph seekers.Prior to his introduction, Ed Bowen, chairman of the Hall of Fame committee said "For those who remember Kelso, this is a moment to savor. He was the horse who came to dinner...and stayed" in reference to the five-time Horse of the Year.In his acceptance speech, Hanford noted two people were missing, Allaire du Pont, Kelso's owner, who died in January, and Hanford's wife, Millie, who "left us a year ago. Millie was always my strongest supporter."I am here today because of one horse and one horse only," Hanford said. "Although I've had a few stakes horses before, they didn't compare with Kelso. There is an old saying on the racetrack that 'a good horse is dangerous in anybody's hands.' How true that is. Of all the top trainers in the past that have had this honor (entering the Hall of Fame)--I may be a little bit prejudiced -- but I don't think any one of them had their hands on a horse like Kelso."My accomplishments didn't get me here," he said. "Kelso did."I wish Mrs. Du Pont and my wife, Millie, had been here today to enjoy this with me," he said. "Maybe they are."Hanford was introduced by John T. von Stade, chairman of the National Museum of Racing and Hall of Fame. Boland, who won the 1950 Kentucky Derby aboard Middleground as a 16-year-old apprentice, was introduced by Hall of Fame trainer Allen Jerkens, who gave a leg up to Boland many times including three times when they beat Kelso with Beau Purple. Jerkens was short on words, but long on meaning. "He's always been a great guy," he said. "He's always worked for the jockeys. He's a very fair person. He rode very clean; he was set down very few times. He's always been a great guy for racing. Nobody rode better than he did."Boland brought some levity to the ceremony with an account of a story with Jerkens. After a race, Jerkens had asked him if had slept well the night before. Boland had replied in the affirmative, but Jerkens retorted, "Well, you fell asleep on that one."Boland pulled a sheet of paper from his vest pocket to read, but was unable to get far before he said "I think I'm going to cry." He started in on a story of his youth and his travels from King Ranch in Texas to Belmont Park, when again he had to stop. "I can't talk." He then received a standing ovation.Hunt began her speech telling the audience that her mother "may be thousands of miles away today, but I can assure you her heart is here with Cougar at Saratoga. She sends her regrets for not being able to be here, but also sends her thanks to the voters."Mother always thought that Cougar deserved to have a plaque on the wall with all the rest of the great Thoroughbreds. For 35 years, she owned lots of horses, but there was only one Cougar."In closing, Hunt became choked with emotion. "I remember watching Cougar race. He always came from the back at the very last minute with some heart-stopping performances. The crowds absolutely loved him. I'm happy to be here, standing in for my mother...thank you for this tremendous honor."Hunt was introduced by Arthur Hancock III of Stone Farm, where Cougar II stood at stud following his retirement at the end of the 1973 racing season. At stud, Cougar II sired 1982 Kentucky Derby (gr. I) winner Gato del Sol. Hancock said the story of Cougar was the "story of faith. Mary had so much faith in (trainer) Charlie (Whittingham). Charlie had so much faith in buying Cougar. I think he paid $130,000 for him. At the time, there weren't too many horses coming up from Chile. Mary had great faith in his ability. I remember her telling Charlie one time, 'this is going to be a really great horse.' For my little part, Mary had faith in me. I syndicated Cougar for her. It was difficult because most of the breeders in Kentucky didn't want to take a share in him because he was a foreign horse, and a grass horse, and so forth. We all believed in Cougar."In his keynote speech, Durkin, New York Racing Association track announcer and voice of the Breeders' Cup, noted he was "in his element" speaking into a microphone, he was not, like the inductees, "in his element" on the backstretch. That made him "more appreciative and in awe of what you do with horses. I tried it myself...once."After a tale of his one-time gig on the backstretch as a hotwalker for trainer Jack Van Berg and his lack of skills as a horseman, Durkin did point out that "I love horses. Kind of like I love Angelina Jolie. They're both gorgeous. I love to look at them. But I probably won't be petting either of them very soon."But while on his job on the backstretch, Durkin learned that "trainers, and jockeys, and grooms, and veterinarians, and all sorts of people that work on the backstretch are amazing individuals. How you can understand, and motivate, and cajole, and comprehend and communicate with horses is astonishing to me. Is it a skill? Is it experience? Is it a spiritual intuition or hard work? I don't know."I am a communicator. My profession is communication and my tools are words. How you can commune with horses without the benefit of dialogue and discourse is utterly amazing to me. And how in the hell do you get up at 4 o'clock in the morning?"On a more serious note, Durkin also noted that the current racing scene now consists of the "good old days" noting the high attendance at the Triple Crown events of the last several years and the success at racetracks like Saratoga, Del Mar, and Keeneland. Current members of the Hall of Fame that were on hand at the ceremony were introduced, in reverse order of their year of induction. Those honored were: Nick Zito, Shug McGaughey, Kent Desormeaux, Earlie Fires, Richard Mandella, Jerry Bailey, Bobby Frankel, Scotty Schulhofer, Jonathan Sheppard, Leroy Jolley, Ron Turcotte, Braulio Baeza, Tommy Kelly, Allen Jerkens. Arriving late to the party, but given their introduction, were Bill Mott and Angel Cordero Jr.Class of 2006 Profiles
Trainer Carl Hanford
Jockey Bill Boland
Cougar Joins Charlie in Hall
National Museum and Racing Hall of Fame



Copyright © 2015 The Blood-Horse, Inc. All Rights Reserved.