CHRB Dismisses Six-Year-Old Morphine Charges Against Frankel
by Lenny Shulman
Date Posted: 8/1/2006 11:52:38 AM
Last Updated: 8/2/2006 8:21:33 AM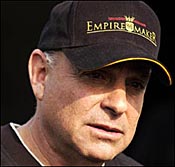 Trainer Bobby Frankel, had six-year-old medication case dismissed.
Photo: Mike Corrado

The California Horse Racing Board has dismissed a pair of six-year-old complaints against trainer Bobby Frankel concerning morphine positives in post-race urine samples taken from his trainees Starmaniac and Mojave Moon in 2000."As a final disposition of this entire matter, the CHRB agrees to summarily dismiss (the complaint) without any finding of culpability or penalty assessed against (Frankel), or having any report placed in his disciplinary record," according to the settlements, which were signed by CHRB executive director Ingrid Fermin and deputy attorney general Stephen Mesi."They had no case," stated Frankel's attorney, Neil Papiano. "They had absolutely no evidence that there was anything in the horses. The readings were so low they had no idea where it came from."Mojave Moon, owned by Flaxman Holdings, finished third in the Californian Stakes (gr. II) at Hollywood Park June 11, 2000. One day earlier, Amerman Racing Stable's Starmaniac won a claiming event at Hollywood. Following the races, the CHRB's official testing facility at the time, Truesdail Laboratories, reported the horses tested positive for morphine. The presence of the drug was subsequently confirmed in a split sample examined by the Texas Veterinary Medial Diagnostic Laboratory.However, Truesdail called approximately 20 suspect urine samples for morphine in June and July of 2000 in horses conditioned by various trainers. Since a Drug Enforcement Administration license is necessary to procure the Class 1 narcotic, more effective and legal pain-relief medications are available, and the amounts found in the samples were pharmacologically insignificant, several experts testified that the positive readings were the result of contamination.Testifying before a board of stewards in a morphine positive case against trainer Jesse Mendoza from the same time period, then-CHRB veterinarian Dr. B. William Bell said, "It was likely the positive reading was the result of contamination." Dr. Rick Arthur, a member of an advisory panel to the CHRB Medication Committee, also said the amount involved would be consistent with environmental contamination. The case against Mendoza was dropped in early 2002. A similar case against trainer Bob Baffert was dismissed in January 2005 by the CHRB on the recommendation of the California Office of Administrative Hearings.



Copyright © 2015 The Blood-Horse, Inc. All Rights Reserved.