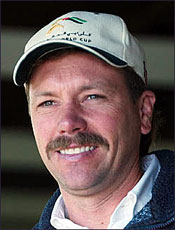 "I was (notified of the overage) when they searched the barn (July 27)," Mullins said. "They searched both of my barns--here and at Santa Anita."

Mullins said he was shocked by the post-race test, which he said revealed the presence of 30 nanograms of mepivacaine per milliliter of urine on Robs Coin. California regulations allow up to 10 nanograms per milliliter on race day.

"(Robs Coin) never even needed ice," Mullins said. "He never had a joint tapped or injected. We had him for three races and he never had anything except Bute and Lasix (the anti-bleeder medication now known as Salix)."CHRB officials couldn't be immediately reached for comment on the matter.

Mullins said his attorney, Neil Papiano, would handle the case, but that if he's not vindicated, he's considering quitting training altogether. Positives for mepivacaine, a Class 2 substance, usually result in a fine and a suspension.

"One thing I know is I won't have to run out of the detention barn," Mullins said, referring to the penalty in California for a positive for alkalizing agents. "But if I get days, I'll quit. In this state, you're guilty until proven innocent, and if we can't prove we're innocent, then I know the sentence will be twice as heavy because it's me."

Trainer Steve Asmussen, who was the nation's top conditioner in 2004 and 2005, is currently serving a six-month suspension after one of his horses tested positive for mepivacaine in March at Evangeline Downs Racetrack & Casino in Louisiana. Eclipse Award-winning trainer Todd Pletcher received a 45-day suspension last year after one of his horses tested positive for the same substance in a race at Saratoga in 2004. Pletcher is still training while waiting for the New York State Supreme Court to hear his appeal.