Turfway Polytrack Modification Scheduled for August
by Tom LaMarra
Date Posted: 7/18/2006 9:48:32 AM
Last Updated: 7/18/2006 6:15:57 PM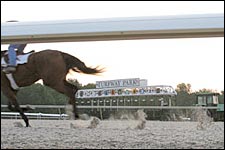 Modifications will be made to the Polytrack surface at Turfway Park.
Photo: Pat Lang

The Polytrack surface at Turfway Park has held up well in the heat of the summer, but it will be modified before the next live meet begins Sept. 6 at the Northern Kentucky racetrack.Turfway, which ended its winter/spring meet in early April, has been open for off-season training for the first time. The program is popular with trainers, as more than 750 horses are on the grounds using the Polytrack surface."It actually seems to get better in the hot weather," Turfway president Bob Elliston said of the surface. "I think that's a reflection of the material in relation to temperature. The surface lost some combining properties in the cold, dry weather. More wax seems to be releasing itself, so it's much better combined."Polytrack is a trademarked mixture of fiber, rubber, sand, and wax. It was first used for racing purposes in the United States last September at Turfway, which viewed the fall and winter as a time for experimentation. There was noticeable kickback of the material during races, so some of the fiber was removed during the winter."We still think it's better than any surface out there, but it could be improved," Elliston said. "It's probably a good thing to add some material. It's consistent and the footing is fine, but there was the kickback issue. We're going to take advantage of the findings and add a couple of inches of material with a different makeup--Spandex and cabling material."Spandex is a synthetic fiber known for elasticity, while cabling is used to protect wires. It's hoped the additional material helps bind the surface. Keeneland, which is installing Polytrack on the main track for its October meet and has a Polytrack training surface, has experimented with the new material."The Keeneland folks are finding it improves what we think already is a very good product," Elliston said. "We're calling this an enhancement."The new material will be added in August, Elliston said, but training won't be interrupted. He said the summer training program has gone smoothly with the exception of some nasty weather May 25."The only inconvenience was that little storm that blew off the tops of half of the barns," Elliston said.Turfway's location has helped its popularity as an off-season training center. It's only 20 minutes from River Downs in Ohio, and within 90 minutes of Churchill Downs in Louisville and Indiana Downs in Shelbyville, Ind.Woodbine in Canada has removed its dirt surface and currently is replacing it with Polytrack. Woodbine has converted its seven-furlong Standardbred track to accommodate Thoroughbred racing during the Polytrack project.



Copyright © 2015 The Blood-Horse, Inc. All Rights Reserved.