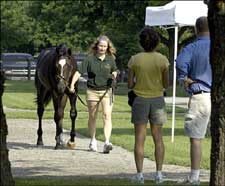 Forestry -- Alizea's Song colt, and Hip No. 353, a

Pulpit

-- Mayhavebeentheone colt. Consigned by Taylor Made Sales Agency, agent, the beautifully balanced Forestry colt is the second foal out of an unraced

Unbridled's Song

mare that is a full sister to grade I winner and hot young sire Songandaprayer . The strapping Pulpit colt, consigned by Nursery Place, agent, is the first foal out of a 6-year-old unraced Arch mare that is a half-sister to grade III winner Wiseman's Ferry . Other family members include champion Outstandingly and grade I winner Sky Mesa .The sale starts each day at 10 a.m. Monday's session includes the New Sire Showcase that features the offspring of young sires.