Blasi Taking Over for Suspended Asmussen
Date Posted: 7/8/2006 3:49:39 PM
Last Updated: 7/12/2006 5:34:40 PM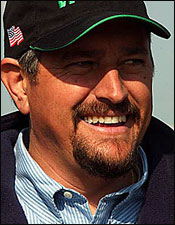 Trainer Steve Asmussen declines further legal action, will serve suspension between July and January.
Photo: Anne M. Eberhardt

By Claire Novak
Steve Asmussen, North America's leading trainer in 2004 and 2005, has decided not to seek legal recourse over a six-month suspension that was upheld by the Louisiana Racing Commission. He is to serve the ban for a medication infraction from July 10, 2006 to Jan. 10, 2007. Asmussen told the Daily Racing Form that the majority of his owners have decided to turn their horses over to his lead assistant, Scott Blasi, who has worked for the Texas-based trainer for eleven years.Blasi said that Asmussen's training contingents at Arlington Park, Belmont Park, Churchill Downs, Lone Star Park, and Louisiana Downs will continue to function under his name. "I'm based out of Churchill Downs right now, and I'll be going to Saratoga," Blasi said Saturday. "We have one of the best infrastructures in racing, and I'm very familiar with everything that goes on from the top to the bottom. I expect business to go on as usual. It's a great opportunity for me to work for such good owners."Louisiana racing officials penalized Asmussen and issued a $2,500 fine when a starter under his care, No End in Sight, tested positive for mepivicaine after finishing eighth in a March 24 race at Evangeline Downs. Following a hearing, the racing commission upheld the decision June 23. The trainer had 30 days to take legal action, but chose to accept the penalty instead. He is also facing a separate six-month suspension for an acepromizine positive in New Mexico. That case has been stayed, and the New Mexico Racing Commission has yet to hold a hearing.Asmussen is currently the second-leading trainer in North America. His horses have won 237 races and $7,520,468 in purses this year.



Copyright © 2015 The Blood-Horse, Inc. All Rights Reserved.