Fool Me Twice
Updated: Wednesday, July 5, 2006 9:08 AM
Posted: Wednesday, July 5, 2006 9:08 AM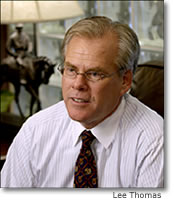 Photo:
Ray Paulick
Editor-in-Chief
The Jockeys' Guild made a grave mistake five years ago when it hired racing outsider Wayne Gertmenian, an economics professor who billed himself as a key detente negotiator with the former Soviet Union in the 1970s. Guild officers hired Gertmenian and fired longtime national manager John Giovanni because they didn't like having to absorb the lion's share of health insurance premiums for themselves and their families. Gertmenian promised to turn the Guild into a strong labor union by tapping into a larger portion of money wagered each year on horse racing simulcasts. He was paid handsomely to do so. Gertmenian was fired last November after a Congressional hearing belittled claims on his resumé as lies and an investigation by the House of Representatives uncovered a web of incompetence. Guild members were left severely underinsured. Philadelphia Park rider Anthony Black, a former Guild treasurer, said Gertmenian "turned $6 million into $6,000." One would hope Guild members learned from the experience: that it's useful to have a leader with knowledge of the industry, and that cooperation trumps confrontation--Gertmenian's calling card. Apparently, they did not. The Guild officers, convinced this time by California-based jockey Alex Solis in the Chris McCarron role, are in the process of hiring two racing outsiders to direct them: sports agent Dwight Manley, who became a millionaire by acquiring rare coins, and civil rights activist Rev. Jesse Jackson, whose integrity and credibility have never fully recovered from a scandal involving a mistress, a child out of wedlock, and questionable payments. Little is known about Manley, whose United Sports Agency, based in Newport Beach, Calif., has represented two former high-profile NBA players, Karl Malone and Dennis Rodman, among others. The agency's Web site includes a tribute to Manley from Jackson, calling him "an effective, hands-on person who negotiates with skill and sensitivity. He handles adversity with balance and maturity." Manley's big score didn't come on the hardcourt, but in the depths of the Atlantic Ocean, about 160 miles east of Cape Hatteras, N.C., in the hull of the SS Central America, a vessel from the 1850s carrying thousands of gold coins and bars when it sank during a hurricane. In 1998, Manley put together a $100-million deal to buy most of the ship's treasure. He then repackaged and sold much of the treasure to private collectors. Jackson has carried a high profile since the late 1960s, when he was part of civil rights leader Dr. Martin Luther King Jr.'s entourage. When King was assassinated in Memphis, Jackson seized the moment, smearing King's blood onto his shirt and then returning to his native Chicago, where he asked a publicist to book him on as many television shows as possible. Wearing the blood-stained shirt, Jackson made a dramatic entrance onto the national stage. Since then, he's formed the Rainbow Coalition and Operation PUSH, made two unsuccessful runs for the presidency, and been involved in numerous causes here and abroad. Jackson's 2001 admission of an affair and fathering a child out of wedlock hurt his standing in the African-American community, but details of payments to his mistress hurt his credibility even more. Jackson's following, influence, and political clout are a fraction of what they once were. His efforts to raise money from large corporations for diversity programs (his critics call them shakedowns or extortion) have slowed. His latest target for a boycott by African-Americans is British Petroleum, and that effort appears to be generating little traction. In a word, Jackson's a has-been. Sadly, leaders of the Jockeys' Guild seem to have bought Jackson's rhetoric hook, line, and sinker. Someday they'll learn.
FREE! E-Newsletters from The Blood-Horse!...
Follow the top stories of major racing events, racing previews and results with FREE e-newsletters from bloodhorse.com. As news develops, we'll deliver updates to your inbox. Follow important events moment by moment, step by step!