Asmussen Faces Six Month Suspension and Fine
Date Posted: 6/26/2006 12:01:22 PM
Last Updated: 6/29/2006 10:02:35 AM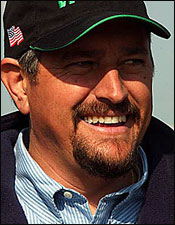 Trainer Steve Asmussen facing suspension.
Photo: Anne M. Eberhardt

By Claire Novak
Steve Asmussen, North America's leading trainer in 2004 and 2005, is facing a six month suspension for a medication infraction involving the Class 2 drug mepivicaine, a local anesthetic. According to the Louisiana Racing Commission, Asmussen's appeal on a May 18 ruling was rejected when stewards reviewed the issue June 23. The trainer was fined $2,500 and must postpone training July 10 through January of 2007. He has 30 days to make a court appeal on the decision.Asmussen's suspension follows a March 24 optional claiming race at Evangeline Downs in which his starter, No End in Sight, tested positive for mepivicaine. The trainer is also appealing a ruling on an Acepromazine positive at Sunland Park in New Mexico that would suspend him for six additional months. That ruling was handed down along with a purse redistribution demand and a $1,500 fine after traces of the prohibited substance were found in the Asmussen-trained Boots Are Walking following a victory in a March 4 stakes race. The trainer was granted a stay on the issue in June and is scheduled to go before stewards Aug. 30. Asmussen is North America's second-leading trainer by earnings and wins this year. His horses are stabled at Arlington, Belmont, Churchill Downs, Lone Star, and Louisiana Downs.



Copyright © 2015 The Blood-Horse, Inc. All Rights Reserved.