Stute Brothers Named Pincay Award Winners
Date Posted: 6/24/2006 10:06:43 PM
Last Updated: 6/24/2006 10:56:01 PM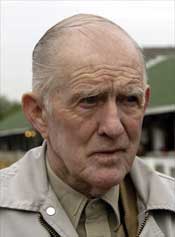 Trainers Warren (pictured) and Mel Stute receive 2006 Laffit Pincay Jr. Award.
Photo: Anne M. Eberhardt

The Stute brothers, trainers Warren and Mel, have been named winners of the 2006 Laffit Pincay Jr. Award, presented annually to an individual who has served the sport with integrity, extraordinary dedication, determination, and distinction.Pincay, the Hall of Fame jockey who retired with a record 9,530 victories at age 56 in 2003, will make the presentation during the Hollywood Gold Cup program on July 8."The Stute brothers have been so good to California racing all through the years," Pincay said. "They have given everything of themselves to the track and to horse racing. They should be proud of themselves, and I congratulate them both."Born in Fort Wayne, Ind., the Stutes moved west with their family in 1934 and began their long association with horse racing in the 1940s. Warren Stute, the elder brother at 84, still gets on a pony daily to oversee his operation at Santa Anita. He galloped horses until a few years ago and has more than 1,350 winners. He saddled Argentine-bred Figonero to win the 1969 Hollywood Gold Cup for long-time friend Clement Hirsch. "Laffit could have rode him, but he took another horse," Stute said with a chuckle. "That was a big day. Clement was such a good owner and a good person. We were together almost 50 years, which is unusual, especially today."Warren Stute teamed with Bill Shoemaker to win the 1951 Santa Anita Maturity (now the Strub), the first win in a $100,000-plus race for the jockey and trainer.He won his first million-dollar race at age 80 when California-bred Grey Memo captured the $2 million Godolphin Mile (UAE-I) in 2002. At age 83, he became a favorite of the national media after Greeley's Galaxy won the 2005 Illinois Derby (gr. II) to earn a Kentucky Derby (gr. I) start.Mel Stute, 78, saddled Snow Chief to win the 1986 Preakness Stakes (gr. I) en route to an Eclipse Award. The little colt retired in 1987 as the all-time Cal-bred leader with $3,383,210 in earnings. His victories also included the Hollywood Futurity (gr. I), Florida Derby (gr. I), Santa Anita Derby (gr. I), Jersey Derby (gr. II), Strub Stakes (gr. I), and Oaklawn Park Handicap (gr. II)."It's a special honor to have this with Warren and I together, as brothers," Mel Stute said. "We have done so much together. Without his help, I could never have gotten here. And, hopefully, I've been a help to him. It's something very special to me. We haven't done anything like Charlie Whittingham, but we've hung in there."Mel Stute, who has saddled more than 1,950 winners, sent out filly Very Subtle to upset favorite Groovy at odds of 16-1 in the 1987 Breeders' Cup Sprint (gr. I) at Hollywood Park. A year earlier, he sent out 2-year-old filly champion Brave Raj to win the Juvenile Fillies (gr. I) at Oak Tree.He holds a Hollywood Park record of saddling winners on eight consecutive days and is fifth all-time with 559 victories at the Inglewood track. Warren is 16th with 354 Hollywood Park wins.Veteran racing executive Bob Benoit was named the inaugural winner of the Pincay Award in 2004 and was followed by trainer Noble Threewitt in 2005.



Copyright © 2015 The Blood-Horse, Inc. All Rights Reserved.