Fair Grounds Racing Report: Tijiyr Posts Upset Victory
by Gary McMillen
Date Posted: 3/25/2001 6:43:02 PM
Last Updated: 3/28/2001 2:22:51 PM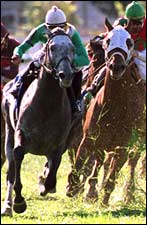 Tijiyr (left), Robby Albarado up, closes on the outside at the head of the lane to win the Explosive Bid Handicap.
Photo: Alexander Barkoff

Published in March 31 issue of The Blood-Horse
Big money. Big money. Six-hundred thousand dead presidents were on the line in the nine-furlong Explosive Bid Handicap (gr. IIT) on March 25 and there were plenty of takers. Top grass horses from each corner of the map swarmed into Fair Grounds like moths attracted to a porch light. Five invaders came from the East Coast and six shipped in from California. The biggest name on the marquee was Centennial Farms' King Cugat, a multiple graded stakes winner, who was making his 4-year-old debut. However, trainer Niall O'Callaghan came to bury Caesar, not to praise him, and he did it with Gary Tanaka's Tijiyr. The Irish-bred, under Robby Albarado, put in a determined finish to cap off a ground-saving trip and seal the upset ($21.40) victory. Thirteen well-matched horses comprised the Explosive Bid field. King Cugat, ridden by Pat Day, was the starting highweight of 121 pounds. The reputation of the tall Kingmambo colt preceded him. First or second in nine of 10 lifetime starts on the grass, King Cugat's only pimple was an 11th-place finish in last year's Breeders' Cup Mile (gr. IT) where he clipped heels and ran wide. Challenger Whata Brainstorm was at the top of his game, racing back in 14 days off a big-margin win in the Pan American Handicap (gr. IIT), and had Jorge (Chop Chop) Chavez returning in the saddle. California's Northern Quest was attempting to prove the theory that history repeats itself. The last two Explosive Bid winners (Brave Act and Lord Smith) were California-based runners. Trainer Darrell Vienna stayed in California but sent the solid Red Barons Barn entry of Montemiro and Deploy Venture, who was being ridden by Hall of Fame local Eddie Delahoussaye. "The favorite is coming off a layoff," Vienna's assistant trainer Scott Chaney said. "Plus they are putting up a lot of money. I brought a big bag in case we need it." Causes follow conditions. It's a natural law. The Stall-Wilson turf course at Fair Grounds has a Bermuda grass base with rye on top. It is not a putting green. They do not cut the grass all season. It gets high and deep similar to a European turf track. Serious rain the night before softened the course a bit. Maybe too much for the California runners who prefer to hear more rattle underfoot. They straggled home seventh, ninth, 11th, 12th, and 13th. Thirteen broke smoothly from the gate. Yaralino showed the first burst of speed from post nine. Northcote Road displayed no hesitation in getting away from the hedge and latched effortlessly to the rear end of the leader. Devine Wind was third around the first turn with Whata Brainstorm up closer than usual. Like a basketball center under the basket, Tijiyr established his position. Albarado had him just off the rail in fifth. King Cugat was two lengths back in sixth. Journalistic integrity requires the facts be told: They ran the first quarter in :23.85. Things remained static down the backside--there wasn't a lot of hustle and bustle. Yaralino maintained a length on Northcote Road, who was covered up snuggly by Larry Melancon. Quickening a bit, they sliced the half-mile beam in :48.86. There was an open gap back to Devine Wind and Whata Brainstorm, who were head and head. Tijiyr, who was enjoying an uneventful commute, led the third tier. The big gray was on the fence, saving ground. Maybe it was pure instinct. Maybe it was racehorse karma, but Albarado permitted Tijiyr to ease out from the rail. King Cugat sucked up into the vacant slot. The two went into the far turn with Tijiyr stuck to King Cugat's flank like gravy on rice. With two furlongs to run, all the moves were made. The rest was just forward motion. Tijiyr had been angled out for a clear run at the four horses still in front of him. "Once he got outside I could see he was going to make a big move," O'Callaghan said. "Robby had kept after me, saying all kinds of good things after he won that allowance race. He kept waiting for my decision to run. He even told me he wouldn't ride anything else in the race." Inside the furlong grounds, Yaralino still had not had an attack of stage fright. He was holding off a gritty Northcote Road, who finally decided it was time to change leads and get this over with. At this point, Tijiyr made Albarado look like a prophet. He came into contention with a decisive, steady attack that out-finished Northcote Road by a neck at the wire. "When I called on my horse," Melancon said, "he was there for me all the way. He ran his eyeballs out." A final clocking of 1:50.72 was typed into the official chart. Pat Day had King Cugat closing fast in the middle of the track and got up for third. "He ran OK," Bill Mott offered. "He just got beat a half-length. He didn't have his explosive move we have seen in previous starts." For the winner, it was pefect timing and a perfect trip. "Niall left it up to me to ride him like I wanted," Albarado said in the winner's circle. "Last time out he made an exceptional run turning for home. Today, in a bigger field, I wanted to lay a little farther back and make sure we stayed out of trouble." After 11 races in Europe, Tijiyr is now two-for-two on this side of the Atlantic. "What kind of horse is he?" O'Callaghan asked himself with Irish eyes beaming. "Who knows? He beat a good field today. Every race is different. Some horses can get in trouble. Off his American form he really tries. He's a good mover and a beautiful thing to look at. You get lucky sometimes." Northcote Road's trainer W.G. (Blackie) Huffman never uses five words when two would suffice. His horse had just run the race of his life. "No excuses," the Kentucky trainer said. "Just shake the winner's hand and go back to the barn." (Chart, Equibase)



Copyright © 2015 The Blood-Horse, Inc. All Rights Reserved.