Dr. Bramlage Looks Back on Barbaro's Preakness
by Lenny Shulman
Date Posted: 6/9/2006 12:10:22 PM
Last Updated: 6/9/2006 12:31:45 PM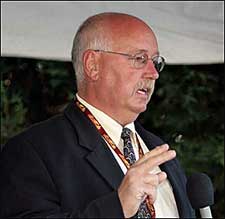 Dr. Larry Bramlage addresses a national televison audience within moments of the injury to Barbaro.
Photo: Barbara D. Livingston

Three weeks after telling the world about the condition of Barbaro directly after the horse's breakdown at the Preakness Stakes (gr. I), noted veterinarian Dr. Larry Bramlage was relaxing on the Belmont apron, enjoying the morning workouts the day before the Belmont Stakes (gr. I). He had done a superb job on NBC's live broadcast of the Preakness informing the television audience about Barbaro's injury and prognosis."I think our ontrack vet program worked great that day," Bramlage noted. "The worse thing for viewers is not to have any information. I think we were accurate, gave the best information we had, and made people as comfortable as possible. It was a bad injury and we had to tell people that."Someone told me recently that that was my first big interview on TV, and that was a compliment, because they'd already forgotten about Charismatic and Exogenous."The outpouring of concern and attention for Barbaro's subsequent surgery and condition has been a pleasant surprise for Thoroughbred racing, which is more often maligned than complimented by the national media. Regardless of Barbaro's outcome, the care shown for him has shown the sport in a favorable light. "I think when they display the talent Barbaro did in the Kentucky Derby (gr. I), the horse gets adopted by the general public," said Bramlage. "They're anointed as a favorite son and it becomes a national event--people feel like they have a piece of the horse."Plus the overall coverage of Barbaro has brought the public up to speed on what we can do with an injury like that. Things have gone forward, and horses get treated for those kinds of things now, although not usually on national TV. The caring and the capable care are all good things that have come across."Still, on live TV, Bramlage must walk a fine line of imparting information to a hungry public yet not overstepping or getting ahead of the medical situation. "You try and give as much information as you can without guessing," he said. "You can give an educated estimate of the injury by looking at it. The radiographs can give you an idea of the injury before they're developed. Those injuries often occur in a predictable sequence. Like dominoes, when one bone breaks, the next domino takes the load. We have a good idea because the same injuries occur in horses in the same sequence."



Copyright © 2015 The Blood-Horse, Inc. All Rights Reserved.