Breeders' Cup, NTRA Boards Tab Avioli Interim CEO
Date Posted: 6/8/2006 6:20:39 PM
Last Updated: 6/11/2006 8:11:41 PM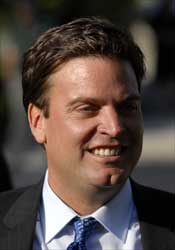 Breeders' Cup/NTRA boards name Greg Avioli interim CEO at New York session.
Photo: Skip Dickstein

Greg Avioli has been named interim chief executive officer of the Breeders' Cup and National Thoroughbred Racing Association while the two organizations discuss the structure of their relationship beyond 2006. He assumes his new duties July 1.Thursday's appointment followed a joint meeting of the organizations' two boards in Garden City, N.Y., and fills the vacancy created when D.G. Van Clief announced his retirement as Breeders' Cup president and NTRA commissioner in April.Avioli, 41, who has been with the NTRA since its inception in 1998, first starting as deputy to former commissioner Tim Smith, has primarily focused on legislative issues in Washington, D.C., in recent years. The boards also announced that Van Clief will be chairman emeritus to both boards, working with senior management and the boards on issues related to corporate strategy and future planning."The actions taken today by both boards are the result of extensive hours of work by the boards' transition committee and staff," said Van Clief. "They pave the way for the two organizations to focus on their short- and long-term strategic priorities."Avioli called it "an exciting time for both organizations. We have just completed an intensive six-month process of educating the new Breeders' Cup board on the broad array of NTRA programs and existing business relationships. There is a lot of work that remains to be done, but I think we are well positioned for the future.""These priorities include fully leveraging our new partnership with ESPN, growing the Breeders' Cup as a global wagering product and brand, protecting and expanding our industry's business and political interests in Washington and addressing important integrity issues that are vital to our future.In other news, the NTRA said it will coordinate a comprehensive review of horse racing safety issues, forming a panel to conduct the review.Q & A With Greg Avioli



Copyright © 2015 The Blood-Horse, Inc. All Rights Reserved.