Serve It Up
by Ray Paulick
Date Posted: 6/6/2006 10:02:13 AM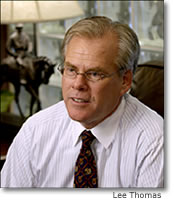 Ray Paulick
Editor-in-Chief


NASCAR drivers have them. So do volleyball players, tennis professionals, golfers, and equestrians participating in three-day eventing. Heck, even monster trucks have a series for whatever it is monster trucks do. Why, then, has it been so difficult for the racing industry to put together a meaningful series of races leading up to the Breeders' Cup World Championships? It's been 13 years since racetrack executives stuck a fork in the American Championship Racing Series, launched by Barry Weisbord in 1991 to spotlight the sport's best older runners. It's been five years since the Thoroughbred Owners and Breeders Association first proposed a concept called the Thoroughbred Championship Tour that would establish a package of television broadcasts featuring a series of races in six different divisions. And it's been nearly a year since TOBA threw in the towel on the TCT, leaving it to the National Thoroughbred Racing Association and Breeders' Cup to develop their own concept. Meanwhile, one of the sport's only marquee attractions, the 2005 sprint champion Lost in the Fog, has embarked on a campaign that could have been the focal point of a series of races for sprinters. Instead, the son of Lost Soldier may wind up laboring in relative anonymity throughout the year. Lost in the Fog's sparkling victory in the Aristides Breeders' Cup Handicap (gr. III) June 3 at Churchill Downs received nary a mention in the national press, which focused on a pair of cloned mules racing in the Nevada desert that same weekend. Sports editors and broadcasters properly viewed the Aristides as just another race. For the most part, media coverage of horse racing goes into hibernation following the Belmont Stakes (gr. I) and makes a brief reappearance for the Breeders' Cup. That, in part, is one reason for the low television ratings registered each year by the Breeders' Cup. A key objective for a series of races bridging the Triple Crown and Breeders' Cup is increased media coverage, which could lead to greater interest and awareness for the championship day event. The United States Tennis Association faced a similar challenge with its year-end championship, the U.S. Open. Tennis had been in decline for a number of years, and its stars in short supply. Television ratings for the U.S. Open hit an all-time low in 2004, when its men's and women's finals earned 2.5 and 2.2 ratings points, respectively. (For comparison, last year's Breeders' Cup earned a 1.5 rating.) Working with two other governing bodies, three sponsors, four TV networks, and 10 tournaments, the USTA in 2005 created the U.S. Open Series, providing six consecutive weeks of televised men's and women's tennis leading up to the U.S. Open in September. The series created performance points, standings, and a lucrative bonus. Tennis courts hosting U.S. Open Series events painted their courts a bright blue to brand the series, and the USTA dedicated $3 million for an advertising campaign to promote it. The results? According to the USTA, TV viewership of the tournaments in the U.S. Open Series doubled from 20 million to 41 million. Last month, the Lever soap brand signed a multi-year sponsorship deal (with the first year's rights fees to be directed into a national campaign marketing the series). Also, in trying to build on last year's momentum, the USTA launched a multi-million-dollar Internet and print advertising campaign (entitled "It's Your Game") designed to get one-time tennis players back on the courts. The print and digital image advertising is running in such diverse media outlets as Newsweek, The Oprah Magazine, Ski Magazine, Black Enterprise, and ESPN Deportes. Industry leaders can learn from tennis and other sports. It's time for them to get moving on a racing series that will debut in 2007.



Copyright © 2015 The Blood-Horse, Inc. All Rights Reserved.