Assistant Trainer Brette Maintains His Composure in Triumph and Tragedy
Updated: Wednesday, June 7, 2006 2:14 PM
Posted: Sunday, June 4, 2006 6:25 PM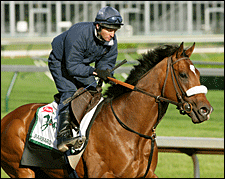 Photo: Barbara D. Livingston
Peter Brette, assistant to trainer Michael Matz, maintains his composure through triumph and tragedy.
Whether it is winning the Run for the Roses or dealing with the crushing blow of Barbaro's catastrophic injury, Peter Brette keeps his emotions under control. Just as he rejoiced from within on May 6, he suffered in silence as the nightmare of Barbaro's horrific injury unfolded in front of a heartbroken nation.Brette, assistant trainer to Michael Matz, and Barbaro have been an inseparable pair since last year, and they remain inseparable through the colt's struggle for survival following a six-hour operation to repair his badly damaged leg.Although Barbaro is far from being out of the woods, there is at least hope that Brette will one day be able to look back at all the wonderful moments he and the colt have shared, and the joy the son of
Dynaformer
provided racing fans all over the country."Just visiting him every day and seeing how comfortable he is makes me feel a lot better," Brette said. "But it was difficult for a while. I've spent 24 years in racing and Sunday (following the Preakness) was the first time I didn't want to get out of bed. But when I went to see him on Monday he looked amazing considering what he'd been through. He had that old sparkle in his eye. He's just all class, and you know he's going to give himself every chance to pull through."As Mr. Jackson (co-owner Roy Jackson) said, it could have happened in the Florida Derby (gr. I) and we would have missed the Kentucky Derby and everything else. So, that's a really good way of looking at it. But he had so much in front of him, and with all the plans we had for him and the fun we were going to have with him, it's going to take a long time for it to go away. Just to think about what he could have achieved is amazing. Even though he won the Derby by 6 1/2 lengths we didn't see the best of him. He's by far the best horse I've ever been on."Brette still can't believe all the attention the colt's injury and recuperation has received around the world. "It's unbelievable how many people he's touched," he said. "Some soldiers came the other day with an American flag that was sent for him from Iraq. And that's over at New Bolton now. They flew 19 hours from Iraq and drove another three hours just so he could have this flag."It is rare to find the kind of relationship Matz and Brette have had in only a little over a year together. During that time they have formed a special bond and trust that has enabled the soft-spoken and low-key Matz to go about his business with the serenity and peace of mind that befits his personality.In almost every interview Matz gave at Churchill Downs, he began by mentioning Brette. Even when asked several times following Barbaro's spectacular victory in the Kentucky Derby presented by Yum! Brands (gr. I) about his instructions to jockey Edgar Prado, Matz replied by saying that it was Brette and Prado who discussed strategy, while he kept out of it.Although in many cases, a solid relationship is formed when two opposite personalities meld together to complement each other, that is not the case with Brette and Matz. Watching Brette immediately following the Derby and back at the barn later that night, it would have been difficult to figure out whether Barbaro had won or lost had one not seen the race.With his hands clutched behind his back, Brette stood on the track motionless and expressionless waiting for Barbaro to return. It was not the reaction one would have expected in the exhilarating moments immediately following a victory in the Kentucky Derby. But Brette was in a zone, as if numbed by the experience, and dealing with the moment in his own way."It hasn't sunk in yet," he said. "Right now, it's all surreal."It was an odd path that brought Brette to Matz' barn two winters ago at Palm Beach Downs in Florida. Brette, who grew up in the northeast part of England, left home at age 16 to exercise horses at Newmarket. Among the top horses he exercised was champion miler Zilzal. He eventually became a jockey, but had little success. Then came his first stroke of luck."I was offered a job in Dubai, but it was only a four-month contract over the winter," Brette recalled. "I returned to England and really struggled. It was very difficult. Then I met Bill Mather, who was training in Dubai, and he offered me a job as assistant trainer and stable jockey. This was about 20 years ago, and there wasn't much racing over there. I remember when the Nad al Sheba grandstand was just a hole in the ground. Bill offered me a two-year contract and I figured I had nothing to lose, and could always go back to England if it didn't work out."But it did more than work out. The year Brette became a full-time rider, in 1991, Sheikh Ahmed bin Rashid al Maktoum started Jebel Ali Racecourse."Everything snowballed from there," Brette said. "Sheikh Mohammed became interested in me, and by the end of the season, I was champion jockey. Things began falling into place and we were competitive for the next 10 years. Then, all of a sudden, we weren't competitive any longer. Bill retired in 2000, and things were changing rapidly in Dubai. I had a choice to stay and ride or try to get a job as a trainer."I applied for a training job and got it, and we had a couple of good seasons. But then they started the Dubai International Racing Carnival, which was difficult for me, because you needed a horse that had a rating of 100 or above to compete in the Carnival. With racing beginning in November and the Carnival running from January through the Dubai World Cup (UAE-I), you only had six weeks of racing unless you had nice horses.""My wife, Kim, is from Zimbabwe, and she had applied for a green card that finally came through," Brette continued. "We had just had a son, so we thought it was the right time to try somewhere else, and I came to America."Brette, 40, had first met Kim in England, and when he went to Dubai, she came to America to work for Niall O'Callaghan. They met again in Dubai six years later and were married. When Brette embarked on a training career, Kim worked for him as an assistant.After arriving here, Brette got a job with Vinery in Kentucky, breaking babies and doing pre-race training and layups. Eventually, he took the babies to Florida, but by then, he was looking to expand his horizons."They were nice people, but it really wasn't what I wanted to do," Brette said. "Right after that job ended, I met Michael. Kim and I were looking for place to settle down, and when I met Michael at Palm Beach Downs, he asked me if I'd be interested in an assistant-type of job. I didn't even know who he was. I had only been there a couple of months and he asked me if I knew what I was going to do, and I said, 'Not really.' He told me to come to his barn and we'd have a chat. "He seemed like a very nice guy. He had a string at Palm Beach Downs and about 10 horses at Palm Meadows, but he spent most of the year at Fair Hill. I had already promised Bill Harrigan to help with the breezes at the Keeneland April 2-year-old sale. So, I went up to Keeneland and Kim stayed in Florida and started working for Michael. I then drove up to Pennsylvania and started looking for a house. It is beautiful country and a great place to bring up a child. After four days, I found a house. Kim came up and we signed the papers on May 1 of last year."A year later, here was Brette aboard the undefeated Barbaro, preparing for the Kentucky Derby. A week before the race, Brette was returning to the barn after galloping Barbaro, and said to Matz, who was alongside on the pony: "It's not bad for a year, is it?""Michael is a super guy, and we work very well together," Brette said. "He values my opinion and keeps me involved in everything we do. He by no means thinks he knows everything, which no one does. We're always learning, and we bounce things off each other all the time. "Michael is very ambitious and wants this type of horse. We don't want this to be a one-time thing. We had a really good season this past year, with Barbaro being the culmination. And if this is what we can do in a year, then hopefully Michael will start to get the right kind of horses. This is the shop window for him, and people are seeing how well he comes across on TV and what a good person he is. He's already proven he's a good horseman."Brette remembers the first time he sat on Barbaro. "When I got on him, it was like riding a 3-year-old," he said. "He was pretty backward and immature, but he always had that big, long stride. And then, last July, he went through a growth spurt, and since he started running, he's gotten better after every race. As good as he's been on dirt, he's a brilliant grass horse. I've sat on horses who have run in the English Derby (Eng-I) and he's way better than them."It is safe to say that Brette's road from Dubai to the Derby was not a well-traveled one. But here he was a short time later, basking in the glory of one of the most impressive victories ever in the Run for the Roses."I guess people are right when they tell me everything happens for a reason," he said a week before the Kentucky Derby.But ever since the Preakness, he assuredly is having a tougher time believing those words."It's so so difficult to find a reason for this," Brette said. "All the dreams I ever had in racing, this horse could have fulfilled every one of them. But it was all gone in 30 seconds. That's what makes it so cruel."
FREE! E-Newsletters from The Blood-Horse!...
Follow the top stories of major racing events, racing previews and results with FREE e-newsletters from bloodhorse.com. As news develops, we'll deliver updates to your inbox. Follow important events moment by moment, step by step!