A Rose By Any Other Name
Date Posted: 5/19/2006 1:01:55 PM
Last Updated: 6/11/2006 3:03:23 PM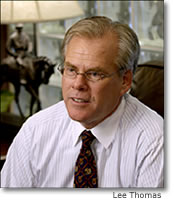 Ray Paulick
Editor-in-Chief


Business was up. Television ratings were down. That's the quick summary from this year's Kentucky Derby (gr. I)--the first run with Yum! Brands as the presenting sponsor. While it's good in theory to see horse racing reach out to corporate sponsors, some have questioned whether or not the Derby is the right race and Yum! Brands is the right sponsor. Classics in other major countries have suffered similar indignities. Take the Ever Ready Epsom Derby (Eng-I) of the late 1980s, please. Could racing come up with a worse sponsor than a battery maker? Perhaps. But the connection between batteries and horse racing is a bit like oil and water. Do you remember Valhol and the controversial Arkansas Derby (gr. II) in which an alleged "buzzer" or "battery" was involved? The Epsom Derby is now sponsored by cell company Vodafone. Week to week fare in many sports, most notably professional golf and tennis, are consistently branded with corporate names. The PGA Tour began this year with the Mercedes Championships and will end with the Target World Challenge Presented by Countryside. But several tournaments stand on their own without corporate affiliation: the Masters, the U.S. Open, British Open, and PGA Championship. Those are the classics of that sport, and the governing bodies of those tournaments have opted not to add corporate partners to the event titles. What's even more troublesome than the Derby's new name is the suspicion that Churchill Downs executives got taken by Yum! Brands at the negotiating table. The fast-food company's CEO, David Novak, suggested in February when the sponsorship was announced that it cost about $1.25 million a year, or half the price of a 30-second Super Bowl ad. A tracking company that quantifies the value of sponsorships issued a press release after the Derby saying Yum! Brands received $2.7 million in exposure value on the Derby telecast alone. Part of the sponsorship involves on-track signage, branding on merchandise, and other media exposure (including this publication). So if the aforementioned numbers are accurate, the Derby indeed sold out for a bargain price--something that shouldn't have happened and doesn't make Churchill Downs Inc. look too smart. Derby sponsorship money does not go into purses, incidentally. Television ratings for the Derby were down from 7.3 in 2005 to 7.0, and won't match the audience size of several other marquee sporting events. NASCAR's Daytona 500, for example, drew an 11.3 rating and 23% share of television viewers (the share for the Derby telecast was 18), the Masters received a 9.0 rating/19 share, and last year's World Series was an 11.1/19. However, no other sporting event televised May 6 came close to matching the 7.7 million homes the Derby telecast reached. It is racing's biggest television draw most years, outpaced only in the Belmont Stakes (gr. I) when a horse is going for the Triple Crown. What the ratings don't take into account are the number of people who have Kentucky Derby parties or the fact that business booms at tracks from coast to coast on the first Saturday in May every year. There were 24,182 people on hand at Keeneland to watch and wager on this year's Kentucky Derby--that's 24,182 people when there was no live racing. Keeneland wasn't the only place jumping with the Derby simulcast. Southern California's Hollywood Park had its second-biggest day ever, handling $26.7 million, a number surpassed only on Breeders' Cup day in 1997. Other tracks, from Texas to New Jersey, reported business hikes or all-time records on Derby day. Those are the economic indicators that truly gauge if people are tuned in to the sport on its biggest afternoon of the year.



Copyright © 2015 The Blood-Horse, Inc. All Rights Reserved.