Desormeaux to Ride in Japan for Three Months
by Ray Paulick
Date Posted: 3/21/2001 8:55:35 PM
Last Updated: 3/22/2001 5:40:43 AM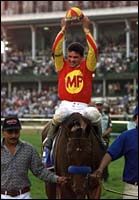 Jockey Kent Desormeaux, after winning the Kentucky Derby with Real Quiet.
Photo: Associated Press/Ed Reinke

Kent Desormeaux won the Kentucky Derby in 1998 and 2000, but in 2001 his best Derby hope may come on May 27 in the Japanese Derby at Tokyo racecourse. Desormeaux has agreed to ride in Japan on a three-month license from the Japan Racing Association, beginning on April 28, the date of a key trial race for the Japanese classic.The 31-year-old Southern California-based rider is currently fifth in the Santa Anita jockey standings (39 wins from 212 mounts) and seventh among all North American riders, with earnings of $2.1 million. The Tokyo newspaper Sankei Sports, which broke the news of Desormeaux's decision to ride in Japan, said the jockey has the option to return to the U.S. to compete in the Kentucky Derby on May 5. Currently, his leading Derby candidate is the Pleasant Tap colt Palmeiro, who finished second for trainer John Sadler in a pair of grade II stakes at Santa Anita.Desormeaux will ride for Kazuo Fujisawa, Japan's leading trainer. Fujisawa is best known in North America for having sent Taiki Blizzard to race in the Breeders' Cup in 1996 and 1997. He also sent Taiki Shuttle to France to win a group I race. Fujisawa trains for the powerful Shadai operation of the Yoshida family, which dominates Japanese racing in the ownership and breeding ranks. It doesn't hurt that Fujisawa speaks English, since Desormeaux does not speak any Japanese. The news about Desormeaux came shortly after Japan's top jockey,Yutaka Take, announced that he will be riding in France this year. Take spent much of last season in Southern California, where he rode with limited success."The true reason for doing this is my son," Desormeaux told The Blood-Horse on Wednesday. "It's a family-oriented decision."Desormeaux and wife Sonya have two children, Josh, 8, and Jake, a 2-year-old who was born deaf. Jake recently received a state-of-the-art microphonic implant that allows him to hear sounds, but his father said he needs constant attention to catch up with other children his age. "If we spend time with Jake, he can live as a natural person," Desormeaux said. "But if he doesn't get constant play-by-play attention, he will not make mainstream kindergarten."Unfortunately, racing is year-round in the United States and sometimes it's six days a week. That doesn't afford me the family time that is so important to me right now because of Jake."JRA racing in Japan takes place just two days a week on Saturdays and Sundays. Desormeaux said he has found a home near the Miho training center north of Tokyo, where Fujisawa's stabled is located. He can work horses weekday mornings and spend the rest of each day with his family.Desormeaux has competed on a half-dozen occasions in Japan, most notably in 1993, when he rode eventual North American Horse of the Year Kotashaan in the Japan Cup (gr. I). Desormeaux misjudged the finish line in the Japan Cup, standing up at the sixteenth pole, costing the fast-closing Kotashaan any chance at victory. The Japanese press castigated the rider, with headlines blasting him as a "bonehead," among other names. "At least it made me famous," Desormeaux now says of the ride.Beyond that headline-making event, Desormeaux said he has greatly enjoyed his other experiences in Japan. "The Japanese riders truly respect the American seat and attempt to mimic it," he said, referring to the riding style that has been adopted from the U.S. by many top Japanese riders. "The other great thing about Japanese racing is that it still is a big show. American racing has lost its pageantry. In Japan, they haven't forgotten they are putting on a show, and not just a product they are wagering on. As far as riding is concerned, there is more scrutiny on each ride by the officials. It makes for safer racing and it's better for the animals."Desormeaux will be the first American based rider to try Japan since Jose Santos rode there in 1998-99, without success. But Santos didn't have the benefit of a leading trainer or stable such as Desormeaux will have. Others to ride in Japan on a three-month license were Olivier Peslier and Michael Roberts."I'm excited about it," Desormeaux said. "I'm ready to win another Derby."



Copyright © 2015 The Blood-Horse, Inc. All Rights Reserved.