Matz Savors Win as Others Plan Ahead
by Ron Mitchell
Date Posted: 5/7/2006 10:54:09 AM
Last Updated: 5/9/2006 7:01:10 PM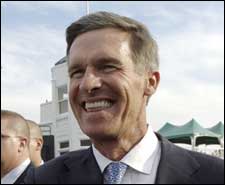 Derby-winning trainer Michael Matz makes his way to the winner's circle.
Photo: Anne M. Eberhardt

As trainer Michael Matz savored Saturday's impressive victory by Lael Stables' Barbaro in the Kentucky Derby presented by Yum! Brands (gr. I), trainers of the horses that finished behind the son of

Dynaformer

reflected Sunday morning on what went wrong and what lies ahead.And naturally, talk turned to a possible Triple Crown sweep for the colt."You always want to have a horse you can say can win the Triple Crown," Matz said. "We think this is a terrific horse with tremendous ability. If I told you I didn't think in the long haul that we'd have a Triple Crown winner I'd be lying to you." Noting that he had celebrated the victory with his family and fielded a lot of calls from friends, especially those from the steeplechasing and jumping sports that he was engaged in before becoming a flat trainer, Matz jokingly said, "I got hell from the van company driver that I wasn't here at 5:15 (Sunday morning)."Barbaro came out of the Derby in great shape. Exercise rider Peter Brette told the trainer Barbaro was feeing so good "you could enter him again tomorrow." "We'll try to keep him at this level for the next two races and hopefully he'll become a famous horse," Matz said. "All we can do is try our best and hopefully he'll help us out." The trainer said the Derby winner was scheduled to leave Churchill Downs at 4 p.m. Sunday and return to his training center at Fair Hill, Maryland.The colt will then be prepared for the May 20 Preakness Stakes (gr. I), where he will face some of the same horses he defeated Saturday and some new shooters. The short list for the Preakness includes Brother Derek, who dead-heated with Jazil for fourth in the Derby, Sweetnorthernsaint, the moderate 5.50-1 Derby favorite who finished seventh, and 12th-place finisher Lawyer Ron, winner of the Arkansas Derby (gr. II).Newcomers include Gotham Stakes (gr. III) winner Like Now, second in the Coolmore Lexington Stakes (gr. II), and Withers Stakes (gr. III) winner Bernardini. The D. Wayne Lukas-trained Simon Pure sits alone on the probable list, with possible Preakness starters including Jazil, and all three of the Bob Baffert-trained Derby starters -- Point Determined (ninth in the Derby), Sinister Minister (16th in Derby), and Bob and John (Derby 17th-place finisher).The Preakness has definitely been ruled out for Steppenwolfer, the Derby third-place finisher, and Showing Up, who like Barbaro, is owned by Roy and Gretchen Jackson's Lael Stables.Considering the impressive 6 ½-length victory Saturday, Matz said he could not get too caught up in anticipating a Preakness win or a Triple Crown sweep. "It's always the same thing: what have you done today."Continuing to respond to questions about the successful schedule that brought Barbaro to the Derby, Matz said he tried to keep it simple and wanted a fresh horse going into the Triple Crown races. The colt's Florida Derby (gr. I) victory five weeks before the Derby was only his second start in a 13-week period. "This is not real chemistry here. I am trying to keep it as simple as possible and do what is best for my horse," Matz said. "That is usually the best way; the simpler is better."In planning for the Preakness, Matz said Barbaro will train at Fair Hill and conceivably not ship to Baltimore, which is about 1 1/2 hours from the training center, until the day of the race.Trainer Kiaran McLaughlin, who trains Jazil and Flashy Bull (14th in the Derby) was among those lauding Saturday's victory by Barbaro."Very, very impressive -- great connections, great horse," McLaughlin said. "To win like that with that group of horses looked like greatness to me. The next couple are within his grasp to be a Triple Crown winner.""We are going to drop back and punt and decide what to do later," McLaughlin said of plans for his Derby starters.He noted that Jazil is possible for the Preakness if it appears there are enough fast horses in the field that it will set up for a victory by a late-running type.Trainer Dan Hendricks said Brother Derek threw his right front shoe Saturday, possibly in the Derby post parade, one in a number of incidents that might have compromised his chances for victory. But he wanted it clear he was not making excuses that would take away from the victor. "We started in the 18 hole, we were a little wide in the first turn, we got a lot of traffic down the backside and we were way wide turning for home," said Hendricks, adding that the Derby outcome solidified his respect for Barbaro. "That horse is a top-notch runner and I would never take anything away from that horse."Hendricks said Brother Derek will remain at Churchill Downs under the supervision of fellow veteran trainer Wally Dollase."The winner was spectacular on the day," said trainer Todd Pletcher, who saddled Derby runner-up Bluegrass Cat and last-place finisher Keyed Entry. "He was as impressive a Derby winner as we have seen in a long time. I would say he has better than the ordinary Derby winner's chance (of winning the Triple Crown)."Pletcher said he would evaluate Bluegrass Cat's status for the Preakness, noting, "Two weeks back is very quick. Right now I would say it is unlikely."Pletcher said it's possible Bluegrass Cat would be trained up to the Belmont Stakes (gr. I).Sunriver, the Pletcher-trained colt who was excluded from running in the Derby because he had insufficient graded earnings to make the 20-horse cut, will be pointed toward the Peter Pan (gr. II) at Belmont Park May 20. Sunriver worked six furlongs 1:12 1/5 at Churchill Downs Sunday morning. "That horse is doing very well right now," Pletcher said. Trainers considering the Preakness could find some optimism in Pletcher's analysis that Barbaro could be vulnerable due to the short two-week period between the Derby and Preakness and that he will be running over a new surface. "If the same horse runs the same race we saw yesterday, nobody in that field is going to beat him. But things can change in two weeks."Pletcher said Keyed Entry, who finished last after setting the early pace, was rank during the race and jockey Pat Valenzuela was unable to rate him behind the speedy Sinister Minister early. He said Keyed Entry would be pointed toward shorter races.Baffert, a three-time Derby winner, said Sinister Minister, who finished 16th, "grabbed a quarter" in the same area where he had popped an abscess Tuesday. He said Bob and John (17th) had traffic problems in the race, and that Point Determined (9th) "just didn't kick in."Baffert said all three of his horses would remain at Churchill Downs and work next Sunday or Monday, at which time he would decide on their future plans.Baffert was also complimentary of the winner. "What a specimen of a horse. He looked like a man among boys in the paddock."To purchase photos of Barbaro from this year's Kentucky Derby, click here.



Copyright © 2015 The Blood-Horse, Inc. All Rights Reserved.