With Two Horses in the Derby, Jackson Maintains Cool Demeanor
by Jason Shandler
Date Posted: 5/6/2006 8:50:57 PM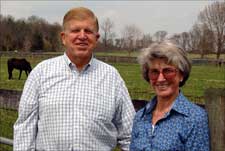 Roy and Gretchen Jackson, whose Barbaro and Showing Up give the couple two shots at Derby immortality.
Photo: Jeffrey Snyder

Roy Jackson is a cool customer. Jackson has two horses entered in the 132nd Kentucky Derby presented by Yum! Brands (gr. I), with Barbaro considered one of the favorites and Showing Up more of an outsider in the 20 horse field.As the Derby approached, Jackson has fielded numerous media requests while family and friends hurriedly made travel plans for Louisville and the Philadelphia area is bracing itself for yet another local hero ready to make a run for the roses.Yet, through it all the 69-year old Jackson seems to exude a steady and confident, been-there-done-that, whatever happens will happen, type demeanor. His low-key, refreshingly subtle approach to the once in a lifetime experience is not what you would expect from an owner who has put in more than 30 years in the business, hoping for a chance to win the big one.But to understand Jackson's attitude, you must understand his background."I've been in baseball for most of my life. It's a game of so many highs and lows. It humbles you and helps you enjoy the good things that come along," said Jackson. "Maybe that's why I'm just taking things as they come."Don't get me wrong. It's an exciting time and I feel for fortunate to be in this situation. It's a nice thing for our friends and family to be involved in. It's created a lot of interest, and as an owner, it's everyone's dream to have a horse in the Derby or the Breeders Cup."Jackson, who owns Barbaro and Showing Up with his wife Gretchen, began working in baseball at age 28, when former Philadelphia Phillies owner Robert Carpenter hired him as one of four "interns" for a business training program designed to attract young people into the management side of game.The program, which also included Pat Williams, now the executive vice president of the NBA's Orlando Magic, taught Jackson "a little bit of everything" about management. "It was not completely organized," said Jackson, who lives in Chester County, Pennsylvania, a suburb of Philadelphia. "They were trying to get young people in the management end of baseball because at that time, I guess there were a great deal of older executive people. It turned out to be a great start for me."From there, he learned baseball further at the minor league level, where he did work in the Carolina League and various other organizations.It was the beginning of a long career in baseball in which Jackson later spent time as a commissioner and owner of several different minor league organizations, from Arizona to Virginia.In the early 1970's, while still maintaining his career in baseball, Jackson and his wife bought a 190-acre farm in West Grove, Pa., and decided to buy some Thoroughbred horses. They named it Lael Stables.Jackson says their stable began with just a few horses, but eventually grew after some success. "We had some decent luck, especially in Europe," said Jackson, who later went on to become an agent for Major League baseball players and represented stars such as Edgar Martinez and Jorge Posada. "We've had a couple champion 2-year olds in England (George Washington and Superstar Leo) and also won the Atlantic City Breeders Cup with Palace Revolt. There have been a couple of places in grade I races but never a winner."That all changed with Barbaro, who was foaled and raised at Bill Sanborn's Sanborn Chase near Nicholasville, KY. Barbaro, a strapping son of

Dynaformer

out of the Carson City mare La Ville Rouge, was foaled at Bill Sanborn's Sanborn Chase near Nicholasville, Ky. He was sent to John Stevens in Ocala, Fla. to be broken. Stevens was so impressed with the yearling that he almost immediately told Jackson he had a "special horse" on his hands.That's when Jackson made the decision to send Barbaro to trainer Michael Matz."We have split many of our recent horses between Michael and (Funny Cide trainer) Barclay Tagg," said Jackson, who has 24 mares and 13 two-year olds in his current stable. "Our relationship with Tagg goes way back to when my wife went to school with him. But we just happened to have Michael train this one. He's done an excellent job for us."By now, it is well known that Barbaro, who broke his maiden at Delaware Park last October, did not run his first dirt race until his Feb. 4 win in the Holy Bull (gr. III). That, along with Matz' unorthodox training method, which included an eight-week layoff leading up to the April 1 Florida Derby (gr. I), have helped Barbaro fly under the radar a bit.But much of the skepticism changed after the impressive half-length victory at Gulfstream Park, in which Barbaro out-dueled Sharp Humor to earn a spot in the Derby.Barbaro has now earned $849,000."I don't know why the media is making such a big deal out of (the long layoff, which will also include an atypical five weeks off before the Kentucky Derby)," said Matz, a former champion equestrian show jumper who earned a silver medal in the 1996 Olympics. "I don't think one or two weeks makes a whole lot of difference. As long as you are working him out during that time and keeping him fresh."This horse has always done things so easily. I knew once he crucified the field in his first race he was something to be reckoned with. I also like that he has won all of his races the same way, off the pace."Barbaro got his name from a foxhound in a painting that hangs in the Jackson's home.Jackson said he is going to enjoy every moment of the ride."We're just going to take it day by day and hope he makes it there," said Jackson, who would be the third consecutive owner with Philadelphia connections to win a Triple Crown race. "We have no special plans, except to look forward to the experience. I just hope it doesn't go by so fast that we can't enjoy it. It's a once in a lifetime thing and you just want to soak it all in."



Copyright © 2015 The Blood-Horse, Inc. All Rights Reserved.