3-Year-Olds Affirm Their Quality as Derby Approaches
by Steve Haskin
Date Posted: 5/4/2006 11:38:21 AM
Last Updated: 5/4/2006 5:53:23 PM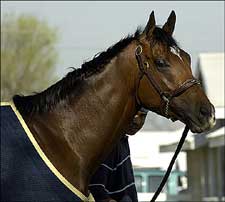 Florida Derby winner Barbaro.
Photo: Anne M. Eberhardt

Published in the May 6 issue of The Blood-Horse magazine
Like any kind of crop, a 3-year-old crop requires time to grow before it can be determined whether it is weak or strong. In racing, people have a tendency to denounce a 3-year-old crop in its infantile stages, and then praise it when it suddenly bears fruit right before the Kentucky Derby.When 2-year-old champion Stevie Wonderboy was knocked off the Derby trail right at the outset after suffering an injury following his defeat to Brother Derek in the Jan. 14 San Rafael Stakes (gr. II), this year's crop of 3-year-olds took a major hit, and many racing fans felt it would never recover. Brother Derek, who basically stole the San Rafael Stakes, had been beaten soundly in the Bessemer Trust Breeders' Cup Juvenile (gr. I), and although he was highly regarded in California, most Easterners remained skepticalThe same day as the San Rafael, a new face appeared on the scene when Lawyer Ron won the Risen Star Stakes (gr. III) at the Fair Grounds meet at Louisiana Downs. Although it was the colt's third straight runaway victory, he had lost seven of his first eight starts and had been beaten in a $50,000 claiming race.The attention was switched to First Samurai, but last year's Champagne (gr. I) and Hopeful (gr. I) winner also was defeated in his 3-year-old debut in the seven-furlong Hutcheson Stakes (gr. II) on Feb. 4.That same day, three minor stakes were run in Florida, California, and Maryland, which gave fans a ray of hope, but it was too early to get excited over Holy Bull (gr. III) winner Barbaro, Sham (gr. III) winner Bob and John, and Miracle Wood winner Sweetnorthernsaint. Barbaro still had not won a dirt race on a fast track. Bob and John had promise, but didn't project the same kind of excitement as past Bob Baffert-trained 3-year-olds. And Sweetnorthernsaint, who had run for a $40,000 claiming tag two races back, was beating up on Maryland horses in the slop.If someone had said at that point that this was as good as it was going to get, the Derby picture would have looked extremely bleak. After all, Brother Derek, Lawyer Ron, Barbaro, Bob and John, and Sweetnorthernsaint either had their detractors or simply didn't look like leading Derby contenders.Well, here we are three months later, and those indeed are the leading Derby contenders. And guess what? Most people are now claiming this is one of the deepest and most talented 3-year-old crops in many years. The speed gurus are calling this one of the fastest 3-year-old crops ever. Go figure.As everyone knows by now, Brother Derek continued his dominance over the California-based horses, culminating with an easy victory in the Santa Anita Derby (gr. I). Lawyer Ron just kept right on rolling, sweeping the three Oaklawn preps – the Southwest, Rebel, and Arkansas Derby (gr. II) in impressive fashion. Barbaro remained undefeated by winning the Florida Derby (gr. I). Bob and John came east where he captured the Wood Memorial (gr. I). And Sweetnorthernsaint destroyed a solid field in the Illinois Derby (gr. II), winning by 9 1/4 lengths after breaking from the 10-post.So, from this supposedly mediocre crop have come five horses who boast a combined record at age three of 16 victories in 18 starts, with three of the five unbeaten in 10 starts.A week after the trio of stakes on Feb. 4, a recently purchased 3-year-old named Sinister Minister finished sixth, beaten 19 lengths, in the seven-furlong San Vicente Stakes (gr. II) for Baffert; hardly a performance to have anyone thinking Derby. Two races later, the former $62,500 claimer sent jaws dropping when he turned in one of the freakiest Derby preps in memory, winning the Toyota Blue Grass Stakes (gr. I) by 12 3/4 lengths, earning a monster Beyer Speed Figure of 116.Also emerging on the scene were Baffert's late-developing Point Determined, second in the Santa Anita Derby; the exciting stretch runner, Jazil, who thrilled fans with his out-of-the-clouds stretch run to get second in the Wood Memorial; the gutsy Florida Derby runner-up Sharp Humor; the San Felipe (gr. II) winner A. P. Warrior; the consistent stretch runner Steppenwolfer, who chased Lawyer Ron home at Oaklawn; the California Derby and El Camino Real Derby (gr. III) winner Cause to Believe; and several other horses with excellent credentials.It is now Derby time, and the moths of February have turned into the butterflies of May. And who knows what beauty we will behold when they all take flight on May 6?



Copyright © 2015 The Blood-Horse, Inc. All Rights Reserved.