Breeders' Cup Purses Hiked to $20M This Year
by Tom LaMarra
Date Posted: 5/3/2006 10:56:52 AM
Last Updated: 5/4/2006 5:50:20 PM
Breeders' Cup officials announced that 2006 race day purses will total $20-million.
Photo: Anne M. Eberhardt

Total purses for this year's Breeders' Cup World Championships at Churchill Downs will be $20 million, up $6 million from last year under a new structure officials said is designed to keep the races competitive with other major Thoroughbred stakes around the world.Breeders' Cup officials have publicly discussed a purse increase for more than a year, but the scope remained up in the air. During a May 2 press conference at Churchill, officials announced purse hikes for all but one of the eight Cup races. No purse will be lower than $2 million.Officials said increasing competition from major races around the world was a major impetus for the purse hike. Purses for the first Breeders' Cup, with seven races, in 1984 totaled $10 million; last year, eight races went for $14 million."It's the role of the Breeders' Cup board of directors to keep an eye on the purse structure and keep it competitive on the world stage," Breeders' Cup chairman Bill Farish said. "It was time for a major increase. There are more and more international races with purse levels frankly ahead of the Breeders' Cup."Breeders' Cup president D.G. Van Clief Jr. said there was some discussion about raising the Classic purse to $6 million, which is the purse for the Dubai World Cup (UAE-I). He also said there was talk of adding races--a one-mile dirt race and a turf sprint, for instance--but there was no consensus."We took a look at several structures, and toyed with the idea of additional races," Van Clief said. "We landed on the structure we see here."In addition to the purse increases, there will be a reduction in entry fees. Beginning this year, entry fees for all Breeders' Cup-nominated horses will drop from 3% to 2.5% of the total purse, and supplemental fees for horses whose sires weren't nominated to the Breeders' Cup are 15%, down from 20%, of the purse.Owners of non-nominated horses by Breeders' Cup-nominated stallions will continue to pay 9% of the total purse for entry to a Cup race. And for the first time, foal and stallion nominator awards will be paid for horses that finish fourth and fifth in a Breeders' Cup race.Van Clief said a new stallion nomination rule based on the number of foals would produce about $3 million. That money, plus sponsorship money, helped fund the purse increase.Officials said there wasn't any pressure from owners or breeders to increase purses. However, Pam Blatz-Murff, senior vice president of Breeders' Cup operations, indicated the hike wouldn't hurt interest in the event. She said the extra money could help attract international attention, because Breeders' Cup doesn't pay shipping and other expenses as is the case for some major events in other countries."Those who have more money to run for can offset their expenses," Blatz-Murff said. "Any time you can allow the owners to get more revenue, the better off you are. Purses in Hong Kong, Japan, and other countries are going up. It's nice to have the purses up to a level where we can be competitive."Churchill has proven a most popular Breeders' Cup host site with horsemen and the public, so the purse hike is expected to have added benefit. Churchill hosted the largest Breeders' Cup day crowd ever--80,452 in 1998--and had the highest number of starters in Cup races (103) in 2000. It also has hosted five editions of the Breeders' Cup, the most of any track."We're happy to have the first $20-million day at what we consider to be the home of the Breeders' Cup," Churchill president Steve Sexton said.Here's the line-up for this year's grade I events, to be held Nov. 4 at the Louisville, Ky., racetrack, with the 2006 and 2005 purses: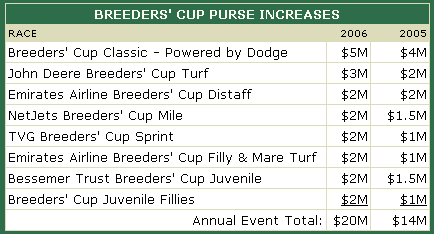 In a related matter, TVG, the interactive wagering network, said it had renewed its Sprint sponsorship for 2006. TVG last year became title sponsor for both the race and the TVG Sprint Division.Though live coverage of the Breeders' Cup will move to ESPN this year from NBC, TVG will collaborate with Breeders' Cup and the National Thoroughbred Racing Association on marketing programs aimed at driving pari-mutuel handle.



Copyright © 2015 The Blood-Horse, Inc. All Rights Reserved.