Bell Ringer: Churchill Kicks Off NASDAQ Trading
by Tom LaMarra
Date Posted: 5/2/2006 11:01:31 AM
Last Updated: 5/3/2006 10:13:17 AM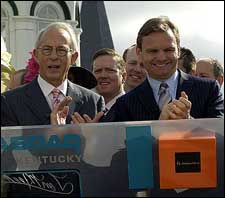 Tom Meeker, left, and Nasdaq representative Bruce Aust clap after Meeker presses the "bell" button on the orange box, signaling the opening of trading at the stock exchange in New York City.
Photo: Anne M. Eberhardt

New York City came to Louisville, Ky.--and vice versa--the morning of May 2 when the opening bell of the NASDAQ stock exchange rang from a fourth-floor porch at Churchill Downs to celebrate Derby week.Hundreds of guests and members of the NASDAQ production crew were on hand as Churchill Downs Inc. president and chief executive officer Tom Meeker and NASDAQ executive vice president Bruce Aust rang the bell at 9:30 a.m. EDT to signal the start of trading for the day. The high-tech production was carried live via satellite on national media outlets and appeared simultaneously on the seven-story NASDAQ tower in Times Square in New York City."It is a major production," Aust said after the ceremony. "We take pride in technology and innovation, and the fact we are an electronic stock market."CDI trades on NASDAQ, and Meeker has participated in opening-bell ceremonies in New York City. It was the first trip to Louisville for NASDAQ, but certainly not the first outside New York. NASDAQ held its first remote ceremony in August 2005 at Cisco Systems in San Jose, Calif., and since then has traveled to overseas to England and Switzerland, and in the United States to Chicago, San Francisco, and Miami."This is probably one of most visual (ceremonies)," said Silvia Davi, senior managing director of corporate communications for NASDAQ. "It's the first time we've done anything involving horses. Opening-bell ceremonies are meant to commemorate milestones."The milestone is the May 6 Kentucky Derby presented by Yum! Brands (gr. I). In addition, it could be the last Derby for Meeker, who has announced his retirement from CDI. His employment contract is up in March 2007.Meeker in his remarks said the one thing he would truly remember after 22 years at the company is the "support, hard work, and success of the company's employees." When he took over as president of the company in 1984, it had only one track--Churchill Downs--but now owns all or part of five others."Churchill Downs is truly the gold standard of business and racing around the world," said Louisville Mayor Jerry Abramson, who participated in the ceremony along with Kentucky Gov. Ernie Fletcher.Celebrities are no strangers to NASDAQ opening- and closing-bell ceremonies. Among those who have rang the bell are Howard Stern, Jon Bon Jovi, Donald Trump, Dan Marino, Dale Earnhardt, and Jeff Gordon.NASDAQ has about 800 employees, said Aust, who noted the idea for a Derby week ceremony stemmed from a discussion he had with Meeker last year. "It's a matter of getting it on the calendar," Aust said. "You have to plan in advance."NASDAQ has about 3,200 companies, more than 20 of them located in Kentucky.Planning around the weather is another story, but Churchill Downs and NASDAQ dodged a bullet. Heavy rain earlier in the morning left thinks a bit wet, but the sun was out by the time the ceremony began at about 9:15.CDI was scheduled to release its first-quarter earnings report the afternoon of May 9.



Copyright © 2015 The Blood-Horse, Inc. All Rights Reserved.