Steady Hand
by Ray Paulick
Date Posted: 5/2/2006 10:01:15 AM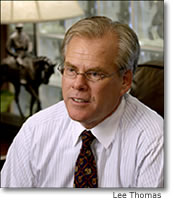 Ray Paulick
Editor-in-Chief


It's difficult to imagine a Breeders' Cup without D. G. Van Clief Jr. The gentleman from Virginia has been a steady, guiding influence on Thoroughbred racing's championship day since before the inaugural running in 1984 at Hollywood Park. Van Clief, 57, who joined the Breeders' Cup in 1982 as executive director, was named president of the organization in 1996. He announced April 27 that he is stepping down later this year after nearly 25 years of service. The brainchild of the late John Gaines, the Breeders' Cup stands out as a success during a period in the sport's history when few other initiatives have survived. Over the last 25 years, racing has seen the rise and fall of the American Championship Racing Series, a $5-million Triple Crown bonus, a commissioner's office representing the Thoroughbred Racing Associations of North America, a national Labor Day promotion known as America's Day at the Races, the Great State Challenge, the Mid-Atlantic Thoroughbred Championship Series, and the National Thoroughbred Association. The latter evolved into the National Thoroughbred Racing Association, formed by an alliance of owners, breeders, and racetrack executives. Launched in 1998, the NTRA started out as a league office with plans to aggressively market the sport, but budget limitations and a shifting agenda have significantly downsized its industry role. Van Clief has been commissioner of the NTRA since 2004. He will be leaving that position, too. The sustained success of the Breeders' Cup is due in no small part to the leadership of Van Clief, whose calm demeanor, administrative skills, and consensus-building style have made what he has accomplished over the past 25 years look deceptively easy. It hasn't been without challenges. The 1996 edition, held at Woodbine in Canada, was in jeopardy because of labor union strife. The 2001 running, at Belmont Park in New York, came on the heels of the Sept. 11 terrorist attacks and required intense security coordination with local, state, and federal law enforcement agencies. New, smaller venues hosted the Cup in 2002 (Arlington Park in Illinois) and 2004 (Lone Star Park in Texas), making customer-service standards difficult to maintain. In 2005, the New York Racing Association's financial crisis forced Van Clief and the Breeders' Cup management team to seek guarantees that a bankruptcy filing would not create serious problems at host track Belmont Park. The Breeders' Cup met every one of those challenges and many others. The event has enjoyed substantial growth in nearly every measurable category, the lone exception being television ratings, which have steadily declined over the years. In that area, Van Clief stepped out of his conservative role and steered this year's championship races away from NBC, which has telecast every Breeders' Cup, and toward ESPN, in hopes of capitalizing on the fast-growing sports network's younger demographic. Van Clief has worn many hats over the years, and he has worn them well. In addition to his Breeders' Cup and NTRA positions, he is chairman of the Fasig-Tipton sale company, and he has played leadership roles in numerous industry organizations, including The Blood-Horse, where he currently serves on the board of trustees. In a 2003 interview with news editor Tom LaMarra, Van Clief talked about the frustration of dealing with industry politics, something that seems to be on the rise. "I've found over the years one of the things to keep nearby is a sense of humor," he said. "It's an important task in supporting the industry, but you always have to keep in mind it's not a matter of national security."



Copyright © 2015 The Blood-Horse, Inc. All Rights Reserved.