Brother Derek Breezes at Churchill in Final Derby Prep
by Deirdre B. Biles
Date Posted: 5/1/2006 10:01:57 AM
Last Updated: 5/2/2006 10:23:51 AM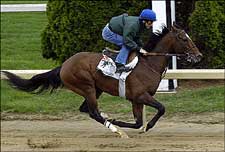 Brother Derek gets in final work before Saturday's Derby.
Photo: Anne M. Eberhardt

Brother Derek's final work before the Kentucky Derby presented by Yum! Brands (gr. I) wasn't too fast, and it wasn't too slow. It was just right, according to his trainer, Dan Hendricks.The Santa Anita Derby (gr. I) winner breezed an easy half-mile in :49 1/5 over a muddy track at Churchill Downs Monday. On board was jockey Alex Solis, who had just flown in on a red-eye flight from the West Coast."It was just what we wanted," Hendricks said.Brother Derek's fractional times were :12 3/5, :25 1/5, and :36 3/5. He galloped out five furlongs in 1:03. "It looked like he was galloping, and I thought he was going way too slow," said trainer Dan Hendricks, who watched the move from the third floor of Churchill's grandstand. "But he went :49 1/5, and I asked him to go :49, so he got it pretty close. We just wanted to stretch his legs, get over the track, and do a little something because it's been a week since we worked him at Santa Anita. He's fit from his races; I didn't need a lot. It was just a little something as much for us as for him."Hendricks debated much of the morning about whether to work Brother Derek or wait until Tuesday because the track was waterlogged from heavy rains. Solis, who flew into the Cincinnati area and then got lost while making a road trip to Louisville, didn't arrive at Churchill until the morning work hours were almost finished. The work originally had been scheduled for immediately after the 8 a.m. break for track maintenance. But Solis and Brother Derek didn't head to the track until almost 9:30."Tracks back here dry out real quick, and for as much rain as we got, the track was in real good shape," said the California-based Hendricks of his decision to go ahead and breeze Brother Derek. "He got over it well and seems to have come back well, so we're all set now."It's probably the first time he's ever been on a wet track and done any more than a jog, and he handled it fine. The thing about a wet track here is that it's still fast. On a regular fast track, I might have gone five eighths (of a mile), but on an off track I didn't want to go too far. And going a half mile, had he gone a little fast, it wouldn't have been to his detriment. It's what we've done in the past. And if it worked in the past, I'm going to keep doing it."Joked Solis: "He (Hendricks) told me to go :49, and I went 49 and one. Big miss."Brother Derek's time was the fifth fastest among the 24 quarter-mile workers Monday at Churchill. Even though the Cecil Peacock-owned colt didn't burn up the track, the son of Benchmark was eager to work, according to the jockey."The way he (Brother Derek) felt under me he was happy; he was feeling his 'spunk.' He wanted to do something," Solis said. "I didn't want him to jump around out there and drop me or anything like that."Brother Derek's plans for the remaining days leading up to the Derby call for "strong, long gallops because he didn't do a whole lot there (in his work)," Hendricks said. "We'll just go into the Derby just like we have in the past few races. We've done a little more with him in between races this time, and hopefully, with that kind of solid, quiet, long work last week and this little work, we should be set."Solis expressed confidence in Brother Derek's ability to deal with a fast Derby pace, which many people are anticipating because talented frontrunners like Toyota Bluegrass Stakes (gr. I) winner Sinister Minister and Florida Derby (gr. I) runner-up Sharp Humor are in the field."I feel strongly he will do that (relax) if they go really fast," Solis said. "I'm just going to let him do whatever he wants. I'm not going to be sending him or taking him back. He has such a natural way of going, with that high cruising speed, that I'm just going to let him do whatever he wants and place himself wherever he's happy and comfortable."



Copyright © 2015 The Blood-Horse, Inc. All Rights Reserved.