Memory Boost
by Ray Paulick
Date Posted: 3/20/2001 8:56:01 AM
Last Updated: 3/20/2001 8:57:12 AM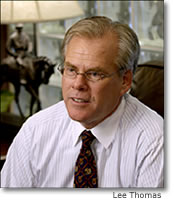 Ray Paulick
Editor in Chief


In some ways, Maria's Mon was a forgotten champion when he arrived at Pin Oak Stud near Versailles, Ky., for the 1997 breeding season. Not that he should have been, but far too often the fickle commercial Thoroughbred market wants to know, "What have you done for me lately?"Truth is, Maria's Mon hadn't done a whole lot in the months before he entered stud as a 4-year-old. He started only two times at three in 1996, and was winless in both tries. As a 2-year-old of 1995, the year he won his Eclipse Award, Maria's Mon missed the Breeders' Cup when he was sidelined by a condylar fracture of his left front ankle shortly after winning the Champagne Stakes (gr. I) at Belmont Park.Prior to that injury, Maria's Mon was nothing short of spectacular. He skewered a maiden field by 10 1/2 lengths at Belmont in July, took Saratoga's Sanford Stakes (gr. III) at six furlongs, the Futurity Stakes (gr. I) at Belmont going a mile, and the 1 1/16-mile Champagne. His only defeat came while running third to Hennessy and Louis Quatorze in the seven-furlong Hopeful Stakes (gr. I) at Saratoga.Though Eclipse Award voters tend to throw their support behind whomever captures the Breeders' Cup, Maria's Mon won the championship in a runaway over Unbridled's Song and Hennessy, the one-two finishers in the Juvenile (gr. I). The Wavering Monarch colt from the Caro mare Carlotta Maria became the first champion in 50 years of racing for his owners, Morton and Rosalind Rosenthal.It couldn't have helped the stock of Maria's Mon when his comeback was aborted in 1996 after two starts--making it 16 months from his last win until he covered his first mare. That's one reason Pin Oak Stud owner Josephine Abercrombie and farm manager Clifford Barry settled on a modest stud fee of $7,500 for his initial season."We priced him so fairly that a breeder had no choice but to take a second look," Barry said. "Where could you get an Eclipse Award winner for just $7,500? This way, we were able to pick and choose our mares. We were very lucky and hit a home run right off the bat."The home run, of course, is Monarchos, the Florida Derby (gr. I) winner who, unlike his sire, was slow to develop as a 2-year-old but now is at the forefront among contenders for the Kentucky Derby (gr. I). Monarchos was bred in Kentucky by Jim Squires and races for John and Debby Oxley.Until Monarchos stepped up to the plate with his big performance, Maria's Mon had been getting along on a string of singles and doubles. He wound up 10th among leading first-crop sires of 2000. "When we started looking at Maria's Mon's babies, both Mrs. Abercrombie and I talked about how he may not come with those flashy, quick 2-year-olds," Barry said. "These had a little more leg under them than you might expect from a sire who was a 2-year-old champion. We just hoped he'd have enough success with his juveniles to keep people's confidence. We knew the 3-year-olds were going to be running."Pin Oak held steady to the $7,500 live foal stud fee until this year, though Barry said the farm could easily have justified a higher fee much earlier. "Last year, we bred 120 mares to Maria's Mon and probably turned down another 75," he said. "Mrs. Abercrombie wanted to get his book in the 80-90 range, and we felt by bumping him up we might settle down the demand. At $12,500 this year, nobody blinked, and that was before Monarchos."In the week after the Florida Derby, a no-guarantee season sold on EquineSpectrum.com for $26,000. Barry said the number of calls to Pin Oak following the Florida Derby have skyrocketed.No one has forgotten the 2-year-old champion of 1995, at least not lately.



Copyright © 2015 The Blood-Horse, Inc. All Rights Reserved.