Steve Haskin's Derby Report: Romans Issues Warning
by Steve Haskin
Date Posted: 4/25/2006 3:16:38 PM
Last Updated: 4/26/2006 12:11:22 PM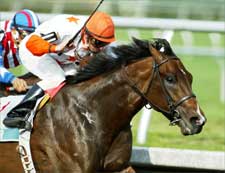 Sharp Humor, whom trainer Dale Romans says will attempt to take the early lead in the Kentucky Derby.
Photo: NTRA/Horsephotos

Sinister Minister or no Sinister Minister, Sharp Humor is the one they'll have to catch on May 6, says the colt's trainer Dale Romans. And any horse who dares look Romans' gladiator in the eye early in the Kentucky Derby presented by Yum! Brands (gr. I) will pay the price. Romans is stabled in Barn 4 at Churchill Downs, a far distance from the other Derby starters, and in the comfort of his quiet confines, he remains more confident in his colt than ever.And why not? Sharp Humor, a New York-bred son of Distorted Humor , made an auspicious transition from state-bred races when he turned back the heavily favored Noonmark in the seven-furlong Swale Stakes (gr. II) in his 3-year-old debut. That courageous effort at odds of 13-1 gained him some respect in the $1-million Florida Derby (gr. I), and despite making his first start around two turns and only his second start of the year, he once again displayed his tenacity by battling the unbeaten Barbaro the entire length of the stretch, falling a half-length short.Romans now feels the colt has the seasoning and experience not only to make life miserable for any of the favorites who want to take him on, but to win the whole darn thing."I'm planning on sending him," he said bluntly. "I don't know how good Sinister Minister came out of his race (in the Toyota Blue Grass Stakes-I), but I'm not going to try to change our horse's style of running and try to teach him to come from behind. It's too late in the game. He's never done it and we're not going to change it going into the Derby."I wouldn't want to be the horse out there looking him in the eye. A lot of times you see a race with a lot of speed and nobody goes. But we're going, and if Sinister Minister is in there, we'll see who's the fastest, and then figure it out after the first quarter. Right now, we'd like to be on the lead every step of the way. One thing he has is fight. He loves to be looked in the eye. I think Barbaro thought he had him put away at the quarter pole, but he stayed right with him to the end."Romans put a good solid mile work into Sharp Humor last week, and there is no doubt the colt will have a lot more foundation under him than he had in the Florida Derby. He's also been toughened by four straight dogfights and should be a tough nut to crack in the Derby."He's a better horse today than he was going into the Florida Derby," Romans said. "He's training better every day, and the more we've done with him the better he's gotten. Last year when we got him he looked like a little sprinter, but he really grew up over the winter and lengthened out, and now he looks more like a two-turn type of horse.If Sinister Minister does bounce out of his titanic effort in the Blue Grass in good shape, then it looks like we're going to have a real barn burner of a race. His trainer, Bob Baffert, calls him a run-off who is pure speed, and after watching him demolish some talented, classy horses in the Blue Grass, one has to wonder just how good he is and whether or not he can come back in three weeks and run anything even near that kind of race. One thing is certain: Sinister Minister will be coming out of there with all barrels blazing. What is going to happen when and if he is hooked by a tiger like Sharp Humor is anyone's guess. But the other jockeys had better be aware of what's going on up front or they could get sucked right into the vacuum.Sinister Minister arrived at Churchill Downs Monday afternoon, and if the Blue Grass did knock him out, he didn't show any signs of it. He was alert and kept busy by boring a deep hole in his hay rack. This morning, he was out for his first gallop under exercise rider Mick Jenner. The son of Old Trieste went around there smoothly and seemed focused all the way. He does not pack a lot of flesh, but he's all racehorse.There wasn't much activity on the track Tuesday morning. Lawyer Ron was out at his usual time right before the renovation break. Everything possible is being done to get the son of Langfuhr as relaxed as possible, which is why they take him out when most of the activity is over. He didn't want to stand for very long near the gap, and went off about his business after a minute or so. He takes the turns extremely wide in his gallops, and has his head cocked to the inside, with his mouth wide open. But that's Lawyer Ron. He loves to race and he loves to train, and always wants to be doing something. Exercise rider Betsy Couch said each day he's getting a little more settled.Looking at him physically and in action, it's hard to believe he's had 14 starts in nine months. He carries his flesh well, and like Afleet Alex last year, he just seems to thrive on racing and training.How confident is his jockey, John McKee? "I really think we're gonna' win the Derby," he said. "There isn't a doubt in my mind."Keyed Entry was out for his gallop a little after 6 o'clock, with Sunriver and Bluegrass Cat following in the second set. Sunriver, with Angel Cordero Jr. aboard and Todd Pletcher alongside on the pony, stood by the rail for a good 15 minutes and didn't miss a thing, following every horse that went by and turning his head at every sound. Cordero said this is his sleeper. Now, all he has to do is get in the race, which looks promising at this time.Steppenwolfer was a bit more active this morning, schooling at the gate, turning in another solid gallop, and getting a new pair of shoes. The son of

Aptitude

just goes about his business in a classy, professional manner, and couldn't be doing any better physically.Cause to Believe is scheduled to arrive by a Federal Express flight this evening, followed shortly after by Sweetnorthernsaint, who departed his Laurel barn this morning for the 10-hour van ride.In other Derby-related news:-- D. Wayne Lukas has signed on as WAVE-TV's racing analyst for four Monday appearances. In his appearance on Monday Lukas said he has narrowed down his four top picks to Lawyer Ron, Sharp Humor, Sweetnorthernsaint, and Brother Derek. -- If Brother Derek wins the Derby, he will be the first Derby winner in 38 years to break his maiden going 4 1/2 furlongs. The last Derby winner to do it was Forward Pass in 1968. And if you don't recognize Forward Pass as a legitimate Derby winner because he was awarded the win on the disqualification of Dancer's Image, then you have to go back to Carry Back in 1961, who broke his maiden going three furlongs. If he pulls it off, it will be just another little tidbit in the growing fairy tale saga of Brother Derek.-- Are you a follower of the Ragozin Sheets? What would you make of a Derby, in which the four top choices earned figures of 12, 10, 9, and 8 3/4 in their final Derby prep? If you said it was a poor group, you'd be interested to know that those were the final prep Sheets numbers for Secretariat, Seattle Slew, Affirmed, and Spectacular Bid. Times apparently have changed since then.



Copyright © 2015 The Blood-Horse, Inc. All Rights Reserved.