Former NYRA Co-Chair Karches Dead
Date Posted: 4/14/2006 1:23:33 PM
Last Updated: 4/17/2006 9:58:41 AM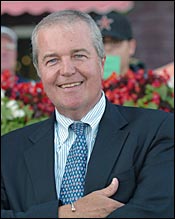 Peter Karches, former co-chair of NYRA.
Photo: NYRA/Adam Coglianese

Peter F. Karches, former co-chairman of the New York Racing Association (NYRA), died while hospitalized in Boston, Mass. April 13 from chronic lymphocytic leukemia, the most common form of adult leukemia.Karches, who was born Dec.16, 1951, resigned as NYRA's co-chair in December, citing personal reasons. He remained a member of NYRA's Board of Trustees. In 2001, Mr. Karches was elected co-vice Chairman of NYRA's Board of Trustees. On December 9, 2003, exactly two years prior to his resignation, Mr. Karches and C. Steven Duncker were named co-Chairmen of NYRA's Board of Trustees. "Personally and professionally, we have lost a great friend last night with the passing of Peter Karches," Duncker said. "Even while battling his illness, Peter worked tirelessly for New York Racing. His integrity and business sense was unmatched and racing in our state was the beneficiary of those talents."During his two-year tenure, Karches and Duncker guided NYRA through an 18-month federal monitorship of NYRA's business activities. The monitorship ended last August with a positive report from the federal monitor -- the law firm of Getnick & Getnick -- and the subsequent dismissal of the federal indictment against NYRA by the Federal District Court for the Eastern District of New York."Peter Karches brought great passion and talent to business decisions and to his thoroughbred racing interests," said NYRA President and Chief Executive Officer Charles E. Hayward. "As a colleague, Peter had great leadership skills and encouraged one to achieve more than one ever thought possible. He was a strong advocate and pioneer in issues of racing integrity and we will all be forever thankful for his many achievements."A graduate of Georgetown University and the Columbia University Graduate School of Business, Karches was a trustee of the Thoroughbred Owners and Breeders Association and a trustee of Georgetown University and the New York Presbyterian Hospital.Karches was diagnosed with leukemia in January 2000; that August, he retired from Morgan Stanley after a 25-year career, where he served on the Management Committee of Morgan Stanley and was president and chief operating officer of its institutional securities and investment banking group. Prior to the merger with Dean Witter Securities, Karches was president of Morgan Stanley and Co., Inc.Karches grew up as a racing fan and purchased his first horse in 1996. Among his top horses were Dynever, who was third in the 2003 Breeders' Cup Classic (gr. I) at Santa; Statesmanship, winner of the 1997 Withers at Aqueduct (Mr. Karches' first stakes win); Fast Decision, winner of the 2002 Withers, and Seducer's Song, who won Saratoga's Lake George and Monmouth Park's Boiling Springs handicaps in 2004. His trainers included Christophe Clement and Lisa Lewis."I must have trained for him for about six years, and by far, our best horse was Kissin Saint," Lewis said. "But we had a lot of horses that we had a lot of fun with. He was more than an owner; he was good friend to me. He believed in me and gave me an opportunity. He will be greatly missed." Last month, Karches and his wife, Susan, donated $10 million to the Feinstein Institute for Medical Research, to support laboratory and clinical research underway at the Chronic Lymphocytic Leukemia Research and Treatment Program, part of the North Shore-Long Island Jewish Health System. Karches is survived by his wife, Susan, and four children: Amy, Pam, Peter and Nancy.Funeral arrangements are pending.



Copyright © 2015 The Blood-Horse, Inc. All Rights Reserved.