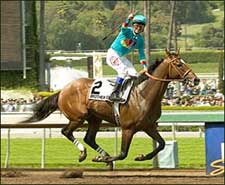 "This is the biggest win of my career," said Hendricks, surrounded by his three young sons, who willingly gave up motocross after their father's accident.
    
"This is the best race I've ever won with the best horse I've ever trained, and that's what makes it easy. People ask me about the pressure. I don't have any pressure until he stops running because he's a very easy horse to train."Brother Derek would be the first California-bred to be favored in the Derby since Snow Chief in 1986. Three horses bred in the Golden State have won it – Morvich, Swaps, and Decidedly. The last Santa Anita Derby victor to win the Derby was Sunday Silence in 1989.The colt won for the sixth time in eight starts with earnings of $1,162,080 for owner Cecil Peacock, whose silks bear a strong resemblance to NBC's peacock logo. The network televised Saturday's race and will show the Kentucky Derby, too.
    
"He was Mr. Peacock before NBC," Hendricks said. The colt, a $275,000 Barretts buy in March 2005, paid $3, $2.40, and $2.10. Point Determined, who was also second in the San Felipe, returned $2.80 and $2.10. A.P. Warrior was $2.10 to show.Bejarano figures the Kentucky Derby's 1 1/4-mile distance will help Point Determined.
    
"Brother Derek won easy because he didn't have any pressure. He was really comfortable all the way," Bejarano said. "I tried to put my horse closer in the race, but I had to ride him all the way. But he felt good and finished strong to be second."Sacred Light was fourth. Wildfang trailed.(Chart, Equibase)

SPECIAL NOTE: Brother Derek trainer Dan Hendrick's is the guest on the Wednesday, April 12 edition of bloodhorse.com's Talkin Horses. Click on link to Submit a Question to Dan.