Legality of Interstate Wagering Raised at Internet Hearing
by Tom LaMarra
Date Posted: 4/5/2006 10:00:47 PM
Last Updated: 4/7/2006 6:01:37 PM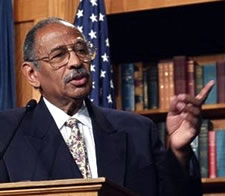 U.S. Rep. John Conyers Jr. (D-Mich) says regulation only way to gain control of online gambling.
Photo: Associated Press

As Congress continues to haggle over the scope and objective of the proposed Internet Gambling Prohibition Act, the racing industry again finds itself in disagreement with the Department of Justice over whether interstate simulcasts are legal under the federal law.During an April 5 hearing before the House Judiciary Committee's Subcommittee on Crime, Terrorism, and Homeland Security in Washington, D.C., questions often turned to the racing industry and whether it has a carve-out in the Internet Gambling Prohibition Act, which would target use of credit cards for Internet gambling but not expressly ban it. Lawmakers said they are somewhat confused by the legislation, in part because pari-mutuel wagering is governed by other laws.Lawmakers cited figures that claim $14 billion -- half of it from residents of the United States -- was bet through the Internet last year, up from $8 billion the previous year. A few of them believe a commission should be formed to study Internet gambling before any bill is passed. The issue has been repeatedly addressed via proposed legislation since the mid-1990s.Republican U.S. Rep. Bob Goodlatte of Virginia, chief sponsor of the legislation, said during the hearing the bill would eliminate Internet gambling but at the same time protect states' rights. The regulation of intrastate gambling is within the jurisdiction of each state, he said."While my legislation prohibits online, interstate gambling, it does not overturn previous acts of Congress that address gambling," Goodlatte said. "This is a strong anti-gambling bill that also protects the rights of states to determine what is--and is not--prohibited within their borders."The pari-mutuel industry now derives about 85% of its revenue from interstate simulcasts -- the transmission of signals across state lines and to other countries -- but Goodlatte insisted there is no carve-out, or exemption, for racing in the legislation. The Interstate Horseracing Act of 1978 was amended in 2000 to allow for interstate account wagering, so a law already exists to protect pari-mutuel betting, racing industry officials have argued.Democratic U.S. Rep. John Conyers Jr. of Michigan called dealing with horse racing a "conundrum" given the IHA, the Justice Department's position that interstate betting on racing is illegal, and the prohibition in the Goodlatte bill. Conyers pressed Goodlatte to comment on whether the IHA legalized Internet wagering on racing."I don't have an opinion on that piece of legislation," Goodlatte said. "We're not overturning that act or taking a position on what that act allows."Bruce Ohr, chief of the Organized Crime and Racketeering Section in the Criminal Division of the Department of Justice, said the department views existing criminal statutes as "prohibiting the interstate transmission of bets or wagers, including wagers on horse races." He said the department is "currently undertaking a civil investigation relating to a potential violation of law regarding this activity," but offered no details.Ohr reiterated the department's position that the IHA didn't amend the Wire Act; racing industry officials and lobbyists have disagreed, and there has been no resolution. Ohr also said the Goodlatte bill permits intrastate wagering "without examining the actual routing of the transmission to determine if the wagering is 'intrastate' vs. 'interstate.' Under current law, the actual routing of the transmission is of great importance in deciding if the transmission is interstate commerce."U.S. Rep. Robert "Bobby" Scott of Virginia, the ranking Democrat on the subcommittee, questioned the potential effectiveness of the Internet Gambling Prohibition Act. He said it wouldn't prohibit Internet gambling and suggested prosecution of individual gamblers may send a message. Scott likened it to prohibiting the sale of illegal drugs; the demand for drugs remains."A more effective regulatory approach must be developed," said Scott, who called for formation of a study commission to tackle the issue."Let's be real, my friends," Conyers said. "If we are to gain control of the online gambling industry, we must regulate it."Democratic U.S. Rep. Sheila Jackson Lee of Texas had several questions to ask Goodlatte, including how the bill would impact online wagering on racing. She said she's concerned about "discriminatory aspects that may occur if we don't get it right, and I'm sensing we're not getting it right. Since we have a state of confusion, I'd be concerned about legislation that causes more confusion."Jackson Lee said the "issue of gambling needs to be broader than this immediate hearing."John Warren Kindt, a professor at the University of Illinois, told lawmakers of the socioeconomic problems associated with all forms of gambling. He said a strategic solution would be to ban Internet gambling and convert existing gambling facilities into educational and practical technology facilities.Kindt included in his testimony a chart on the business economics of licensed organized gambling. The document called casinos, video gaming machines, and Internet betting the "crack cocaine of gambling," and horse and dog tracks, bingo, and lotteries the "marijuana of gambling."Kindt claimed there is $3 in costs for every $1 in benefits when it comes to gambling and its impact on society.Sam Vallandingham, vice president in the chief information office of the First State Bank of Barboursville, W.Va., said the Goodlatte bill would create problems for the banking industry by necessitating a massive overhaul of check-clearing and automated clearing house networks."As a representative of the (Independent Community Bankers of America), I urge you to reject proposals to use the banking system to restrict Internet gambling unless there is a reasonable chance the measures will be effective and will not add to the tremendous regulatory burden of our nation's financial institutions," Vallandingham told subcommittee members.Goodlatte emphasized that gambling institutions, not banks, would be subject to criminal penalties under his bill.



Copyright © 2015 The Blood-Horse, Inc. All Rights Reserved.