Immigration Reform Has Horse Industry on Alert
by Tom LaMarra
Date Posted: 4/4/2006 10:48:45 PM
Last Updated: 4/5/2006 8:38:58 AM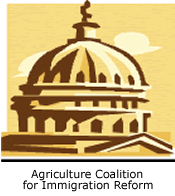 ACIR officials addressed Tuesday session of American Horse Council forum.


Representatives of the horse industry are among those lobbying to protect their interests as the United States Congress considers sweeping immigration reform.A House bill would classify illegal immigrants as criminals, while a Senate bill would create a guest worker program and strengthen border protection but eliminate criminal penalties. Officials said it is possible the House could vote on legislation as early as April 6.The horse industry relies heavily on alien workers at farms, racetracks, and training centers on a year-round basis. The current H-2A program for agricultural workers allows employers to bring aliens to the U.S. as temporary, non-immigrant workers; the temporary period is only 10 months.During the American Horse Council issues forum April 4 in Washington, D.C., Craig Regelbrugge, co-chair of the Agriculture Coalition for Immigration Reform, said the House measure was a "wake-up call" that signaled serious change is on the horizon. A Senate bill, he said, includes "earned adjustment," which would require workers to stay in their jobs over a specified period of time.The AHC supports what is being called the "AgJobs" bill, which would allow workers to earn temporary status or apply for permanent resident status if they can demonstrate they have worked in the U.S. for specific periods of time. It remains to be seen what final form any legislation will take given the political climate, officials said."If we could write our own program ... it wouldn't necessarily be this in toto, but it's as good as you're going to do given the circumstances," AHC president Jay Hickey said."Best is politically unachievable, we believe," Regelbrugge said.The bill passed by the House in December has generated protest. Called the "Border Protection Antiterrorism and Illegal Immigration Control Act," the legislation would heavily penalize employers who hire undocumented workers.On April 4 in Louisville, hundreds of Hispanics rallied at a federal courthouse to push for immigration reform. A pastor who helped organize the rally said he supports the Senate bill that would tighten immigration controls but also create a guest worker program. The Kentucky Coalition for Comprehensive Immigration Reform has scheduled a similar rally for April 10 in Lexington.Horse industry officials said they support tighter border security but believe provisions must be made for alien workers who play a key role in the horse breeding and racing business.



Copyright © 2015 The Blood-Horse, Inc. All Rights Reserved.