Kentucky Derby Trail: Five Weeks or Bust
by Steve Haskin
Date Posted: 4/3/2006 6:44:10 PM
Last Updated: 4/6/2006 2:16:45 PM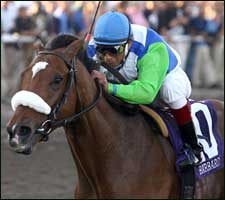 Barbaro made reservations for May 6 with impressive Florida win.
Photo: Equi-Photo/Bill Denver

Fresh is best. Those are the words Barbaro's trainer Michael Matz is living by. Whether he's right or wrong, you have to admire him for going against history and public opinion and sticking to his guns, much like another former equestrian rider, Tim Ritchey, did last with his unorthodox training of Afleet Alex.Matz had to be thrilled with Barbaro's performance and the way the race played out. If you're going to send a horse into the fire on the first Saturday in May off a five-week layoff, and one race in 13 weeks, you couldn't have scripted the Florida Derby (gr. I) any better. Barbaro, who had only three grass races and one race in the slop under him, needed to be toughened over a fast track, and his battle with a tenacious Sharp Humor provided him with that toughness.Whether it will be enough to help him withstand what promises to be a contentious pace in the Kentucky Derby presented by Yum! Brands (gr. I), we obviously won't know until May 6. But the bottom line is that Barbaro has shown he can win on any kind of surface, and in a year like this, there is something to be said for having an undefeated horse. And he did break awkwardly from a bad post when his hind end gave out and he ducked to the inside slamming hard against Charming Image. But he still managed to get a good position going into the first turn. Also, for all those who like to compare times, he did run 10 one-hundredths faster than Bandini in the Skip Away Handicap (gr. III) the race before.Barbaro, it must be pointed out, has a similar running style to a number of Derby contenders. The son of

Dynaformer

, as he showed once again in the Florida Derby, likes to stalk in second, but he, like many of the others, could be forced to alter their running style in a 20-horse field. And that is where the ability to adapt plays an important role. It must also be pointed out that Barbaro did several things in the stretch of the Florida Derby that could suggest he's still a little immature and tolerates the dirt more than relishes it. Nearing the eighth pole, he bobbed his head noticeably after lugging in a bit, and then drifted out nearing the wire. In the paddock, he lost it for a few seconds after Matz tried putting the girth on him. The feeling here is that Barbaro probably is better suited to the grass, but he has so much ability, he obviously can run on anything and still keep piling up the wins. Credit must be given to Matz for having Barbaro ready for a tough battle off an eight-week layoff. So, like Ritchey last year, perhaps it's best to give Matz the benefit of the doubt and believe in his skills as an Olympic horseman. Because of the difference in training philosophies nowadays, it's only inevitable that a horse will win the Derby off a layoff of five weeks or longer, and what better year for it to happen than the 50th anniversary of Needles' Derby victory. And Needles won off a six-week layoff.Barbaro will not be the only one attempting it, as Sharp Humor, third-place finisher Sunriver, and seventh-place finisher Flashy Bull all are definitely heading straight to the Derby. And fourth-place finisher, Sam's Ace, also is a possibility, depending on his graded earnings.To be honest, the Florida Derby was a not a strong field, as Sharp Humor had never been two turns and was coming off only a single seven-furlong race this year, and Sam's Ace was able to finish fourth despite breaking from the 11-post and having run in an off-the-turf allowance race, two starter allowance races, and a $32,000 claiming race. And this was a notoriously speed-favoring track, which certainly had to help the top two.So, it looks as if the Florida Derby answered several important questions regarding Barbaro, but also left other questions unanswered, which seems to be the natural order of things on this year's Derby trail.Now that Barbaro has bought his ticket to Louisville, it will be interesting to see what his owners, Lael Stables, do regarding their budding star Showing Up, who is scheduled to run in Saturday's Wood Memorial (gr. I). The son of Strategic Mission has only two lifetime starts, but has won each of them as if he could turn out to be something special. In his last race, he turned back three challenges from three different horses before drawing off to win a one-mile allowance race in 1:34 flat.The Sun shines brightIf you're looking for a live horse coming out of the Florida Derby, look no farther than Sunriver. The full-brother to champion Ashado, also is bucking history but has several things going for him. He's run in five straight 1 1/8-mile races since November, yet only now appears to be coming into his own. In the Florida Derby, he broke on top, and could have held a good stalking position, but was sideswiped by Flashy Bull going into the turn and forced to steady, dropping back to eighth, which was not where you wanted to be on this track.Down the backstretch, John Velazquez steered him to the outside, six wide, to give him clear sailing. He was put to a strong hand ride and was able to close the gap a bit after putting in a :23 3/5 third quarter. At the quarter pole, he had to go five wide and then ran hard down the stretch, but couldn't make up any ground on the top two over the speed-biased track. Remember, this colt was coming off an allowance victory, in which he ran four-fifths faster than the Fountain of Youth Stakes (gr. II), although the track may have slowed down a bit as the day went on. Still, the horse he beat by a half-length -- High Blues -- finished 6 3/4 lengths behind him in the Florida Derby. So, all in all, this was a solid effort and should move him forward. This definitely looks like a horse to keep an eye on come May 6.As for Sharp Humor, he proved once again he is as game and tough as they come, and it's going to take a top effort to get by him, regardless of the distance. The son of Distorted Humor should provide a solid pace in the Derby, and it wouldn't be wise for opposing jockeys to ignore him if gets loose on a clear lead.Flashy Bull is heading to the Derby, after suffering from the "thumps" –an imbalance of electrolytes usually caused by the stress of physical exercise, especially in hot weather. Trainer Kiaran McLaughlin will make sure the son of

Holy Bull

gets enough electrolytes for the Derby, in the form of calcium. The main question with him is, can he be ready for a top effort in the Derby off a five-week layoff and getting beaten nearly 11 lengths? Flashy Bull and Sunriver currently rank 18th and 19th, respectively, on the list of graded earnings.Unless Bob Baffert and Mike Pegram pass up a trip to Woodbine for the Queen's Plate and possibly send WinStar Derby winner Wanna Runner to the Coolmore Lexington Stakes (gr. II) or straight to the Derby, we won't be getting any Derby starters out of Saturday's $600,000 race at Sunland Park. Because of its non-graded status, there is little incentive to run a horse here if you're looking to get in the Derby. The hefty purse certainly is attractive, but it won't do anyone any good without graded earnings. That leaves the race in a Catch-22 situation. It can't become graded until they get top horses, and they can't get top horses until it becomes graded.Wanna Runner, a Canadian-bred son of El Corredor , looked like a winner every step of the way. Over a speed-favoring track, he merely stalked the front-running Blaze It and drew off with ease to win by 4 3/4 lengths over stablemate Sky Diving. This was as easy a $300,000 winner's share as Baffert and Pegram are ever likely to win.Godolphin being discreetWe'll have to wait until at least April 15 before Godolphin makes up its mind whether to run UAE Derby (UAE-II) winner Discreet Cat in the Kentucky Derby or give the inexperienced and immature son of

Forestry

sufficient time to develop.In the past, Godolphin might have rushed into the Derby in an attempt to fulfill their quest of winning the Run for the Roses. But they haven't run a horse since 2002, and apparently are more conscientious in their decision making, especially with lightly raced horses, preferring instead to give them time to develop. As racing manager Simon Crisford pointed out, Discreet Cat won't even turn three until May 1.The more one looks at the UAE Derby replay, the more impressive it becomes from a visual standpoint. Putting a watch on Discreet Cat, in his first ever 1 1/8-mile race, he came home his final furlong in a strong :12 2/5. That is impressive down that long Nad al Sheba stretch, and in only the colt's third career start. Also, after switching to his right lead, he remained on it all the way to the finish. Because of the length of the stretch, many horses will switch back to their left lead. But this obviously is a professional horse, who just seems to do everything right. Even coming back after the race, he grabbed hold of the bit and jockey Frankie Dettori had to snatch the reins and shift his weight back in order to slow him down.



Copyright © 2015 The Blood-Horse, Inc. All Rights Reserved.