Battle of the Syndicates in Florida Derby
by Steve Haskin
Date Posted: 3/28/2006 4:08:25 PM
Last Updated: 3/29/2006 12:07:24 PM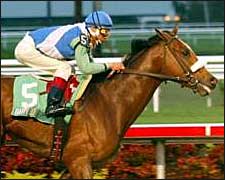 Unbeaten Barbaro heads strong Florida Derby field highlighted by partnerships showdown.
Photo: Equi-Photo

Cot Campbell pioneered the concept of Thoroughbred racing partnerships when he formed Dogwood Stable in 1969. The seed he planted has produced numerous other successful partnerships, including West Point Stable. On Saturday, Dogwood and West Point square off in the $1-million Florida Derby (gr. I).Both are not only after the big purse, but a starting berth in the Kentucky Derby presented by Yum! Brands (gr. I). Dogwood Stable will send out Saint Augustus, winner of the What a Pleasure Stakes at Calder and a wire-to-wire allowance winner at Gulfstream last time out. West Point Stable will be represented by their gutsy gray, Flashy Bull, who finished second in the Remsen Stakes (gr. II) last fall and was moved up to second via disqualification in the recent Fountain of Youth Stakes (gr. II).Although both colts have a legitimate shot in the Florida Derby, they will have to contend with the undefeated Barbaro, winner of the Holy Bull Stakes (gr. II) in the slop and the Tropical Park Derby (gr. IIIT) and Laurel Futurity on the turf. Also scheduled to run are recent allowance winner Sunriver, a stablemate of Saint Augustus; Sharp Humor, winner of the seven-furlong Swale Stakes (gr. II), Rehoboth, a fast-closing fifth in the Fountain of Youth, High Blues, runner-up to Sunriver last time out; and Doc Cheney, second to Saint Augustus.If both partnerships make it to the Kentucky Derby, it would be West Point's first visit. Dogwood has sent seven horses to Louisville, finishing second with Summer Squall, third with Impeachment, and fourth with Limehouse."I would think we'd have to finish on the board to go on the Derby," West Point's Terry Finley said of Flashy Bull in a national teleconference Tuesday. "Certainly, it's really exciting seeing a horse like The Bull progress. This will be his third start off a layoff, and we're looking for a real solid effort. If we finish in the top four I think we're going to meet the criteria for the graded earnings, but he's going to have to move forward from the Fountain of Youth. We should be bang-up in this spot, but you still have to lead them over there and put them in the starting gate."Finley said there are 17 partners in the Flashy Bull syndicate, unlike a typical Dogwood syndicate that has only four partners in every horse."We have partners from all across the country, and it's a really good mix," Finley said. "Obviously, they all love the horse business and they all love ownership. One of the partners is Tommy Thompson, who was Secretary of Health and Human Services under George W. Bush (and former governor of Wisconsin). He came to his first Derby last year, and after watching Giacomo win, he said to me, 'I'd love to get into this business.' Of course, the first thing that came to my mind was that we had a pretty nice colt we had bought earlier in the spring by the same sire. We talked about it, and he said, 'Put me in for a chunk.' I think it would be neat story if we could come back the next year with the secretary's first horse. "We also have a partner who is an equity owner of the Boston Celtics., who's been with us for a couple of years. I saw him last summer in Boston and he told me, 'I want to do one thing; I want to get to the Kentucky Derby.' He bought a couple of colts, and I called him the other day and said, 'We're almost there.'"Finley feels partnerships will more prevalent each year. "We see from the sales results that the price of poker is going up and up," he said. "That being said, people like the fact that they can get 10% of 10 horses that could be a quality group as opposed to 100% of one horse, and that's really the premise we go with when someone approaches us."Finley acknowledges the fact that Flashy Bull, whom he purchased for $205,000 at the Ocala 2-year-olds in training sale, has won only one of eight starts."I realize he's been beaten seven out of eight times, but he's a good solid horse," Finley said. "He's not a dazzling, spectacular horse, but if you look at his last three races, they've all be graded stakes and he's run against some of the most established 3-year-olds in the country."Campbell also is looking forward to getting past the Florida Derby and making another trip to Churchill Downs on the first Saturday in May."He ran badly in Louisiana, and we had a couple of strange situations there, and then we ran in the Holy Bull in the slop, and we presumed he hated the racetrack," Campbell said. "Then we came back and won an allowance comfortably and beat a pretty good horse in the process. So, we're excited again; back on the trail and dreaming again. God bless the Derby!"Campbell said Dogwood keeps 5% of all the horses and sell four shares in the remaining 95%, billing quarterly for expenses. Each partner therefore owns 23.75% of the horse. "I buy young horses and bring them back here and mark them up to what we think is a fair level," Campbell said. "When a horse like Saint Augustus comes along he buys his own ticket. And we hope he'll buy some big ones."Campbell paid $200,000 for Saint Augustus at the Keeneland April yearling sale. The son of Saint Ballado is named after the character Augustus McCrea from the book and movie "Lonesome Dove." Saint Augustus' dam, Lorie Darlin, also was named after a character in Lonesome Dove.



Copyright © 2015 The Blood-Horse, Inc. All Rights Reserved.