Jones Defends Payment of Commissions to Former Jackson Adviser
Updated: Friday, March 17, 2006 1:02 PM
Posted: Friday, March 17, 2006 12:37 PM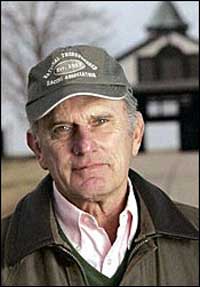 Photo: Associated Press
Airdrie Stud owner Brereton Jones, deposed in Jackson proceedings.
Airdrie Stud owner Brereton C. Jones said he paid consulting fees and commissions of at least $130,000 after two Keeneland sales to trainer Bruce Headley, one of six defendants in a lawsuit filed by California winemaker Jess Jackson for fraudulent misrepresentation in the purchase of horses and horse farm property.Jones made the admission during a sworn deposition taken Feb. 24 in Lexington. The deposition was included as a supporting exhibit in a motion--filed in Woodford County District Court Thursday in Versailles, Ky.--attempting to subpoena additional information from Airdrie Stud on horses purchased by Headley. Also included in the motion was Jackson's amended complaint against Emmanuel de Seroux and his Narvick International bloodstock agency, bloodstock agents Brad Martin, Frederic Sauque, Fernando Diaz-Valdez, trainer Headley, and Buckram Oak Holdings, a company operated until recently by Mahmoud Fustok, who died last month.The suit, filed in California by Jackson and his Four Star Stables and Stonestreet Thoroughbred Holdings, seeks nearly $18 million plus punitive damages. It alleges the defendants defrauded Jackson through a conspiracy involving secret, undisclosed commissions in private and public auction bloodstock acquisitions and in his purchase of Buckram Oak Farm in Kentucky.In the deposition, Jackson attorney Richard Getty asked Jones about two specific checks made out to Headley for $17,000 and $86,687.50 and a line item in an Airdrie Stud accounting sheet that indicated payment of $27,000 for a "consulting fee." Jones said the $17,000 was "a 10% payment of a commission for the sale of a Deputy Commander weanling out of a mare by the name of You'renotlistening" he sold to Narvick International at the 2004 Keeneland November breeding stock sale for $170,000. The $27,000 "consulting fee" line item, Jones said, "was a 10% commission on the sale of a yearling filly by Yankee Victor out of the mare Tryst," sold at the 2003 Keeneland September yearling sale by Jones to Headley for $270,000.Headley and Narvick were engaged as agents buying horses on behalf of Jackson at the 2003 and 2004 Keeneland sales.Jones said the $86,687.50 was paid to Headley as a "consulting fee on a number of things, which would have included the Carson City -- Taegu, but not specifically."Jones sold a filly by Carson City out of Taegu to the late Robert Lewis and his wife Beverly for $650,000, with trainer D. Wayne Lukas acting as agent. The filly, Classic Elegance, went on to become a two-time graded stakes winner for the Lewises.When asked whether Headley received a commission after Lukas bought the filly for the Lewises, Jones answered: "No. I think what you're referring to is his identifying to me specific horses that he thought specific trainers might be interested in because it was their type of horse. And that was one that proved to be accurate."Getty asked, "But he was compensated for identification of that horse?""He was compensated not for specific identification of that one horse but for the consulting work that he did during that entire period of the entire consignment," Jones answered.Contacted by
The Blood-Horse
on Thursday afternoon, Jones said Headley "has, in my opinion, as good an eye for picking out a horse as there is in the entire industry that I've come in contact with. I always want Bruce Headley to come look through my horses, and quite frankly help advise me as to which will be runners and which won't. He's done that for several years. You couldn't put a gun to his head and get him to buy a horse he didn't like."Point number two, Bruce Headley has never in his life asked me for a commission," Jones continued. "He has never conspired with me to go to a certain price. Bruce Headley has always been a straight-up guy as it pertains to me. My relationship with Bruce Headley has been A+."Jones was asked if he has paid commission to other agents or trainers. "As a general rule, we don't pay commissions," he said. "There have been some paid when I think they are earned and when I think it's good business to do so. The great thing about the free enterprise system is we have the right to invest and spend our money as is best for our business. That doesn't mean you have the right to dual agency or conspire to defraud somebody. We haven't done that."Jones, a former governor of Kentucky and chairman of the Kentucky Equine Education Project, said he was not aware of a clause in Keeneland's consignor's contract prohibiting consignors from offering payments to a buyer's agent. Paragraph 15 in the 2003 Keeneland September yearling sale consignor's contract reads: "Consignor will not make, nor offer to make, any monetary payments to any persons acting as agent, otherwise for any buyer, as renumeration for affecting the sale of any horses listed herein."A Code of Ethics developed by the Thoroughbred Owners and Breeders Association Sales Integrity Task Force in December 2004 also addresses commissions paid to a buyer's agent. The Code of Ethics reads, in part: "No agent/trainer should ask for a commission from a consignor, nor should a consignor pay a commission."Jackson's attorney made it clear to
The Blood-Horse
that he has received full cooperation from Airdrie and Jones, who Getty said balked at providing all of the records requested only after Headley and two others objected to the subpoena. "Airdrie Stud is not a defendant, and it is not contemplated that they would be a defendant," Getty said. "Airdrie felt obligated to withhold those documents until the issue could be resolved by the Kentucky court that issued the subpoena. We filed a motion to compel the production of other documents which Airdrie confirmed exist relating to another commission paid to Mr. Headley, which we believe is highly relevant and established a pattern or practice regarding such commissions."A court document filed in California includes a copy of a check indicating Headley may have received a $22,500 commission from Stockplace, a farm operated by Tom VanMeter, co-owner of Eaton Sales, one of the industry's largest consignors. A copy of the receipt portion of the check denotes the $22,500 as "commission," which a handwritten note suggests was for "Brahms Allegro," the name of a filly sired by Brahms out of Tally Ho Annie sold by Eaton Sales, agent, for $450,000 to Narvick at the 2004 Keeneland September yearling sale. An additional handwritten note on the receipt of the check reads: "Narvik-7,500, Martin-7,500, Headley 7,500."The check was supporting evidence in a motion by Jackson in opposition to a filing by de Seroux and Narvick's attorney to quash a subpoena seeking Narvick's banking records. It was filed March 6 in California Superior Court in San Diego County.
FREE! E-Newsletters from The Blood-Horse!...
Follow the top stories of major racing events, racing previews and results with FREE e-newsletters from bloodhorse.com. As news develops, we'll deliver updates to your inbox. Follow important events moment by moment, step by step!